Cooperstown and Canada, eh?
Well it's been an adventurous few days as I've navigated all of New York, experienced historic Cooperstown, and crossed into the friendly neighbors to the north in Canada. Let's take hop, skip, and a jump over the plethora of mountains I've ridden through lately and fall back into Schenectady, NY.
In order to get to Schenectady from Amherst, MA I put in a doozie of a day. Riding through the mountains of Upstate New York presented it's challenges, and the heat was scorching! I thought it's supposed to get cooler when you travel further north? Apparently, mother nature missed that memo. With temperatures swelling into the high 90's it was a long day of riding. However, I cranked out the abundance of miles and arrived at my host's place around 4 pm. The days seem be going by quicker now. I'm able to crank out the miles, get the day's ride in, and then relax for a few hours before doing it all over again. It's all a routine. I'm out on the road by 7AM. I can pack up my gear in the morning in roughly 15 minutes. I have a method to this madness. Somehow, someway I'm able to hop aboard my bicycle and work out the miles needed for that day.
My hosts in Schenectady were basically top chefs. They made an extravagant chicken dinner with spices I can't pronounce and tastes that were splendid. It was delicious. It was filling. Most importantly, it was calories. I had a great time discussing with both themselves and their other house guests of different bicycling adventures and different activities. While divulging in some of their craft brews, I even discussed the importance of mentoring with them. Now David's wife had done some of her master's research and the importance of mentoring. Her research told us what we already knew, mentors change ways. In profound ways. Seriously, it's incredible. Children can literally have their lives changed from one person who decides to sign up to become a mentor. It's incredible how that relationship can dramatically alter the life course of an individual. It sounds so simple, but it's true. We need more people to mentor these kids! Sign up at www.bbbs.org!
In the morning I departed for Cooperstown, my dad and brother were meeting back up with me after staying behind in Boston for a few days while I pedaled onward. Cooperstown, home of the National Baseball Hall of Fame is really a tiny town. It's built on baseball. The shops. The activities. Everything is centered around America's pastime. It's quite incredible. After navigating more of the hills and mountains of Upstate New York, I pulled up to the Baseball Hall of Fame and before I knew it, word spread about what I was doing. Kids, parents, and baseball fans galore surrounded me to ask me questions. I told kids the stories I've gathered, the problems I've faced, and thrills I've witnessed. It was a cool opportunity to talk about the cause. A lot of the baseball teams were in town for a tournament, so there were plenty of kids around. Kids are my weak spot. I love them. From infants to young teens they can be so much fun. Their personalities are genuine, their thoughts are pure, and they're straight up fun. These young baseball fans checked out my instagram and started inquiring about all sorts of different photos. It was pretty dang incredible.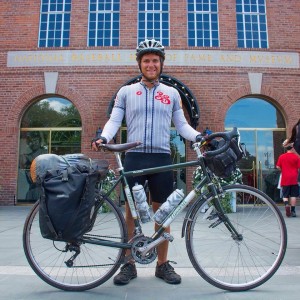 Of course, there's also the museum portion in the Hall of Fame. I love baseball. I love it's history, and I love learning. Sounds as perfect of a combo as a 4-6-3 double play. Plus, I got to check out the museum with my dad and brother. Now that's something I will never forget for the remainder of my life. The museum itself was more than I could have asked for. It took us a solid two days to get through the whole museum. From the Ted Williams to Pedro Martinez the hall was filled with memorabilia, tidbits of information, and everything else for some of the greatest players to ever grace the ballfield.
If you're a baseball fan, you need to visit Cooperstown. It's not a recommendation, it's a must. From the abundance of memorabilia shops that litter main street to the ball fields in town that embrace thousands of young ballplayers throughout the summer, the town lives and breathes baseball. The Hall of Fame is the foundation, but the town has blossomed into so much more. It's a testament to the game we all love. Go experience it.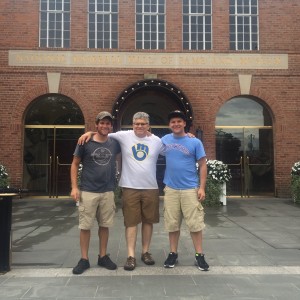 After those few off days in Cooperstown I departed for Syracuse, NY. With another longer day and plenty of mountains in the beginning of the ride, Syracuse was a splendid city. Not huge. But I got to see another sporting venue in the Carrier Dome that sports the largest arena for College Basketball in the country.
My host Ben took me out to a picnic gathering at a local state park. There for a bunch of his friends who all were partaking in your typical lawn sports. Corn hole, badminton, baseball, and Bocce ball. The cookout was a great way for me to just hang out and relax. I haven't gotten the chance to do much of that this summer. I'm constantly on the move. I'm nomadic. I don't have a home. That can be tough. Mentally, you meet people for a day, and you know that you're more than likely never going to cross paths again in your lives. That's crazy to think about, but more often than not, it's true. Of course, I have friends or family back home who are in regular contact with me that help with that support. From text messages, to emails, to phone calls, it is amazing to have that type of support behind you as you pedal across the country. Either way, having an afternoon to feel like a normal person just hanging out at a cook out was a welcomed time that I most certainly enjoyed.
During these past few days of riding, I've been able to be doing a lot of pondering of my rides, the trip, and recollecting of what this trip has meant to be. To be honest, I'm still waiting for the day when it really hits me how far I've ridden. I look at my route and still cannot fathom riding a bicycle that far. Then I think of the difference I've been able to make. I've had a whole lot of people reach out to me and tell me that they've signed up to become mentors because of my efforts. Simply put, that's incredible. It makes me smile the largest of smiles, the happiest of grins, and the utmost excitement. To think that I'm convincing complete strangers to sign up to change the life of a kid is great. It's what I've hoped for all along on this trip. Financially fundraising for the trip hasn't been as up to par as I had hoped, but that doesn't mean this trip is destined to be a failure. Far from it. I set out on this trip to help change the lives of youth. Whether that be through financial support of organizations or directly inspiring individuals to become mentors, I've succeeded. It makes me smile, tear up, and just be proud to know that I've changed the lives of kids. I'll never meet some of those kids, but I'll know that they're enjoying life. That's enough for me. The ride isn't over yet though! There's still time for you to sign up to become a mentor yourself! Go do it!
I rode a good 99.7 miles (that's close enough to a century) into Rochester, NY to stay with Sam and Brit who had heard about the ride via reddit. Boy, were they awesome hosts. Brit was another great cook who mixed together an excellent chicken dinner. I always feel bad when I come into people's homes and eat nearly half of the food. I'm sorry! I just biked a bajillion miles, I've got to eat a lot. Fortunately, Brit and Sam were totally understanding. Like many of my other hosts, they had a fine tasting for craft brews. And don't you know it, I always need to stay hydrated on a trip like this. Sam had an intricate knowledge of the Rochester area, and filled me in on everything I needed to know. It's always great to get a great welcome to a new city from a local. You get a perspective of the city that you would never be able to get otherwise. Thanks Brit and Sam! Hi5!
Yesterday, I rode another 95 miles, but it was a milestone filled day. First, I had a lot of riding into a strong wind from the west. Probably aside from a day in Oklahoma, this was the strongest headwind I've faced the entire trip. It slowed me down to about 10.4 mph when I usually can average 12-12.5. No worries. I persevered. The ride took a little longer, but I made it to St. Catherines. St. Catherine's, Ontario! As in Canada. As in a different country than the United States! B4B has gone international! Woohoo!
I crossed the border at Niagara Falls and got to briefly check out the falls and it's impressiveness. It sure is an astounding feat of nature. At that time, I also reached another milestone. I made it to mile 10,000! Yes. 10,000 miles have been cycled on this trip. It's crazy to think about it. Heck most people don't even drive that far in a year. Let alone 4 1/2 half months. I really have been racing across the country on two wheels, and it's been an incredible journey thus far. I figure, I've got around 1,500-1,700 miles remaining on the trip, but I'm sure those will go by in no time. Right now, I'm just soaking it all in. Loving every moment. From the West Coast to the East Coast. Rockies to the Appalachians. From the Southwest to the Midwest and everywhere inbetween it's been one heck of a ride. But all I can do is just keep pedaling.
My host in St. Catherine's Virginia was incredibly sweet, and spoiled me with her well made home meals. I mostly just hung out, responded to emails, and lounged around while I was there on my off day. But she kept me well fed, and was just all around pleasant company. She had amazing stories, and loved to hear mine. Another cyclist who is just way too friendly! Thanks so much Virginia! Hi5!
I took off for Toronto, and had a rather shorter day, it was about 115 Kilometers, or the equivalent of about 75 miles. So I definitely can't complain about that. The ride took me along the shores of Lake Ontario, and I have now seen all 5 great lakes in my life. Check it off the bucket list. Not exactly high up on the things I wanted to accomplish on my list, but it's another thing I can say I've done.
Toronto is one clean city. Clean and futuristic looking if you ask me. It's a fun city, that I've really been impressed with. The cool 65 degree weather reminds me of back home in Wisconsin. Enough of those 100 degree days already. I'm ready for some colder weather! Whip out the sweaters and get all cozy. Heck, I'm ready for the fireplace to begin roaring, and the hot chocolate to be steaming. Don't forget the baby marshmallows to throw on top. Alright, enough of my winter wonderland thoughts.
I hit the Rogers Centre and you can feel the buzz about the Blue Jays around town. It's everywhere. Blue Jays gear, everyone is watching the games, and they feel good about this team. They made some big moves at the trade deadline and they are paying off. Two 10 game winning streaks have put them in first, and the city of Toronto is rallying behind their team. I cannot wait for the ballgame tomorrow!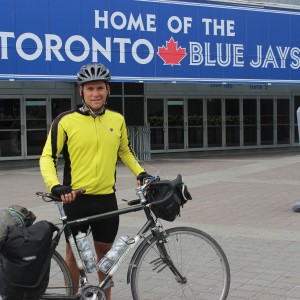 My host Steven is a super cool guy who loves baseball and knows the area of Toronto extremely well. It's been fun to experience not only a new country but also this city. Thanks for showing me around Steven!
I've really had an outpouring of support from people lately. They're treating me like a celebrity, and it feels so weird. I'm not a celebrity. I'm just a dude on a bike who wants to make a difference. I love sharing my passions. Love meeting new people, and love experiencing new things. This trip has already changed my life in so many ways, but it has NOT changed how I think about who I am. I'm just a normal guy from Central Wisconsin who loves his bratwurst and loves his sports. I'm me. I'm Matt. I'm a son. I'm a brother. I'm a grandon. I'm a friend. I am not a celebrity. I'm a charitable person, who wants to make a difference. That's what I'll always be. That won't change. Never.
Tomorrow I check out Rogers Centre and enjoy some Jays baseball. It's a sold out game, and they're gonna be loud. Can't. Wait.
Matt
Sent from my iPad