Dallas: "Anybody Want a Hard Lemmie?"
I can safely say that Texas has lived up to every single stereotype people possibly have about Texas. I have seen more Texas flags in the last 7 days than I would see if I clicked through 100 pages of Google image results of "Texas flag". They do hoe downs during baseball games and have "sausage sundaes" for ballpark food, complete with mac and cheese, brisket, mashed potatoes, and smoked sausage. They drive massive trucks and have roads and highways that are obnoxiously big (it's almost impressive to see traffic on a 20-lane highway). But the biggest Texas stereotype that stood out the most is the southern hospitality. Holy smokes, do they make you feel welcome and treat you like royalty. I wouldn't be writing this blog only one day away from Houston if it weren't for all of the awesome people that helped me through some pretty awful experiences this last week.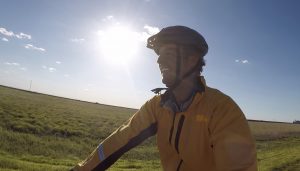 My last blog ended with me making my way down to Dallas from Denver. If I remember correctly, I think I made a subtle comment about how the winds had been relatively bareable. I must have been on a sugar high from the 23 McDonald's Powerades I usually drink, because those southeastern prevailing winds got really old, really fast. Waking up and knowing you have to sit on a bike for 90 miles is not easy. Waking up and knowing you have to sit on a bike and pedal into 10, 15, or 20mph headwinds is enough to make you want to ride into a ditch. Thankfully, I've had a string of hosts that have made my life much more bareable. First off, a guy I met on the Baseball subreddit, Paul, offered to house me with his wife, Denise. They also had some other family members, as in 7 dogs. Three of them were these super cute, 5-pound dogs and then one absolutely massive, 170-pound Great Dane. Paul and Denise were absolutely awesome, and with Paul being a huge baseball fan, we were able to actually watch the White Sox play the Red Sox. And they lost. Shocker. But it was a wonderful stay in Wichita Falls regardless, thanks to them!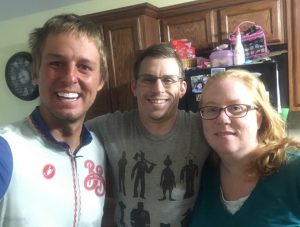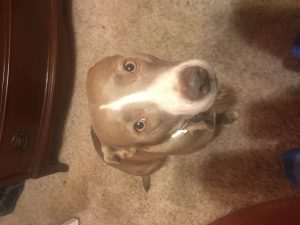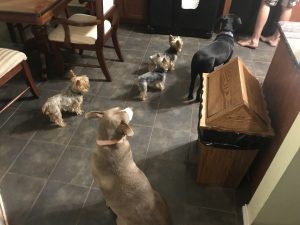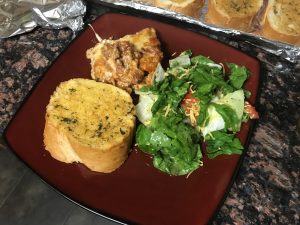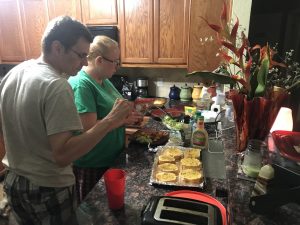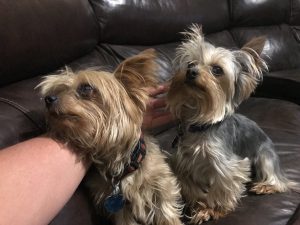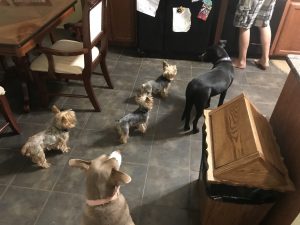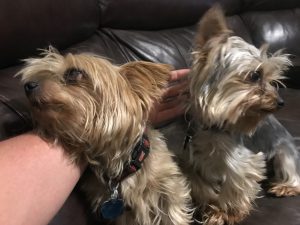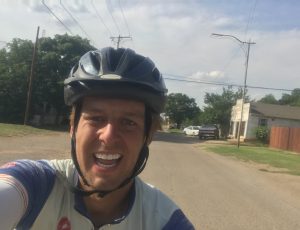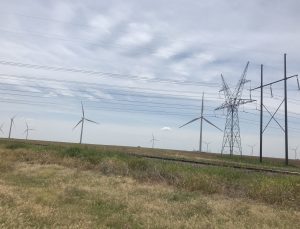 The next day, I biked my way to Decatur, which is just outside of Dallas. Some more fun rainstorms and wind to fight through, but nothing bad at all (at least relatively speaking). Another Redditor, Robert, who works in Decatur, offered to let me stay at his place. Robert must have read my mind or something, because the first thing he suggested we do was go get Texas BBQ with his roommates and some other friends. Yes. Yes. YES. That's all I had been looking forward to, and it did not disappoint. The meat literally just melted off of the bone. I literally just ate dinner and my mouth is once again salivating at that stuff. Hey, when you're on a 8,000 calorie diet, there is never a time that you're not thinking about food. Also, I don't know if that's actually my daily intake, but I know I had McDonald's breakfast and then waited for lunch to begin being served in the same sitting today, so I know it's high. Anyways, after BBQ, we hung out at Robert and his roommates' place (Chris/Tim) playing a game called "Secret Hitler". It's honestly an awesome game, where you're trying to convince the other players of your role and help your side (fascists/liberals) win. Think of the game "Mafia" if anyone has played that. It's hard enough to explain in person, but it led to a lot of screaming and slightly-pissed-off-yet-entertained people, so trust me when I say it was a blast.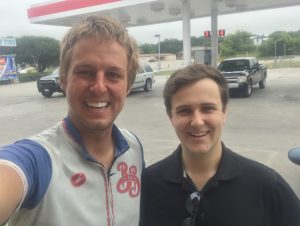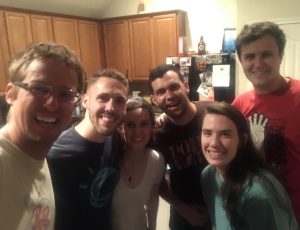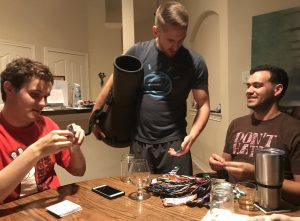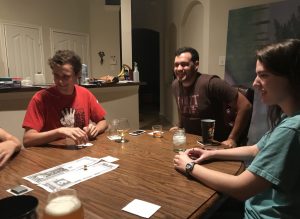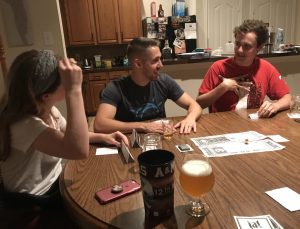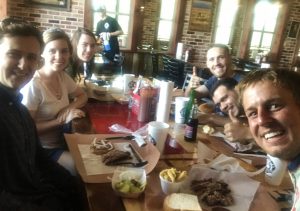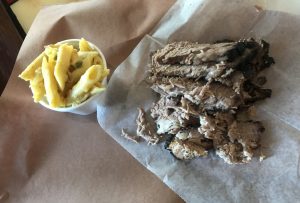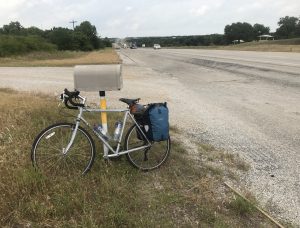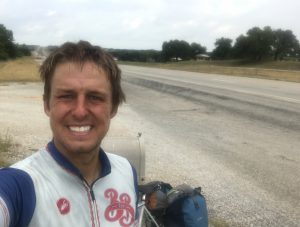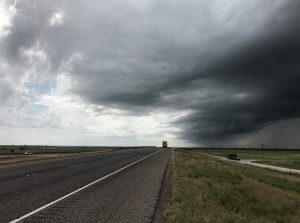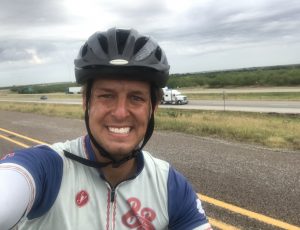 After Decatur, it was going to be a nice, easy ride into Dallas. 34 simple miles. And those might have been the most eventful 34 miles of the trip thus far. It all started when Robert dropped me off at my previous stopping point. I must have had a slow leak from the previous day, as my back tire was completely flat. No worries; I'd rather change a flat now before I started then deal with it after riding for a bit. Unfortunately, my pump wasn't working. Air was escaping the pump before it could be "pushed" into the tube. After about 25-30 min of dissecting the pump and figuring out what was going on, I found the o-ring on the pump became misaligned and just bumped it back into place. All was well. That is, until I flatted again about 12 miles into the ride. Highway 287 had been relatively fine traffic and debris-wise all the way since Amarillo. However, since I was now super close to Dallas, it was way, way more crowded and a ton of more crap on the shoulder from all of the truckers. I pulled over off of the highway to fix it, pulled the giant staple that flatted me out of my tire, and tried to put a new tube on. Except the pump won't work again. I take it apart once more and notice that the o-ring is now completely busted. The pump was useless, and Timmy was dead in the water. Oh, the Deja Vu. I walked my bike over the overpass to a nearby gas station and after I completed my usual scream-and-make-a-lot-of-noise-and-swear routine, I settled down and decided to give a local bike shop a call. One of the managers at Mellow Johnny's in Fort Worth had reached out to me earlier in the trip and insisted I stop by their shop on my way through Texas. I figured they would be a good shop to call. Within an hour or so, they sent a guy all the way to my location (which was not close mind you…at least an hour drive from their shop's location). The guy re-stocked me on everything I needed: tubes, C02 cartridges (just in case yet another pump decides to give out on me), rim tape, and of course, a new mini pump. They even brought me some sweet Mellow Johnny's water bottles, koozies, and energy bars. I was so grateful. They saved me big time, and I would definitely stop by later in the week to give them my thanks in person. After I was all re-packed, I decided to stay off of 287 and take back roads for the remaining 20 miles to my host's place in northern Fort Worth. This worked out well, except for the absolute torrential downpour that hit while I was finishing up the ride (last half hour or so). Nothing like arriving at a host's house with water literally falling out of your rain jacket sleeves!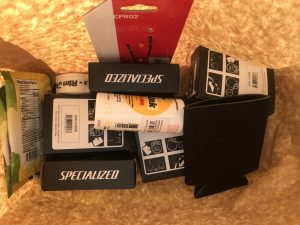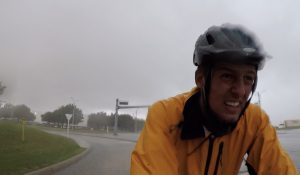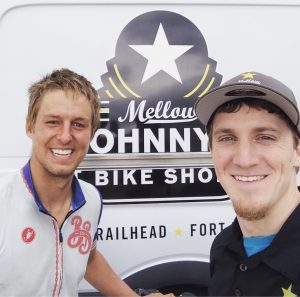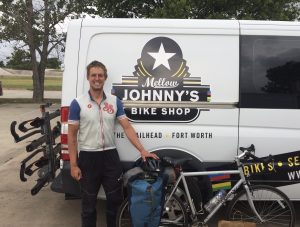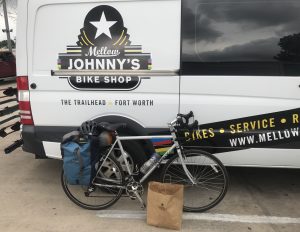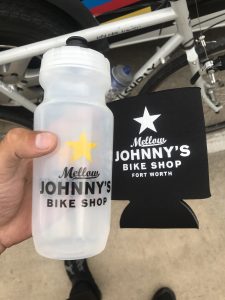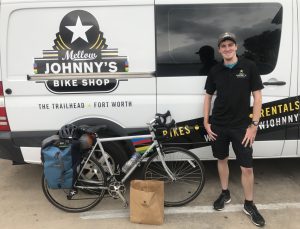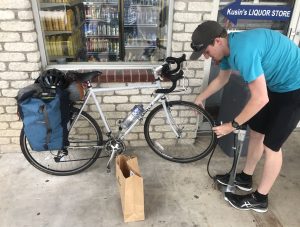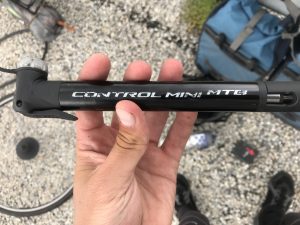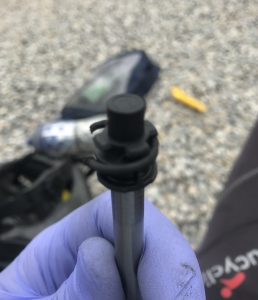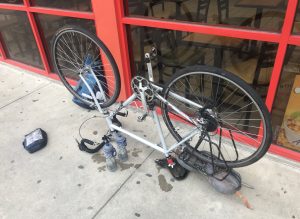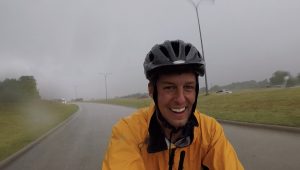 My time in Fort Worth/Dallas was consumed primarily hanging out with my hosts from that night. Another Redditor on the baseball subreddit (Caitlyn) reached out to me and hooked me up with her parents-in-law, Chris and Maria. These people literally treated me like I was a part of their family. It was almost eerie how similar we all were and how naturally hanging out with all of them felt. The next day, I biked to the Rangers stadium. I was kind of bummed, because due to the weather, I wouldn't have time to get to Mellow Johnny's, since it was considerably far out of the way. Well, no worries. Chris offered to just drive me to the place, which was not exactly a "quick drive" for him. I obviously wanted to thank the guys at Mellow Johnny's, but I also needed to get my bike a desperately-needed tune-up. I left my bike at the shop for them to work on and when I picked it up the next day, I might as well have gotten a new bike. The entire drivetrain was replaced, new cables installed, new chain, and everything was just spotless. It was incredible. I was convinced they put on new rear derailleur at first because you couldn't even recognize it anymore. I was so pleased and I can't say enough good things about the guys working that shop. They were so awesome to just talk bikes with and the service was impeccable.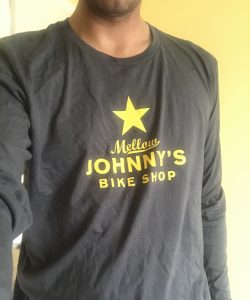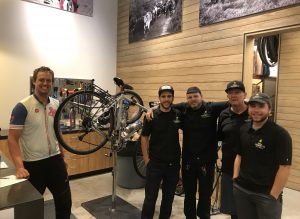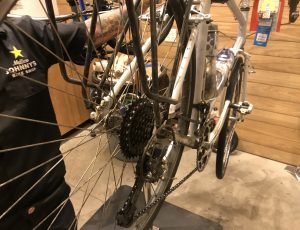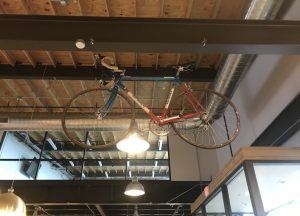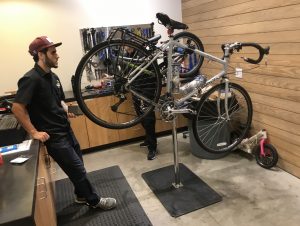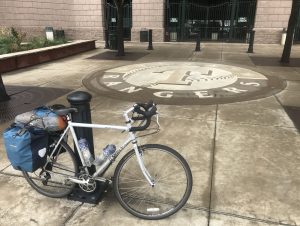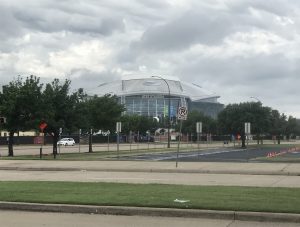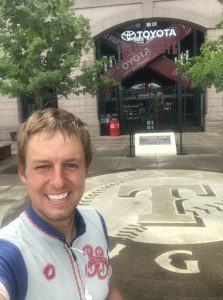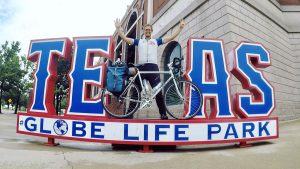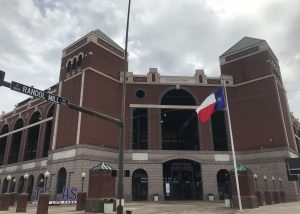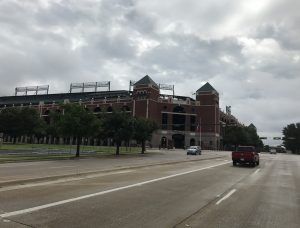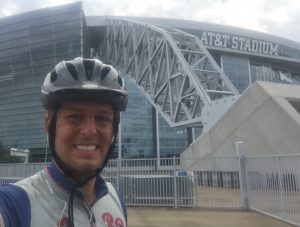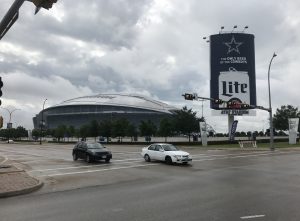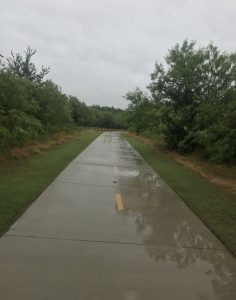 The rest of the weekend with Chris, Maria, Caitlyn, and Chris and Maria's daughter, Laura, was a blast. It felt like an actual vacation. After dropping my bike off, Chris, Maria, and I went to get more Texas BBQ. Despite another downpour, the line at this place was literally out the door. It was crazy, and once again, absolutely delicious. Also, sorry if these blogs are only about food. Like I said; it's on my mind 24/7. That night, the family was going out to dinner for Caitlyn's birthday. But not just any dinner: they were going to Gino's East (or as Maria kept calling it on accident…Gino's West). No way was I passing up possibly the only chance to get Chicago deep dish pizza this trip, so I hopped right aboard. As you can imagine, it was everything I remembered it to be. As if that wasn't enough food for the day, we ended it with this awesome ice cream place that does some weird trick to their ice cream that makes it way more "fluffier". It reminded me of Dipppin Dots, except without the whole "Ice Cream of the Future" crap and it wasn't $23.50 for a 1.5oz cup.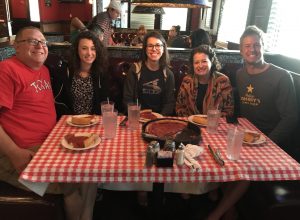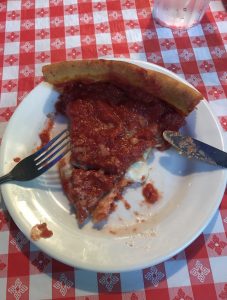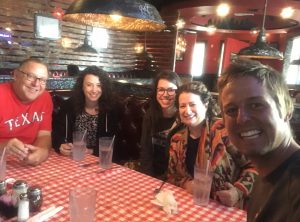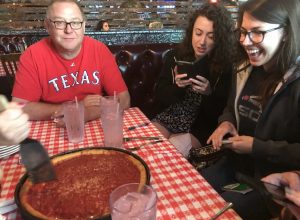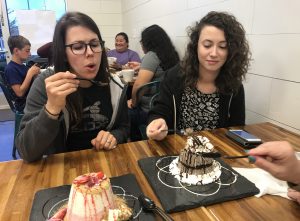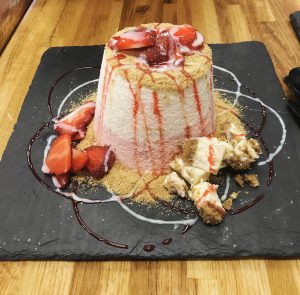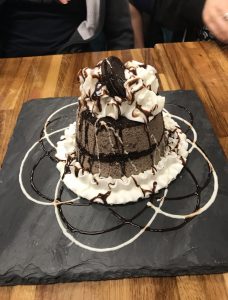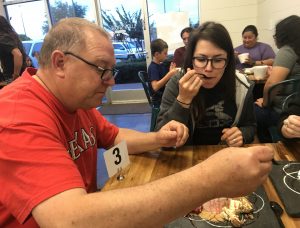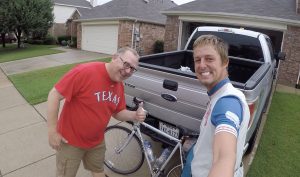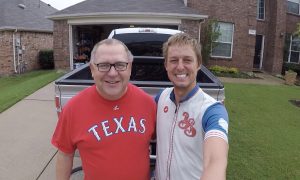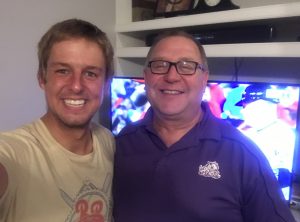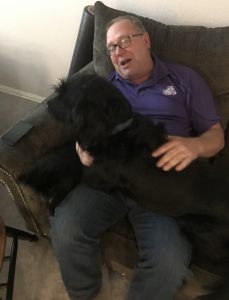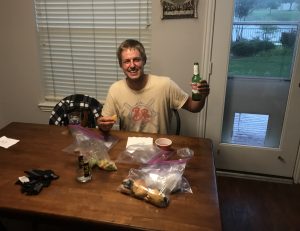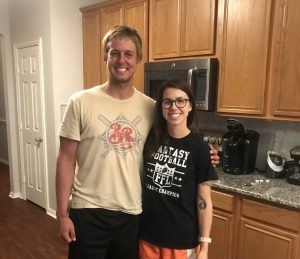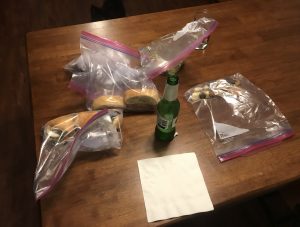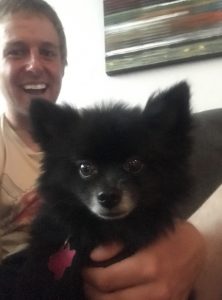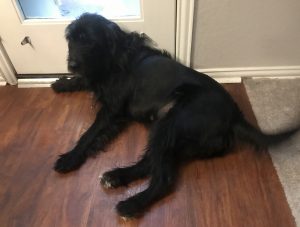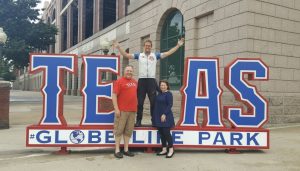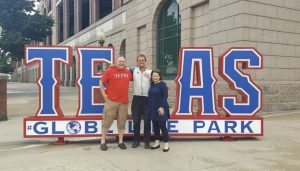 For my last full day in Dallas, I had to meet a news guy from Channel 32 at the stadium and then bike from the stadium to my buddy's place in Dallas, where I was staying my final night. Chris, being the absolute saint he is, offered to drive me to the stadium. It was hilarious, because Chris might have been the best PR thing to happen to this trip yet. He can make friends with anyone, and immediately after he would start chatting someone up, he would drop "you'll never guess what this guy is doing". He even did it to a family at the stadium and one of the little girls gave me a $5 bill (no joke). I think her mom told her too, but still, I was cracking up. As Chris phrased it, he could "sell ice to the eskimos". The interview with Channel 32 went really well, and you can see the segment by clicking here. Later that day, after biking to Dallas, Caitlyn and Laura picked me up and we all went to the Rangers game. Globe Life Park is so interesting to me because the stadium is absolutely gorgeous. Like it looks brand new from an atheistic standpoint (and it might as well be considering its 20 years old). And it's in a really cool area in Arlington right by Six Flags and AT&T Stadium, or Jerry-World as the locals call it. But the Rangers are in the process of buying a new stadium, which fun fact, my company is bidding on. Kind of mind-blowing, but that's Texas for you. The Rangers lost to the Astros, which isn't too surprising considering how absolutely on fire the Astros are right now. My home record is now a disastrous 3-6 and I would be genuinely concerned if I'm a home fan in any of the remaining 21 stadiums. Also, as just a fun end to the game, a huge downpour hit the area, which forced us to basically swim back to the car. But they squeezed the full game in, which is all that matters.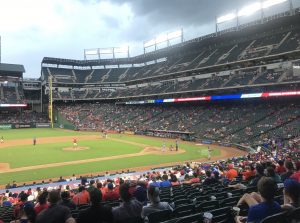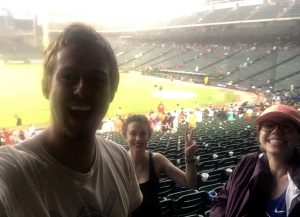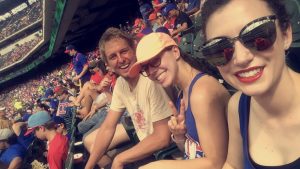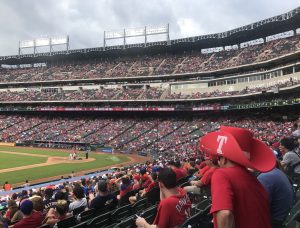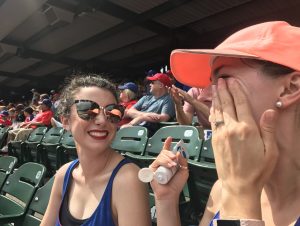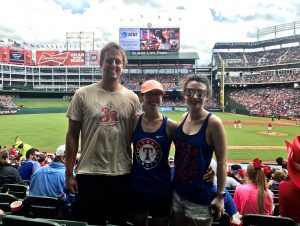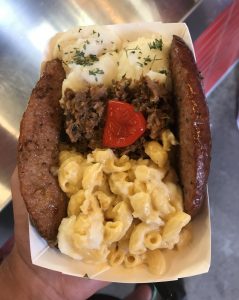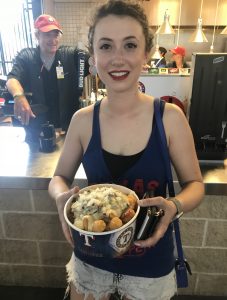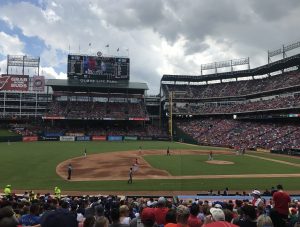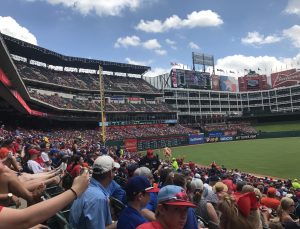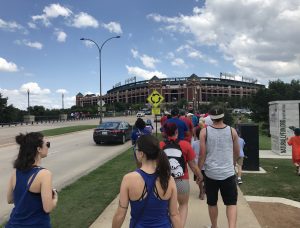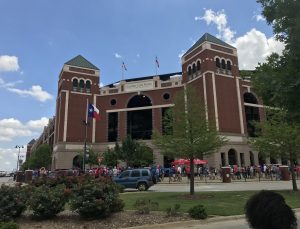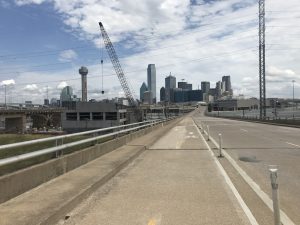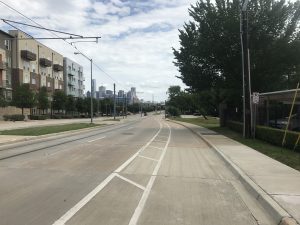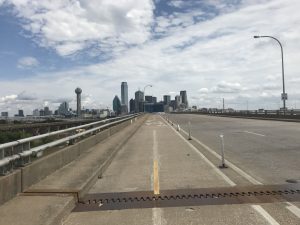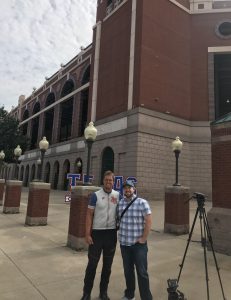 My last night in Dallas, I stayed with an old buddy from middle school/high school, Matt. Matt has this unreal place in downtown Dallas that overlooks the skyline. It's literally a 3,000 sq ft mansion that him and two roommates live in (I realize it's not actually a mansion, but when you're camping in a 15 sq ft tent on some days, that size of a place definitely feels like a mansion). He threw some steaks on the grill and I was able to just relax and gear up for the leg to Houston. Being well-rested, I was able to knock out the 100 miles to Waco the next morning relatively easily. The roads weren't busy and for once, I actually enjoyed the back county roads that Googlemaps took me on. I was staying with yet another host in Waco, Eric, who I found via Warmshowers. Eric was super interesting, as he is currently a professor at Baylor, teaching courses in the philosophy of science. He was nice and made sure not to get go too in-depth on his exact courses, because there was no way in hell my mind would be able to follow after a full day of riding. But big thanks to him and Matt!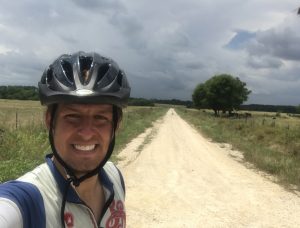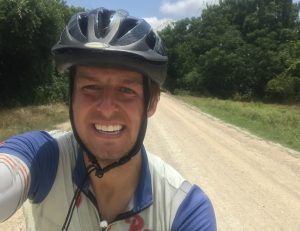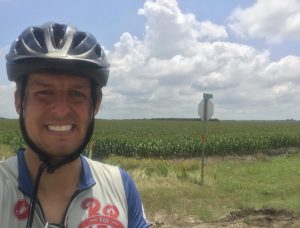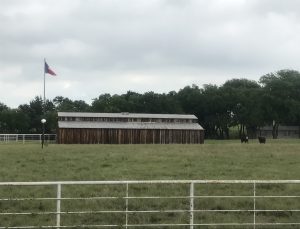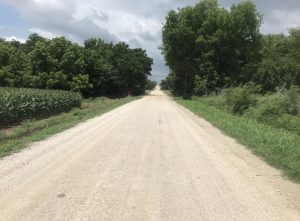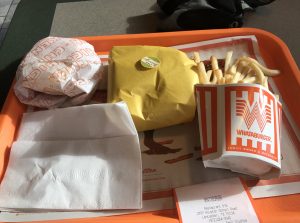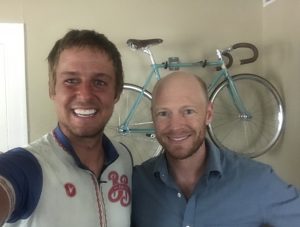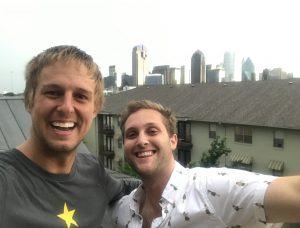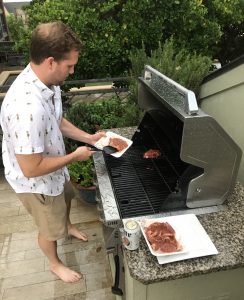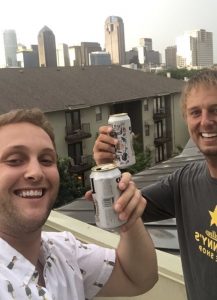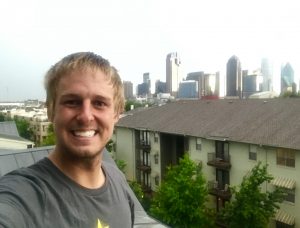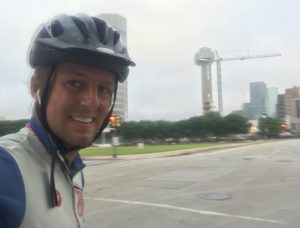 So after 78,539 words worth of blogging, we're finally caught up to today. I just biked from Waco to College Station. The ride itself had a bit of everything. I started the morning off super happy, as I was riding on back, paved country roads with zero traffic and a gorgeous morning. There were three bridge wash-outs that I had to navigate over, with the final one being the biggest pain. It was a literally creek in which I had to remove my panniers from my bike and trek them across a makeshift stick crossing and then do the same for my bike. It was extremely difficult, but I couldn't help but laugh/enjoy the absurdity of it. When I finally got to College Station, I was definitely rewarded, in the form of free Chipotle from an awesome employee and awesome hosts. My hosts, Michael and his wife Cassie, are so cool. They both work for the Texas A&M, Michael doing graphic design and Cassie doing operations work for the softball team. They took me on a golf-cart tour of the entire campus, with Michael feeding me fun facts about the University, as he used to work as a tour guide. A&M has some of the most absurd traditions around. First off, they have a mascot dog named Reveille. Reveille's owner takes her EVERYWHERE. Literally everywhere. Well, obviously Reveille only lives for so long and then he/she is buried right outside the football stadium. The old football stadium used to have a huge archway to allow the old Reveille's to see the game. The new stadium didn't have that, which Aggies fans were livid about, so they built a scoreboard in the doggie graveyard for the dogs to see the game. As Michael put it "they literally built this scoreboard so dead dogs would know the score". It's comical. Another absolutely absurd one is the rumble strips (like the ones in the streets) on the road leading out from the main Administration building actually make the sound of the fight song when you ride over them. Once again, I'm dead serious. I could go on and on about all of the absurd traditions that A&M has, but I'll stop there. Michael and Cassie have access to the sports facilities having worked for the University, so we got to go on the field at the Kyle Field. That was actually insane. We came out of the tunnel just like the team would on game day and the stadium is just massive. 102,000 seats. It's awe-inspiring. I insisted on walking around the whole field just because I was so amazed. I couldn't believe I was getting to step on that field. The only perfect way to end a day like that was to get chicken tenders at the most famous place in College Station. Robert and the guys from Decatur actually insisted I do this while passing through A&M, so they can sleep a bit easier knowing it was everything they cracked it up to be!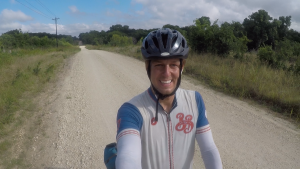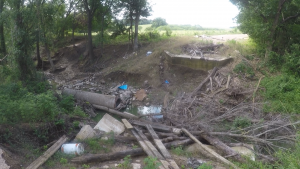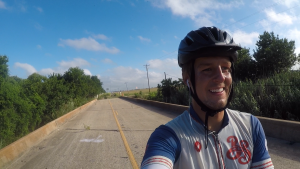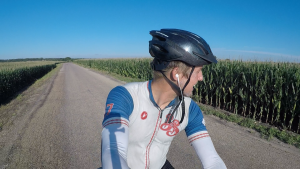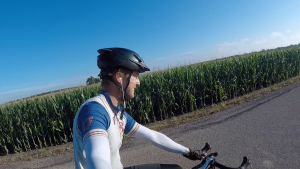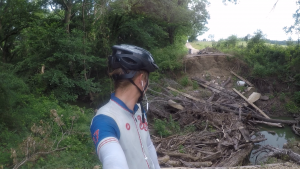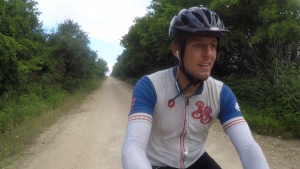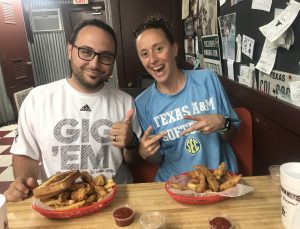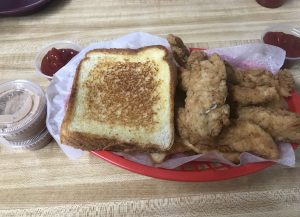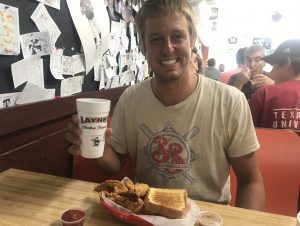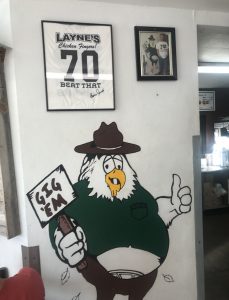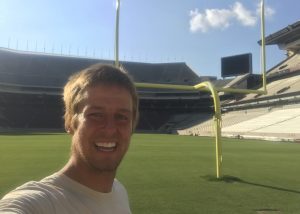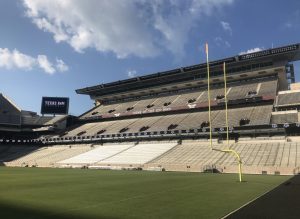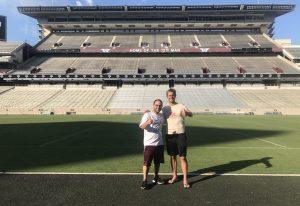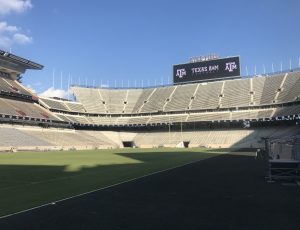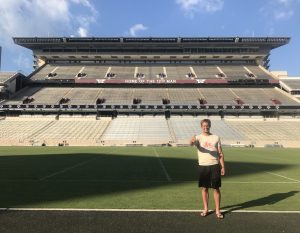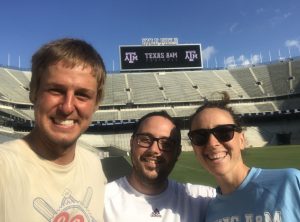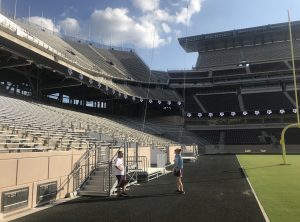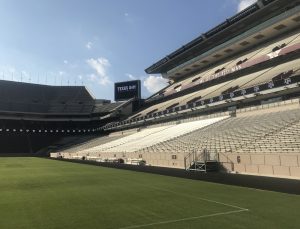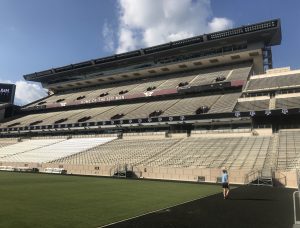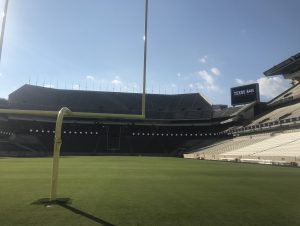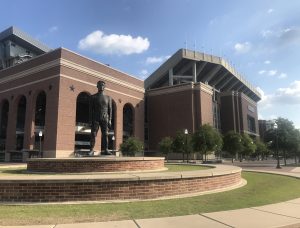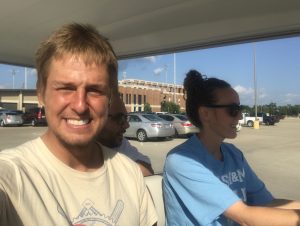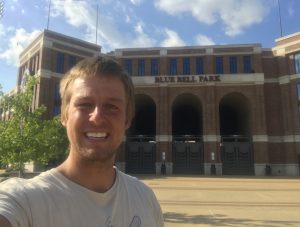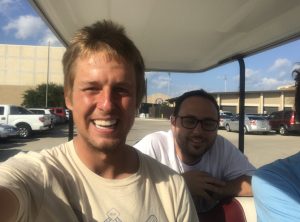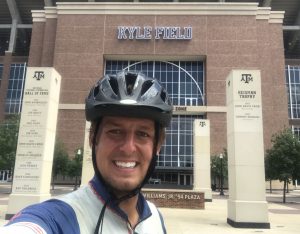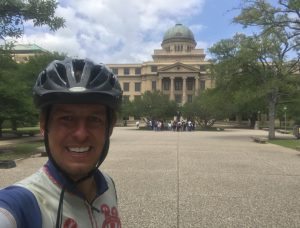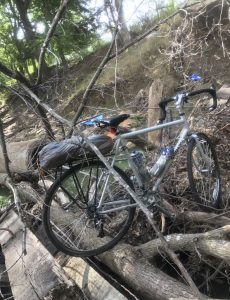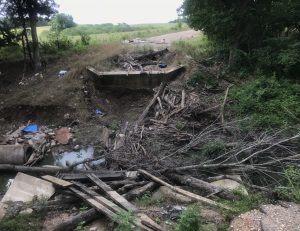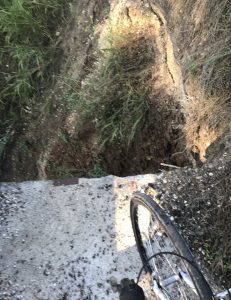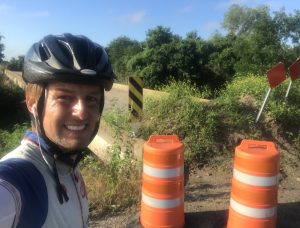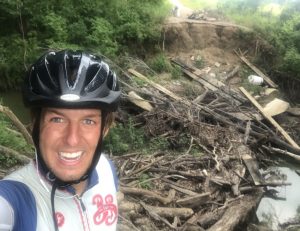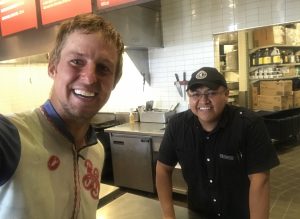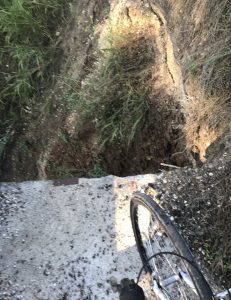 So now I make my way to Houston tomorrow morning. Tomorrow will also be the day that I hit mile 4,000 so that's exciting. Here's to hoping that there is more southern hospitality as I continue my way through the south!