Denver/Colorado: Bikes & Cameras are Rollin'
Guess what?! I'm not going to start this blog post with some corny (yet, in my opinion, hilarious) intro about how much the weather sucks or some long-winded complaint about the rain/wind/snow that has been bugging me the past week. Because for once, the weather has been great! And I am in high spirits, having just spent four off days in Denver relaxing and soaking in the city. Now, obviously I'm not caught up on my blogging so I'm actually writing this one from all the way down in Clarendon, Texas, but as usual, there's a lot to recap. Oh, and fair warning: this blog is a long one.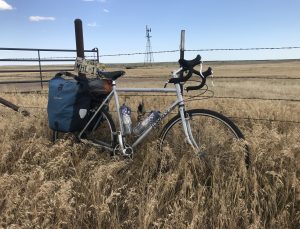 Rex had just done me a huge favor and snagged me from my head-start ride out of Denver. Getting a 135-mile jump on the ride to Dallas really put my mind at ease and allowed me to enjoy Denver, which I'll explain why at the the end. The first off day we were meeting up with the TV Network for the Rockies, ROOT Sports. My company, Mortenson, actually built Coors Field, and they therefore had some contacts with ROOT Sports, who covered the construction of the stadium way back in the day. Side note: "way back in the day" is kind of a comical term because although the Rockies have the 3rd oldest stadium in the National League, it's only 22 years old. Anyways, we met the ROOT sports producer, Ryan, who would be developing the Biking for Baseball feature that was going to air before the Rockies game and during some other showtimes. We also met Warren, who was our contact from the Rockies and who would be getting us into the field and what not to shoot some footage. Going through the inner depths of Coors Field was incredible. We got to see "The Humidor", which is where gameballs are stored in a controlled environment to account for Denver's weird climate. The Rockies were the first to use the machine, but now all teams use them as of about 10 years ago to keep things consistent. My first view of Coors Field was walking out of the Rockies's dugout into a grand panoramic view of the field. It was literally like I was a player walking out onto the field for the first time. I mean, Coors Field is incredible to begin with, but to have that kind of first experience is something you just can't beat. The feature that we were filming for turned out absolutely incredible, and was aired a ton during the Rockies pregame and postgame shows this past weekend. All of the media links are at the bottom of the blog post if you're interested!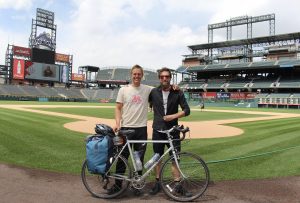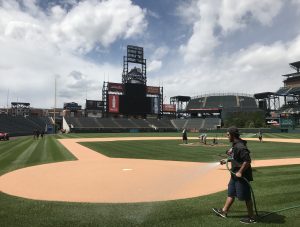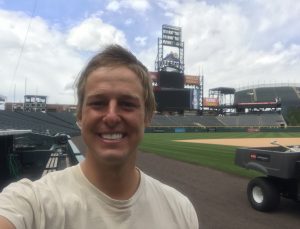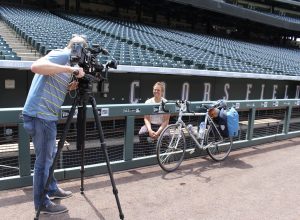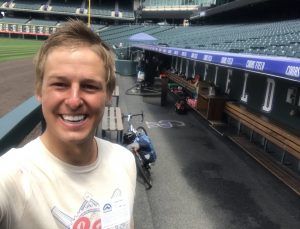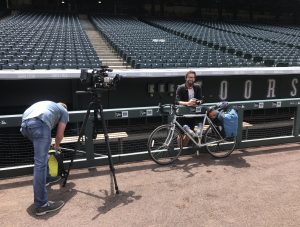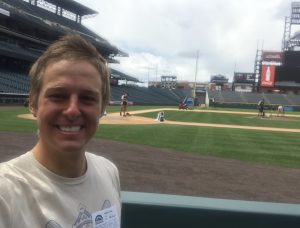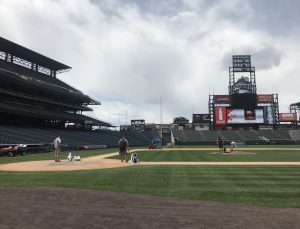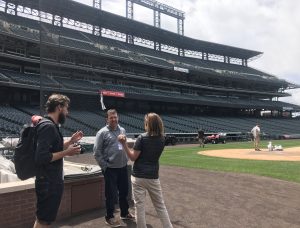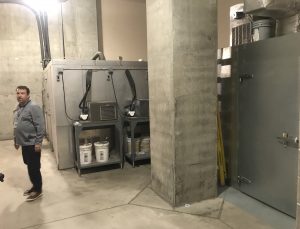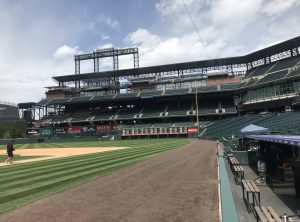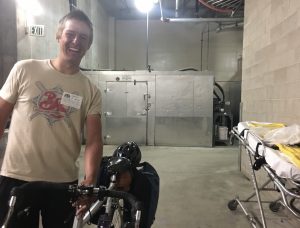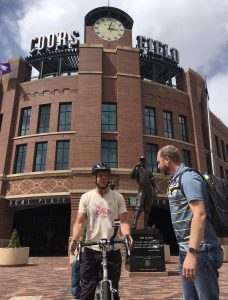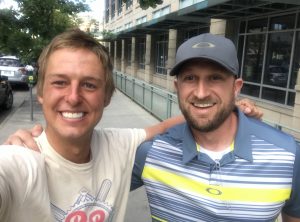 After the filming was done, Mortenson (the company I work for, for those who don't know) actually was having a mini happy hour for my arrival into Denver at Viewhouse, which is a popular bar right next to Coors Field. Nancy, who is the Mortenson rep, was absolutely incredible this entire trip. She was the one that initially put us in touch with ROOT sports and has pulled out all of the stops for my arrival. We had an open bar and some appetizers, and I got to meet some folks from our Denver office. A lot of them are huge cyclists, so they came to grill me on the cycling portion of the trip and how it all works logistically (hint: I'm still figuring that out).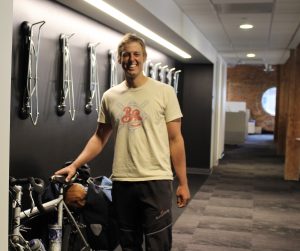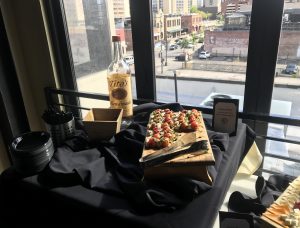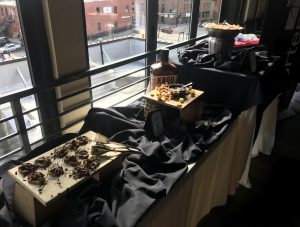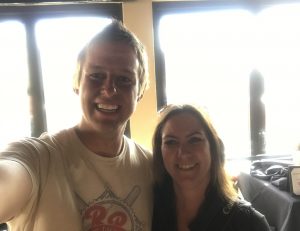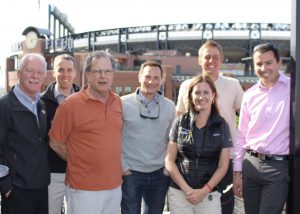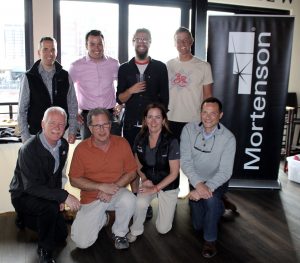 The next morning was a super early morning for me. Daybreak Colorado was having me on live to talk about the ride. First off, I had to be at the studio at 7:00am. Since everyone I'm staying with still leads a normal life and doesn't (nor should they) have time to be shuttling me around Denver, I had to bike there. I kind of laughed when I woke up knowing that I was still biking on my off day. Obviously, I'm mostly kidding (mostly being the keyword, as it was only 8 miles, which I can literally do in my sleep). And that's basically what I did because I was definitely not even half awake when I got to Fox 31's studios. Seeing the inside of the studios was INSANE. It was so damn cool. Fox 31 and CW 2 actually share the same studio, so I got to check out multiple live newscasts going on at once. David, a guy Rex knows who works in the studio, met us and showed us around. The first thing that caught me off-guard was how loud people talked in the background while live filming was going on. I was literally whispering at the softest volume while talking to Rex and David, and I'm convinced David was actually trying to screw with the newscasters with how loud he was talking. It was kind of hilarious, but that's why they're professionals. Now what was hilarious is the story behind Daybreak's new studio. Initially, the show was filmed in the same room as where all of the people who work behind the scenes operate from. So it's a huge room (see the pictures of the people at cubicles) and the newscasters would face out to the cubicles. Apparently, they were covering a high-speed chase where the suspect eventually got out of the car and fled on foot from police. They're reporting all of this live and one of the behind-the-scenes is guys is screaming "SHOOT HIM! SHOOT HIM!", which of course was picked up by the microphones. That was the point they decided they needed a new, dedicated recording room. I'm still cracking up as I think about that story. I hope the "SHOOT HIM" guy still works there. Anyways, the actual filming of my segment went great. The newscaster, Ernie Bjorkman, had me ride onto the set. I was so nervous about falling off the bike or just bowling him over. In all honesty, either one of those would have been hysterical. But I didn't, and I think the interview went pretty smoothly. Not too bad for my first time in front of a live camera.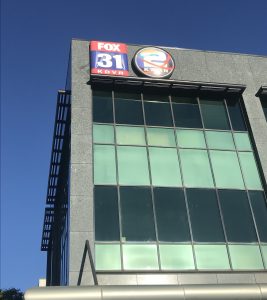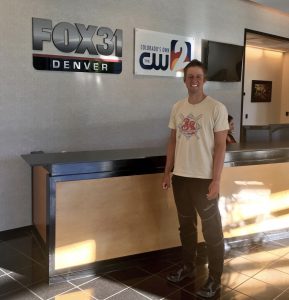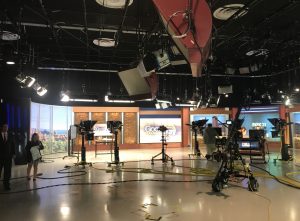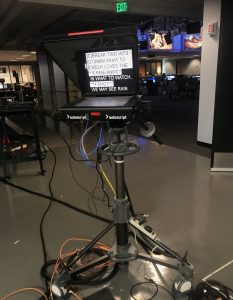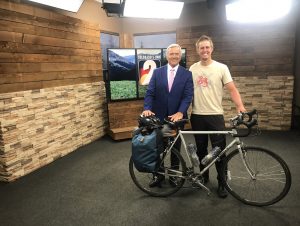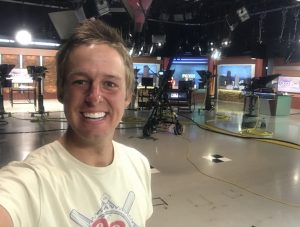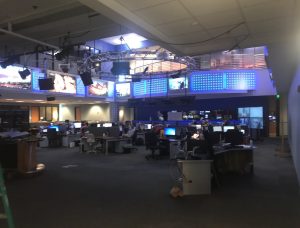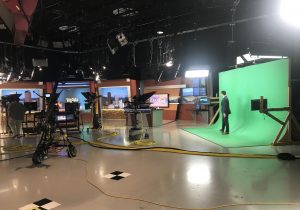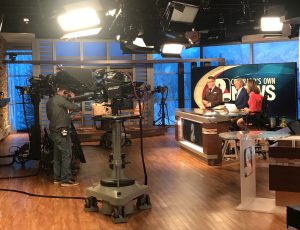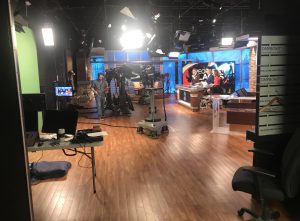 Later that day, we drove up to Fort Collins for a couple of events. First off, Mortenson is building the new Colorado State Football stadium up there and offered to give us a tour. Rex is a CSU alumni, and when I say he was "giddy" for this tour, that would be an understatement. Ignore the fact that he wore shorts to a construction job site (I actually am probably partly/mostly to blame for that). We had a Mortenson engineer, Connor, show us around. It was insane because we got to see all of the areas you would never be able to access normally, like the locker rooms, therapeutic spas, super-rich-people boxes, coach's office and private balcony overlooking the field, etc. It's a pretty sweet stadium, and to see it before it opened was pretty awesome. We then headed to Pour House, which is a local bar in Fort Collins that B4B'er Corey works at. For those that don't know or don't remember, Corey is the trooper who rode with me during the downpour in Northern California. The one who got the flat tire at the top of the hill and the pics of us standing there miserable. Yep, great times. Anyways, it was an awesome event and I ended up chatting to some locals about the ride and cause. Oh, and there was a photo booth. So those are always nice. Big thanks to Corey for throwing it all together!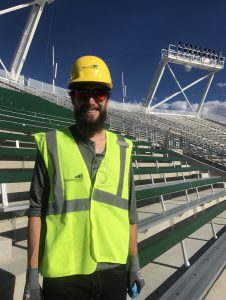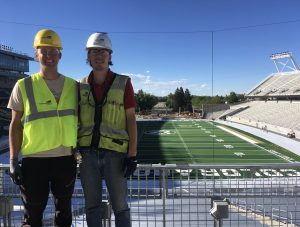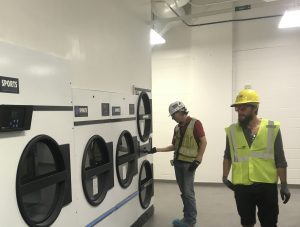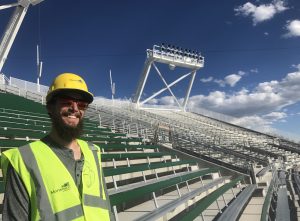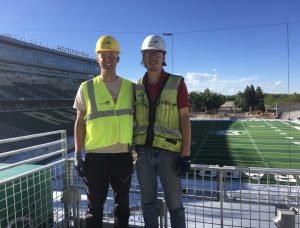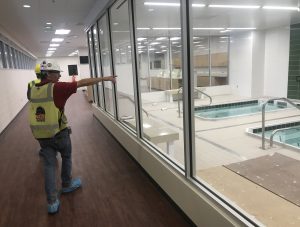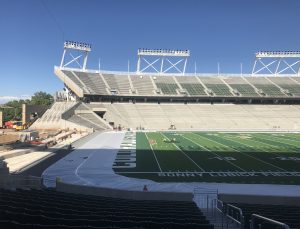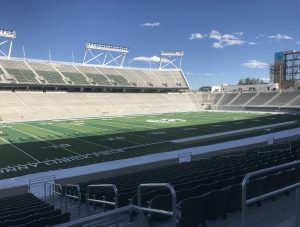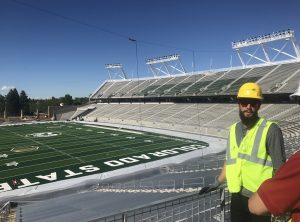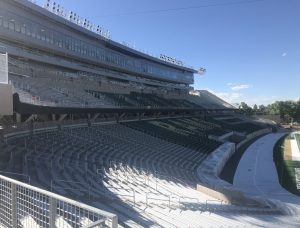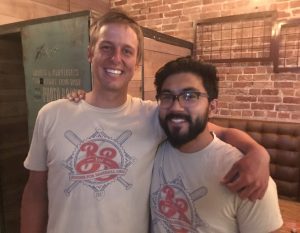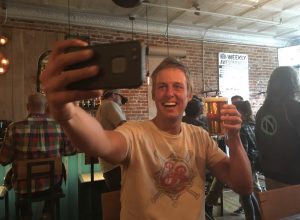 That same night, Anne was flying in for the last couple of off days in Denver. It was crazy how fast these next two days would fly by. First, the next morning, there were more Mortenson people who wanted to hear about the ride who didn't have a chance to attend the happy hour. So I swung by the office in the morning and did one last Q&A. Everyone from that office was extremely supportive, and like I said, it was all thanks to the help of Nancy. Anne and I ended the day by going back to Viewhouse for dinner and drinks with our friend from home, Kelsey. We honestly were trying to find something new, but then it started down pouring and we were right next to the place. Rain. Surprise, surprise.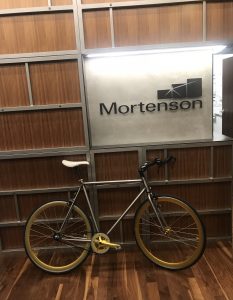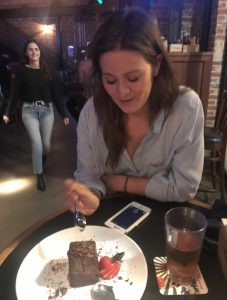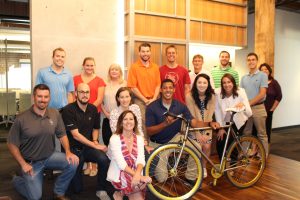 Friday was game day. Time to finally see a game at Coors Field. The Rockies were playing the Cards, so the game was a pretty big game for late May. Before the game even started, I was invited to go in "Afternoon Drive with Goodman and Shapiro", which is a sports radio show on Mile High Radio. I'm pretty sure I was only supposed to take up half of their 10-minute segment between commercials, but the guys seemed genuinely interested in the ride and just kept talking! So that was an awesome start to the game. I said it earlier, but the stadium itself is so cool. First off, they recently knocked out 8,000 or so seats in the upper right field area and put in a section called "The Rooftop". It's a massive patio deck that has four bars and Rex described it as "the coolest bar in Denver and there just happens to be a baseball game going on". That description is so spot on. People on that deck don't have the slightest clue what is going on during the game, but trust me when I say they are having a good time. Also, there is a line of purple seats around the stadium in the upper deck that mark exactly 5,280′ above sea level, which is pretty sweet. Lastly, and most importantly, they had souvenir popcorn bucket hats. Of course I got one and refilled it a bajillion times and it really came in handy in the sixth inning. ROOT sports wanted to do an in-game interview with me up on the Rooftop as a follow-up to the mini feature. Originally, I wanted the field reporter, Mark, to wear the popcorn hat. But the interview ended with him putting it on me, and I honestly thought it turned out awesome. The final media outing for what seemed like a TV marathon in Denver. Which is exactly how I like it! Oh, and the Rockies won! Which brings my home record to 3-5! Mediocre, but there is still a lot of baseball left to be played.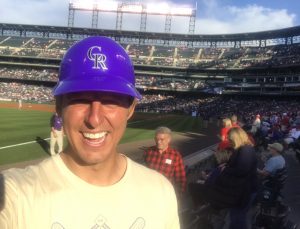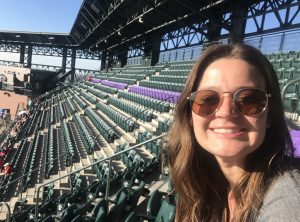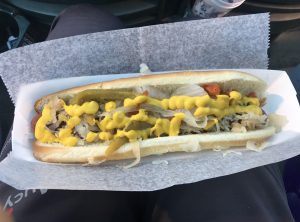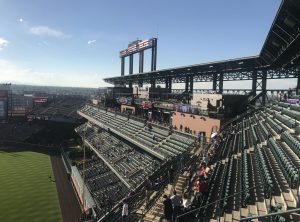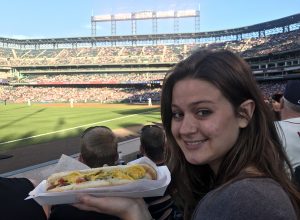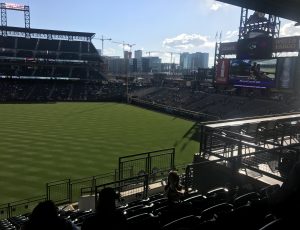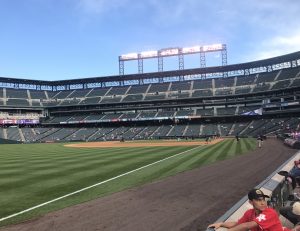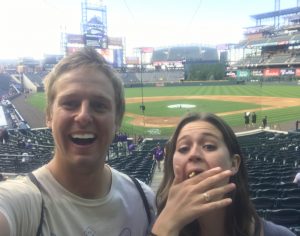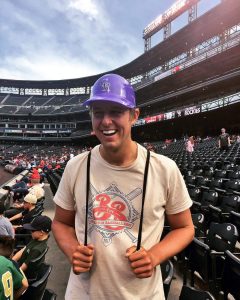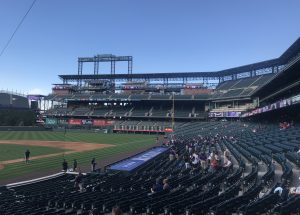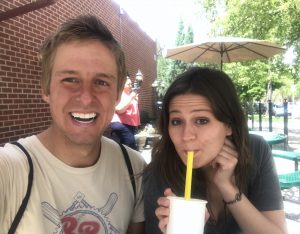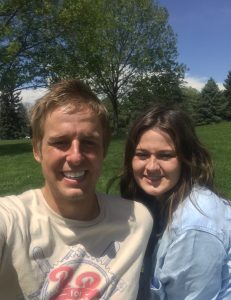 And just like that, it was time to start biking again. Anne and I took Rex's SUV and she dropped me off at my ending spot from earlier in the week. This next leg is the second leg of what I call "The Big 4": Phoenix-Denver, Denver-Dallas, Houston-Atlanta, Atlanta-Miami. Those four legs are the hardest of the trip, each presenting a different, unique challenge. For instance, PHX/DEN had a ton of climbing with me literally biking over the mountains. ATL/MIA will be brutal with fighting the Florida heat and humidity in early July. But this leg has me thinking about one thing: wind. The prevailing winds for this region are from the south/southeast, which means I could literally be fighting a headwind the whole way, and with nothing but open land to protect me from those winds, it could be a brutal leg. Luckily, some folks from Mortenson connected me with some nice people in Lamar (Christa and Kelly), so I was able to have some hosts for the first night. They also had this comically-small chihuahua named PeeWee and the biggest Corgi I had ever seen named Nacho (because he's "Nacho" dog). Their daughters are heavily competitive in showing farm animals like goats and pigs at completions or state fairs. That's a world I really didn't even know existed, so talking to them was extremely interested, and as always, a huge thanks for their hospitality!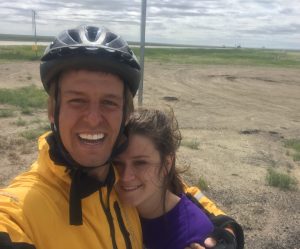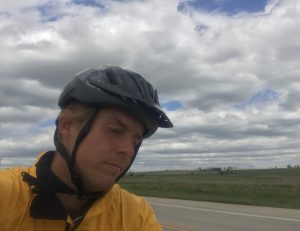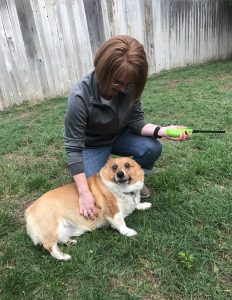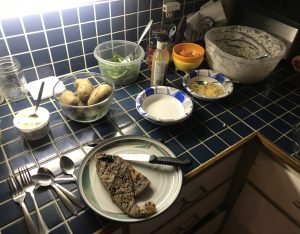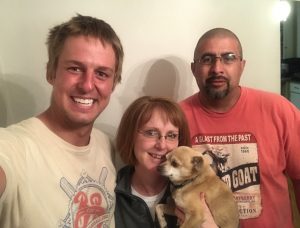 Aside from my stay in Lamar, there really isn't too much exciting going on other than biking. I'm playing a chess match with the winds. I'll spend my nights on my phone watching the forecasted wind directions and then time my rides based on the weather. The last time I trusted the weather channel I ended up in a blizzard, so I fully realize I'm rolling the dice here. However, the winds have been pretty gentle to me thus far. I actually had one day where the winds were at my back ever so slightly, the day itself was beautiful, and I was able to crank out 168 miles through three different states (Colorado, Oklahoma, & Texas) and across a time zone. Which is absurd. So I really can't complain, because I know the winds could be much worse. When I hit Amarillo, which is roughly the halfway point between Denver and Dallas, I started riding southeast as opposed to directly south. I've definitely been fighting headwinds since that turn, but like I said, it could be way, way worse. I've been keeping track of all of the fun games I play in my head to entertain myself on the road, so I think I'll give you guys a little insight to how I keep busy while biking so much on my next blog. And some of the mental games I play are straight up weird/funny, so I think you guys will get a kick out of them. As for right now, I have three more days to Dallas. And sorry for the long blog post…but for the record, everything is bigger (and longer) in Texas!