New Mexico/Colorado: It's a Winter Wonderland!
I have been getting to know Mother Nature quite well this last month and a half. We've been spending a lot of one-on-one time together, and I gotta say: she's a cold-hearted nut job (that's my PG-13 description). You never know what you'll get with her. And just when I had thought I had seen every side of her, she whips out a new face of unpredictable. This newest development? A snow storm. In New Mexico. In late May. But that'll have to wait. First, let's see how I even got to New Mexico.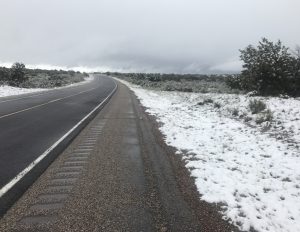 The last post ended with me finishing the climb over the Mongollon Rim, which I considered to be the end of the climb out of Phoenix. The next three days would be absolutely wonderful riding. The first day, I flew to just west of the Arizona/New Mexico. And yes, you read that right: I'm convinced I actually flew. All the stars aligned for that first day of riding. First off, the first 50 miles had a very gradual decline. The problem with super steep, 6%+ downhills is that you end up going so fast, you have to ride the brakes the whole time. Plus, it's over before you know it. But with a very gradual decline, you always have a slight advantage and can just coast. Plus, I had a massive tailwind. So I knocked out that day's 110 miles at 19.1mph, which is by far the fastest I have ever ridden a bike (yea, yea…I know all of the really good bikers average those speeds during warm-up). Nonetheless, it was incredible. The next day, I also had a tailwind as I was entering state #5, New Mexico, and gradually climbing over the Continental Divide. The Continental Divide is the hydrological break in the US, meaning all rain water east of the Divide drains into the Atlantic (eventually) and all of the rain water west into the Pacific. That was pretty cool to see. And other than having to walk my bike along the interstate for 2-3 miles (shout-out to New Mexico for not maintaining their interstate shoulders!) and some interspersed rain showers, the riding was once again fantastic. The last day into Albuquerque was more of the same, and I spent a good amount of time on the old Route 66, which hugs the newer Interstate 40. Obviously, nearly everybody takes the freeway, which means I was able to take the entire road on Route 66 and just enjoy the riding.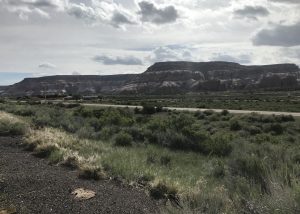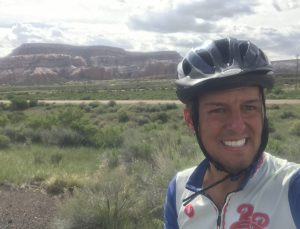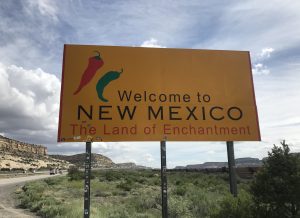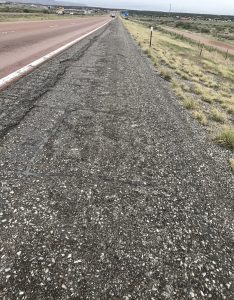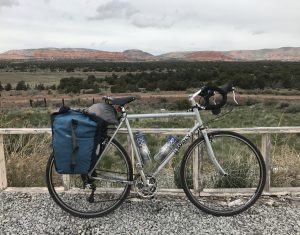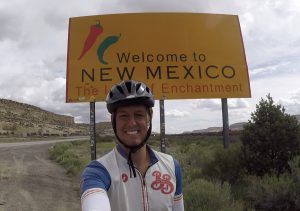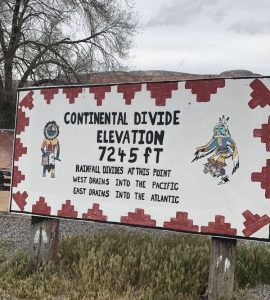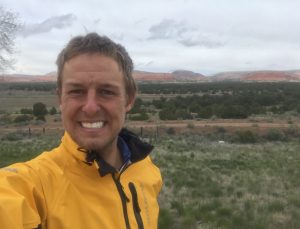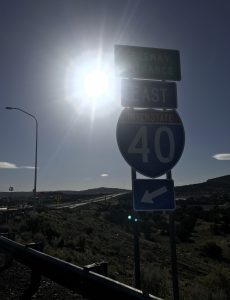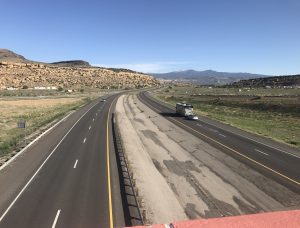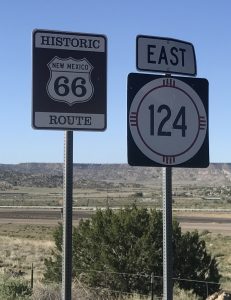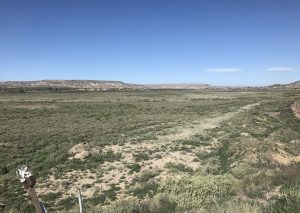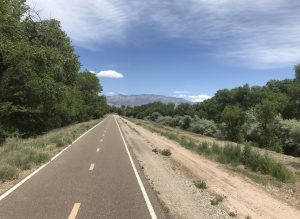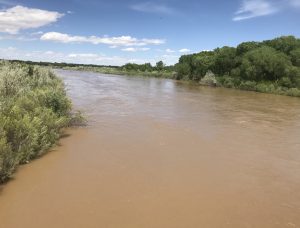 In Alburquere, I was staying with a Warmshowers host in Corrales, which is just north of the city. For those that don't know, Warmshowers is an app where other bike-minded people can open their homes to bike tourists passing through the area. It's an awesome app because you get to meet and swap stories with some pretty incredible people. My hosts, Marvin and his wife, Denny, fit that description spot-on. Marvin is a huge cyclists, who has done a tour down the Pacific Coast and East Coast, so we were able to swap stories about all of our favorite places along the coast, the worst roads, etc. They also took me to a local New Mexican Mexican restaurants (that is not a double word, by the way). New Mexico is a famous for their green and red chili, which they put on literally EVERYTHING. I'm serious, it's everywhere. We had it in our queso, in the bread, and all of the dishes are obviously smothered in it. And it's got a kick. I'm not kidding when I say that I went through 10 glasses of water that meal, doing everything in my power not to burst into tears from the heat. Meanwhile, Marvin and Denny were just adding more and more. I felt like a scrub. Lastly, and most importantly, their house had a TREEHOUSE. Marvin built it for their grandkids, and it was incredible. It had working power and lighting, and if it was big enough to fit me, I wanted to sleep up there. I settled for their gorgeous guest house instead.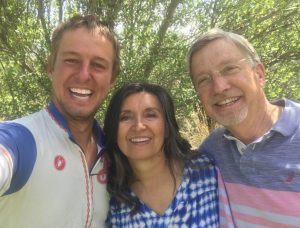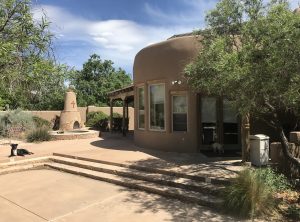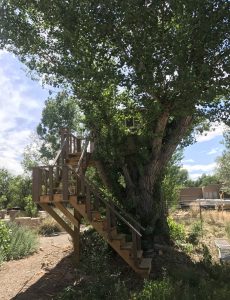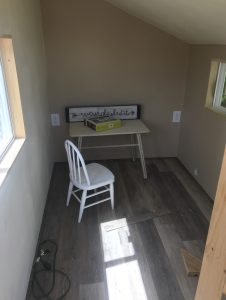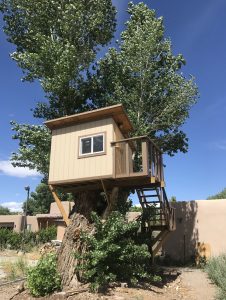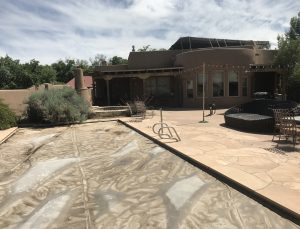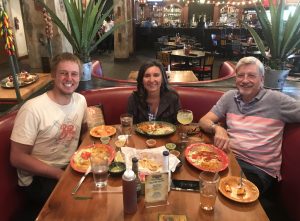 The next morning, my path switched directions and I started riding north towards Santa Fe and Denver. I started out on I25, which is one of the bike-allowed interstates in New Mexico. Some of my previous blogs mention how I actually enjoy the interstates. This was sure as hell NOT one of those cases. It was actual suicide. The shoulder actually completely disappeared at a couple of points and that's where I drew the line. I couldn't believe that New Mexico allowed this. So I got off of it and decided to trust my good old friend, Googlemaps, on churning out an alternative route. I should have learned by now not to trust Googlemaps bike directions, but I gave them another shot. It took me down a dirt road, which was staring directly down the front of a mountain. The "trail" wasn't even an actual trail, as I had to physically throw my bike over a couple of "No Trespassing" signs and some barbed wired fences (one of which broke my mirror), as well as walk super slow past a handful of guard dogs for the random houses in that area. They were barking at me like crazy, and I was convinced they were eventually going to come after me (they didn't, maybe they weren't the best guard dogs). But hey, it beats being dead on the interstate? Well, that's what I told myself up until I started having to walk my bike up that mountain trail. Then I was starting to think that playing Russian roulette on the highway was the better option. It was so steep and in such awful shape. After about an hour of Hiking for Baseball, I made it to the top, road super slow on a crappy dirt road for 8 miles, and made it back to civilization. Just a slight 3-hour detour. I ended that day in Ojo Caliente, which is famous for their natural hot springs. I obviously deserved those with the day I had, so I camped there and checked the springs out. They were so soothing and I just sat in there for a couple of hours. I also snagged dinner at the bar, where I ended up talking to three others about the trip (Bernard, Laura, and Carroll). They were wonderful to talk to, ended up buying my dinner, which was actually two dinners due to my long ride, and were just all around super enthusiastic about the cause, so big thanks to them.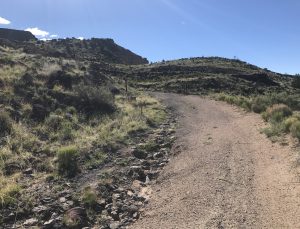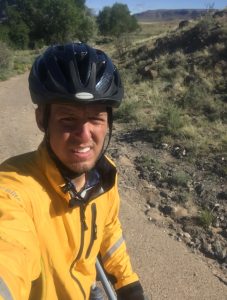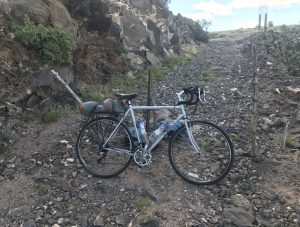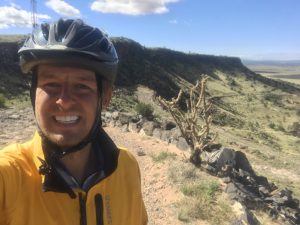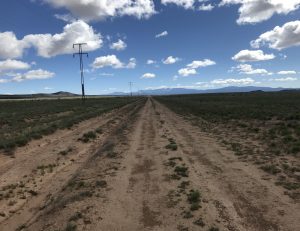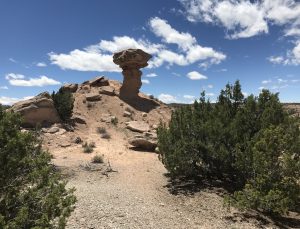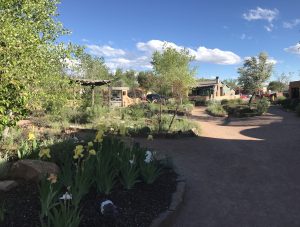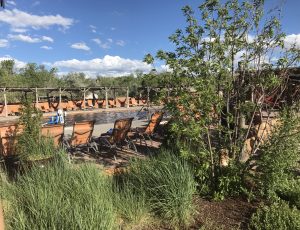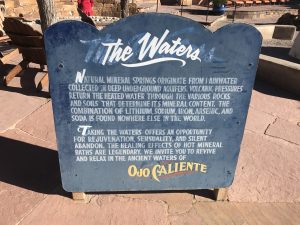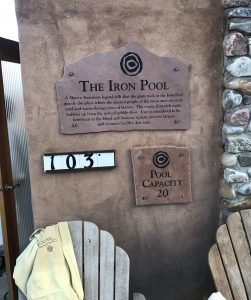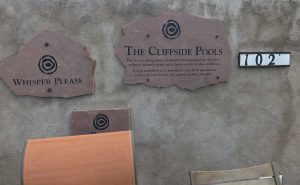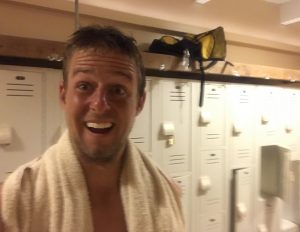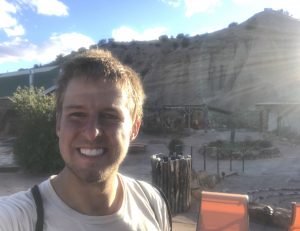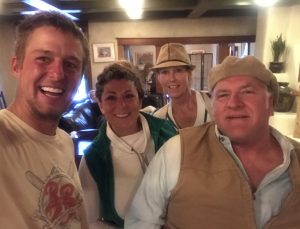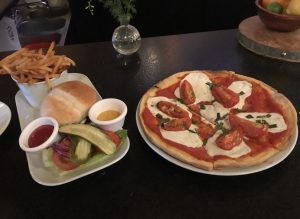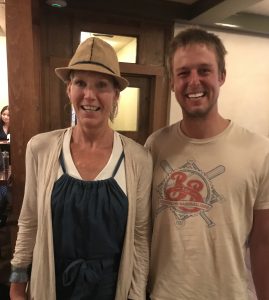 Now here is where the fun begins. I woke up the next day pretty cold, as the lows were getting down to about 20-25 degrees at these elevations. As I'm breaking camp, it begins to snow. At first, it was more of a novelty: "holy cats, it's snowing in May!". Then the snow started to pick up, and I scrambled to break camp to avoid any more of my stuff from getting wet. By the time I was packed up, it was coming down pretty hard. Regardless, I needed to get miles in and decided to try and ride it out. I hadn't riden more than a mile and a half before I could no longer see in front of me and my hands were going numb (I had shipped all of my cold-weather gear home…it's Spring, who the hell needs winter gloves?!) Yea, big mistake. I knew there was no way I would make it, so I retreated back to the hot springs area to wait out the storm. It ended up being 4 hours before the snow would stop. After eating two breakfasts, I checked the weather and had the all clear: zero percent chance of precipitation according to the Weather Channel! Perfect, it's riding time! And what did I do, but ride right into another snow storm. Except this time, I was 30 miles from any town, so the only hope was to ride through it. I was miserable and spent the entire time screaming at the weather and figure out how to get my revenge at those evil, evil liars at the Weather Channel. I don't know if a passing car heard my frustration or was just concerned that anybody was out in this storm, but they actually pulled over for me. Inside the car was the most Colorado couple I had ever seen. They were headed back to their place in Fairplay, and offered me nutter butter bars and weed. That is something I was fairly certain I would not be writing about this trip: how I was riding through a snowstorm in May and a random passing car offers me nutter butter bars and weed. I was cracking up on the inside, polite-fully declined the weed, and snagged the bars. As funny and Colorado-y as it was, it was super nice of them to stop and make sure I was alright.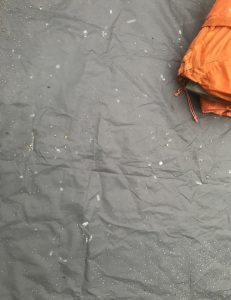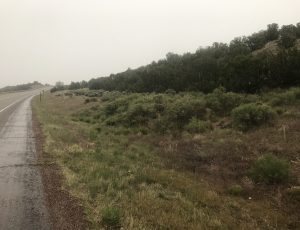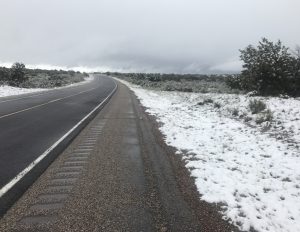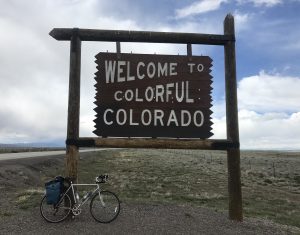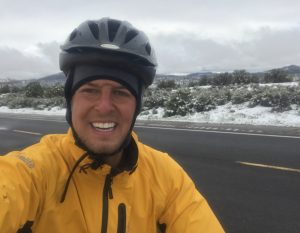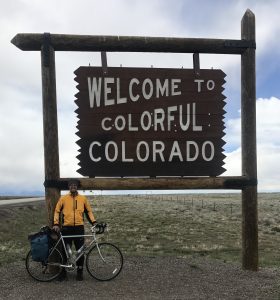 Just when I thought the worst was behind me, the next two days into Denver would be the most physically and mentally draining days of the trip. Going into the previous day, I was slated to arrive into Denver a full day ahead of schedule. The snow storm put me slightly behind that accelerated schedule, so I had to make up some miles the next day. Which meant a 131-mile, 6,000′ climb higher into the Rocky Mountains. Oh, and to really put the icing on the cake from hell, I had a headwind from the minute I started riding at 6:00am to the minute I pulled off the road at 7:20pm. See, climbing isn't bad because no matter how slow you are going up hill, you eventually you make it to the top and are properly rewarded with a downhill. There is no reward from a headwind. No saving grace. They just drain you physically and mentally. So the day was just awful. Luckily, Rex and Zimmy met up about halfway through the day to ride the remaining miles into Denver. It was a much needed morale boost, although it didn't last very long. We stayed the night in a haunted hotel in Fairplay, CO (no joke), which is the town that "South Park" is based off of. The next day, Rex and I crested the 10,000′ Kenosha Pass, which is the highest point I'll be this entire trip. The descent into Denver was comical. At first, I was kind of confused, because there ended up being a lot more climbing on the other side of the pass. So much that, despite some massive downhills, I was sitting at 8,000′ and only 15 miles from the Denver outskirts. I was all sorts of confused. Until I hit the last downhill portion. I'm not kidding when I say I didn't touch the pedals for those 15 miles. It was wild. The switchbacks and cliff-side roads were basically car-less, and there were so many cyclists coming up the hill. I felt so bad for them, as the road was insanely steep at multiple points. I don't think my bike had low enough gearing if I would have tried going up that hill. I hit the outskirts, hopped on one of Denver's beautiful, insanely-long bike trails and road it all the way to Coors Field. It was a beautiful day, everybody was out and about, and it put me in a much-needed very happy mood to end what was an extremely difficult leg!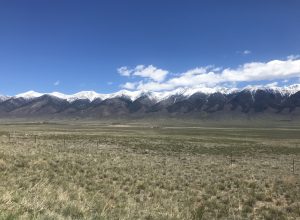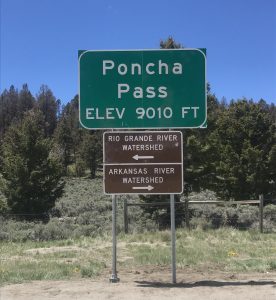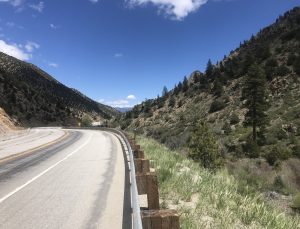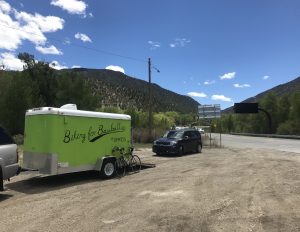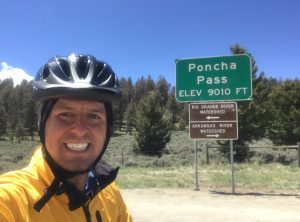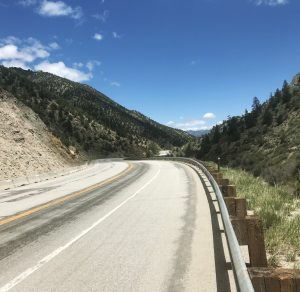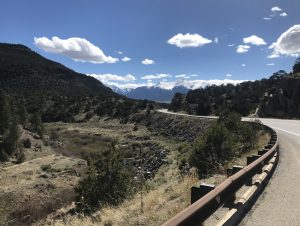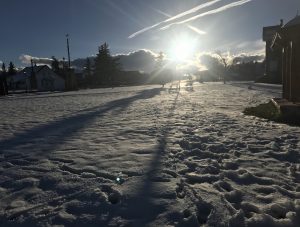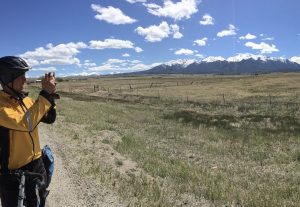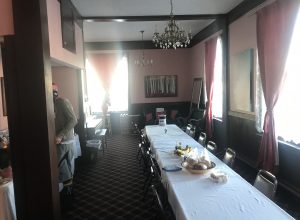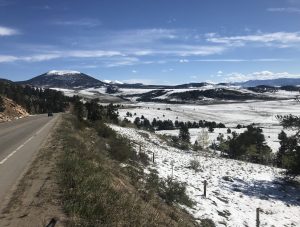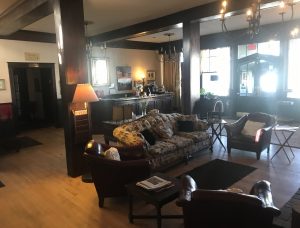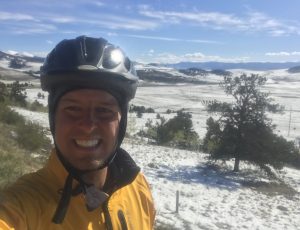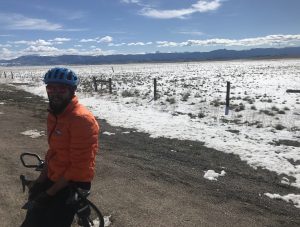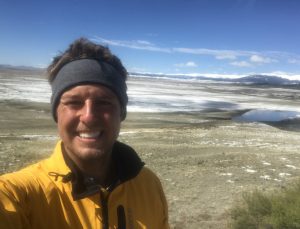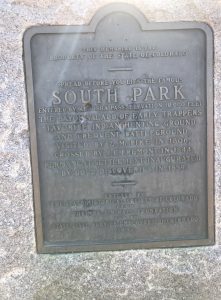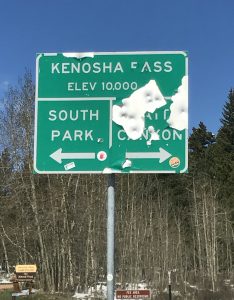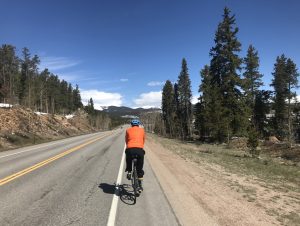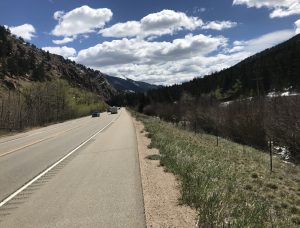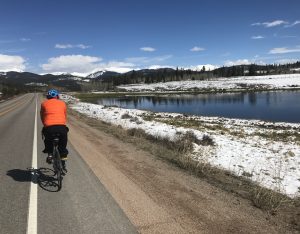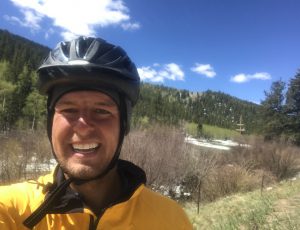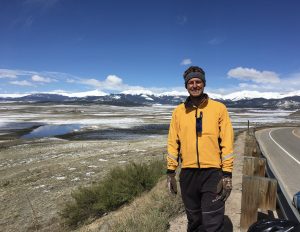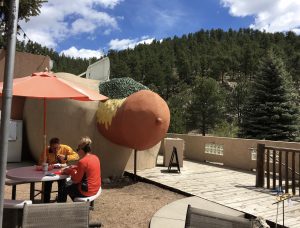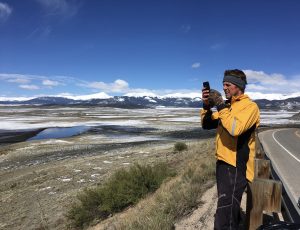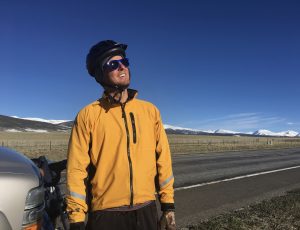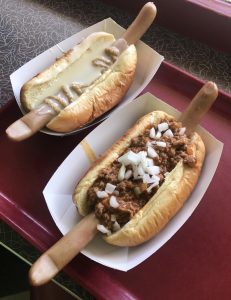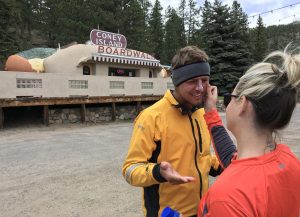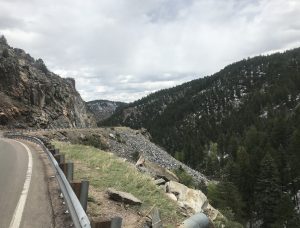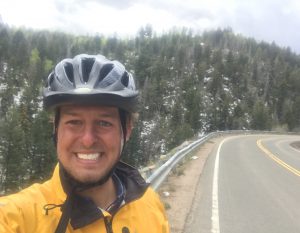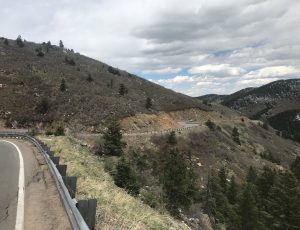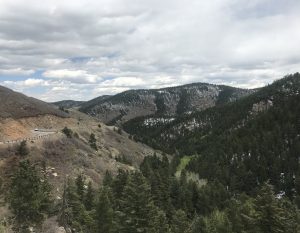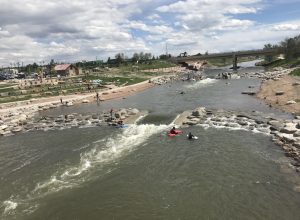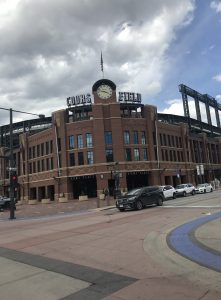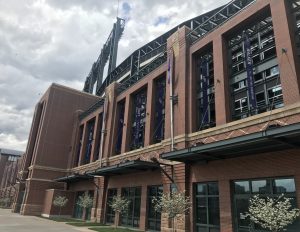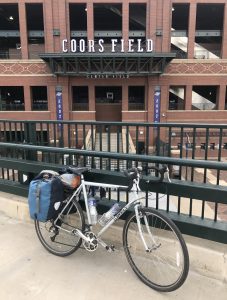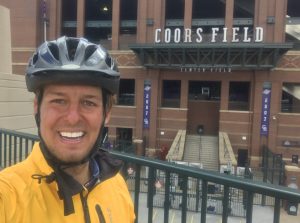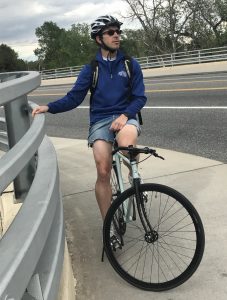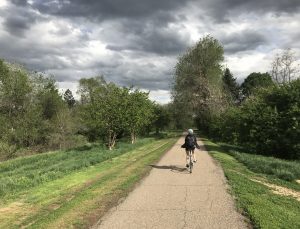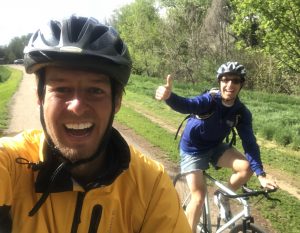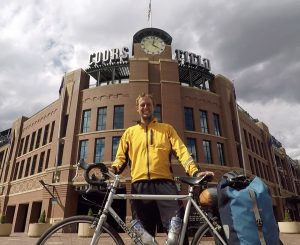 So now I have four off days in Denver. Four. Normally, I would say four is kind of unnecessary, but I definitely think I can use the time on this one. I actually took advantage of one of the days and decided to maintain my 1-day buffer in the schedule by biking 135 miles towards Dallas. Huge thanks to Rex for coming to pick me up and shuttle me back into Denver. Anyways, the schedule for these off days is jam packed. I have interviews with ROOT sports (the TV station for the Rockies), the Rockies Radio broadcasters, and an on-air interview with Good Day Colorado. In addition, Mortenson's Denver office (my company) is having a happy hour reception, Pour House in Fort Collins is having a fundraising happy hour, and we have a tour of Coors Field before the game on Friday. Oh, and the best part is my girlfriend, Anne, is flying in again! Which means this week is really going to be a great recharge. Overall, this last leg showed how difficult a ride like this can be. It was demoralizing. It completely broke me at times. But I got through it. Which is giving me a lot of hope and confidence moving forward. So while I'm certainly going to enjoy these next break days, I'm going to keep pedaling my way to Texas no matter what is thrown at me!