Arizona: The Desert is Pretty Cool
I can't believe I'm saying this, but I'm actually cold as I write this blog in my tent while camping. Who would have thought that I would be cold writing a blog about riding through the desert. And while I'm actually no longer in the desert (currently camping at about 7000′ on my way to Denver), I actually loved that place. It had everything I wanted: rain and cool temperatures. Confused? Yea, same here. But for once this trip, that was all a huge blessing and led to some pretty wonderful time in Arizona.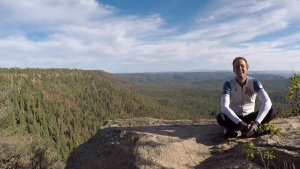 In my last update, I still had an off day in San Diego. We were supposed to catch the Padres game that day (my birthday), as well as check out the city. In one of the most unbelievable twists of bad luck, it rained all day. Literally all day. If you'll remember from my last post, it also rained the previous day when Ed and I rode into San Diego. It was actually kind of comical. San Diego doesn't get rain this time of year. That's why everyone and their mothers wants to move there. But anyways, it rained so hard that the Padres game was canceled. Only the 3rd rainout EVER in Petco Park history. For the record, I think they could have squeezed that baseball game in if you ask me. It wasn't that much rain (or so I tell myself). But it made me extremely glad we were able to catch Saturday's game. Regardless, we spent the day grabbing some lunch by the ballpark, checking out the USS Midway Aircraft Carrier, and checking out the bar from Top Gun. Like I said in the little opening: random, but I definitely enjoyed it.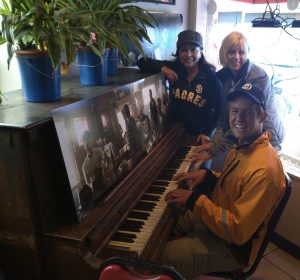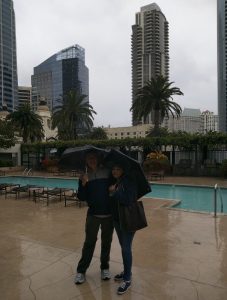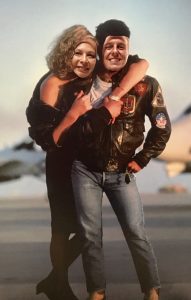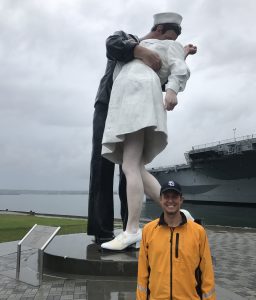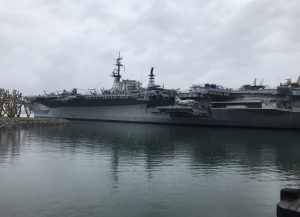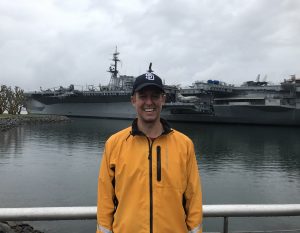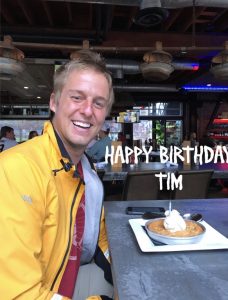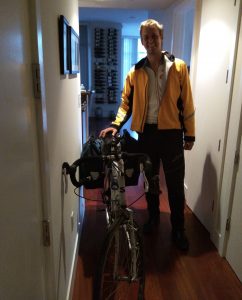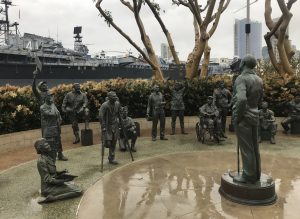 The next day, Ed and I got up early to start the climb over the mountains east of San Diego. This day would be a tough one, with 117 miles scheduled and almost 7,000′ of climbing. The scenery was beautiful and the climbing was definitely tough. There were some pretty cool views of the Mexico border as well, as we were no more than a couple hundred of feet from it at times. The wall consists of about a 15′ high, red fence, with a dirt road hugging the US side for the border patrol cars to do their rounds. I had never seen "the wall" before, so that was a cool experience. We also had this huge downhill into the desert once we reached the top of the mountain. I'm talking 9-miles long, 6% grade. For those that aren't bikers or who have no context for what those numbers mean, that's a hill so big that you can literally not touch the pedals for 9 miles and you could be going 50mph if you're daring/crazy/insane enough not to ride your brakes. It was awesome. At the bottom of the hill, I said goodbye to Ed, who had been absolutely incredible to me. I had officially entered the desert. I made my way to El Centro, where I was staying with a co-worker and friend, Tony. Let the heat begin.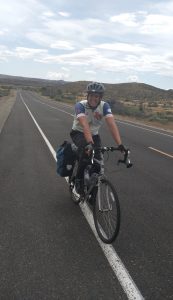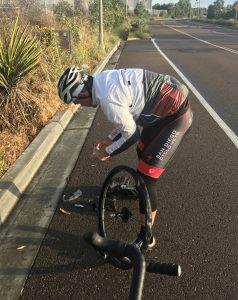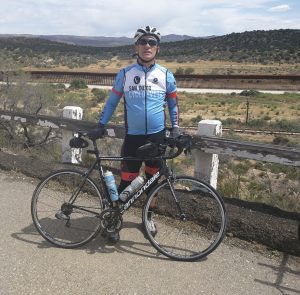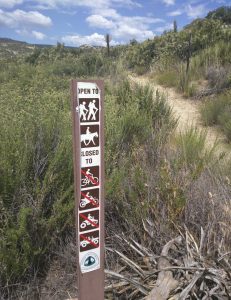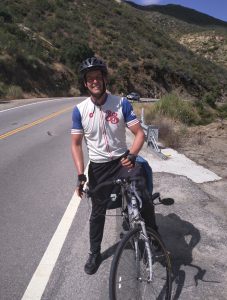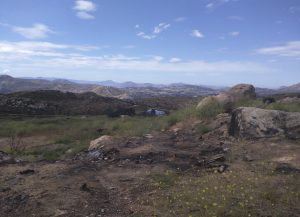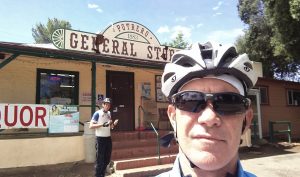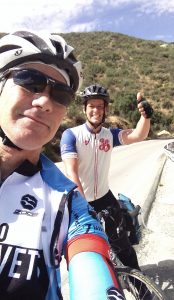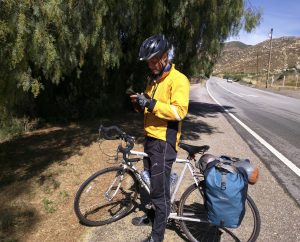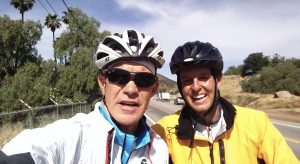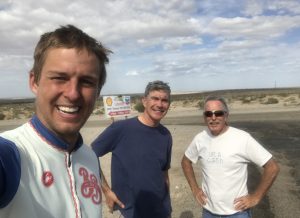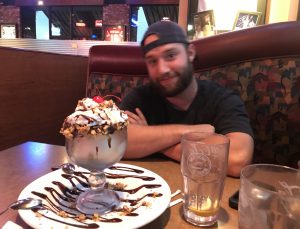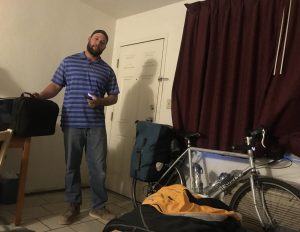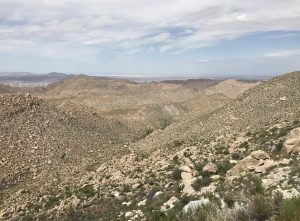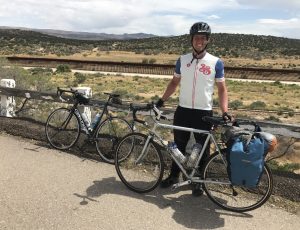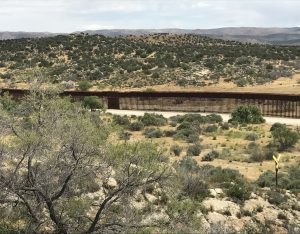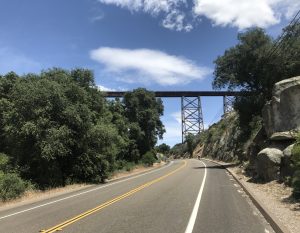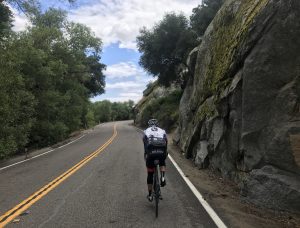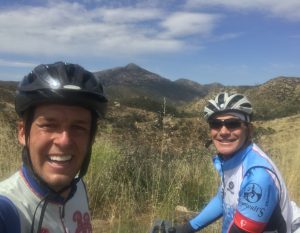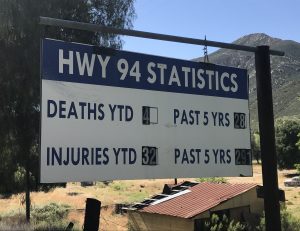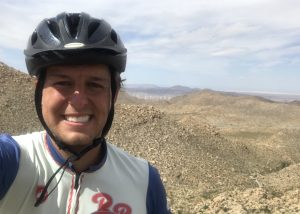 Nope, just kidding. There would be no heat. Because when I woke up the next morning to start biking, it was just shy of a torrential downpour. I was amazed. I started biking through it for the first hour or so because I figured this definitely beats the heat, which it did for all of 47 seconds. Eventually (and by eventually, I mean almost immediately), I was completely soaked. I took shelter at a 7/11, where I chatted with the store manager. He didn't help my mood as he proceeded to tell me this was the first rain he has seen in the last 12 months, so that was borderline comical. When I checked the radar, I noticed I just happened to be in a little sliver of a storm coming in from the north. So I figured I could just bike out of it, which I was able to do pretty quickly, actually. I bike about 8 miles, where I'm supposed to get on I-8. Well, that plan was thrown out the window, as there were construction signs that said "I-8 close to bicyclists, use shuttle pick up". Obviously, with the start to my day, there was no way I was taking a shuttle for 30 miles. I noticed there was a frontage-road type "highway" that hugged the interstate. I decided to test my luck riding on that. The riding was terrible at first, as the road was just in awful condition (surprise, surprise: the construction was to fix that road). But then it turned into brand spanking new road that was just for me. So I was on cloud-9. There were even a couple of local construction workers who clearly couldn't speak English but gave me the biggest smile and stuck out a bottle of water for me as I rode by, which brought a huge smile to my face. Especially since I probably wasn't even supposed to be on that road. Eventually, I make it through the construction on I-8 and I'm about 20 miles from the next "major" town, Yuma (I use "major" in the sense that Yuma was big enough to have a Taco Bell). Unfortunately, I had a flat tire and pulled off the interstate to fix it. I swap out the tube and start pumping it up. For some reason, the tube won't inflate. I try another tube. No luck. Eventually, I realize that my pump is broken and a one-way valve that lets air into the tube isn't functioning correctly (aka air was going in the tube and coming right back out the same way). I was dead in the water, and extremely frustrated. I called Rex. I called Anne. I didn't know what to do. Rex had the idea of calling a bike shop in Yuma and seeing if they'd run a bike pump out to me. Sure enough, they were able to do that. The guys at Sonoran Bikes saved me big time, and while it set me back a couple of hours, I was back on the road again. Like I've said, people willing to help out so much is the coolest part of the whole trip.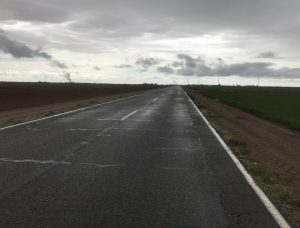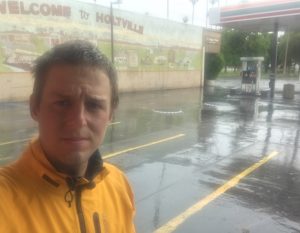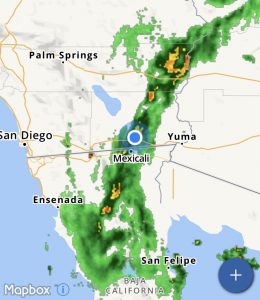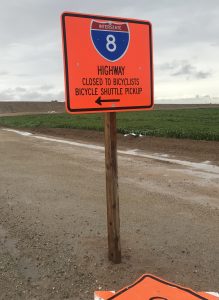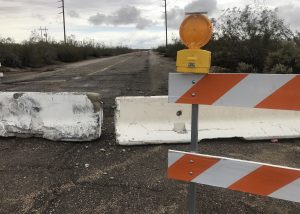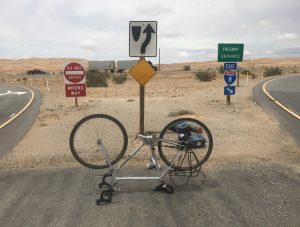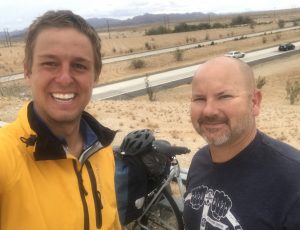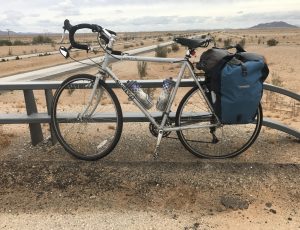 The next day's ride made me realize how I just need to weather the storm (figuratively and literally) during the crappy days of riding and it'll all be worth it. Because the next day I had the wind at my back, beautiful, relatively-mild temperatures, and I was able to crank out 141 miles at 17mph. That's faster than I've ever done, even back home on my road bike. My legs and and mind just felt wonderful, partly fueled by the delicious frozen food I had at "Conde's Middle of Nowhere Gas". Yes, that's the actual name of the place. Eventually, I made it all the way to Goodyear, AZ, which is part of the Phoenix Metropolitan area. I contacted my Uncle Frank and Aunt Pam on a whim, and luckily for me, they were able to house me on such short notice. I was able to reward myself on a great day of riding with an outdoor shower (yep, every house needs to have one of those), a huge plate of pasta, and a cozy bed. It was wonderful staying with Frank and Pam, so huge thanks to them! With spirits high, I decided to keep up the momentum and try to get a full day ahead of schedule going into my off-days in Phoenix. I rode to Chase Field and then continued on to Sunflower, AZ. For those that don't know the geography of Phoenix, the climb on Bee Line Highway out of Phoenix to Sunflower is absolutely brutal. No places to stop for water. Outrageously steep at times. The vast majority of the 4-lane highway is on a mountainside so steep that the directions of traffic have to split and take different routes due to the terrain. It's pretty brutal, so getting a jump on these miles would be extremely clutch. This portion of the trip has actually been the portion I have been most nervous about ever since I made the drive down the same highway the year prior. My reoccurring thought during that drive: "How the hell am I going to ride a bike up this?" Also, like I mentioned, there's really no stops for water on the 70 mile stretch between Phoenix and Payson. That is aside from an extremely shady water tank that says "for cars only". I've read about it online and people said they've drank out of it before while biking this same route. So even though it probably would have killed me, or at a bare minimum, turned me into a mutant, I was going to drink this water if I had to. Thankfully, I wouldn't need to. Also, huge thanks to my friend, Gabby, in Phoenix who drove all the way to Sunflower to come pick me up when I was done. I don't know what was more of a burden for her: driving so far out of her way to help me out or having to sit next to my disgusting, smelly self on the drive back into Phoenix.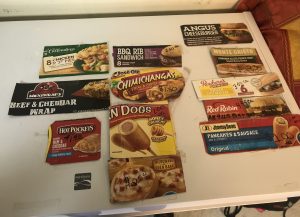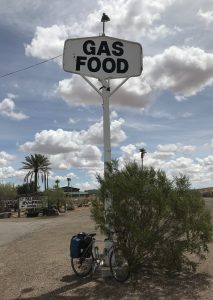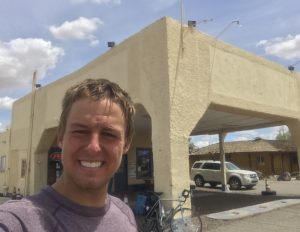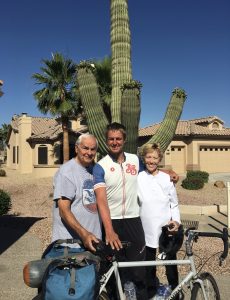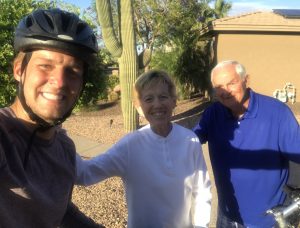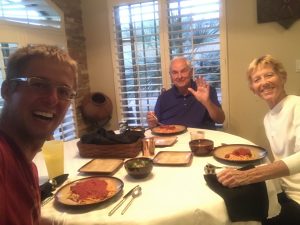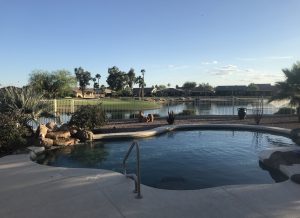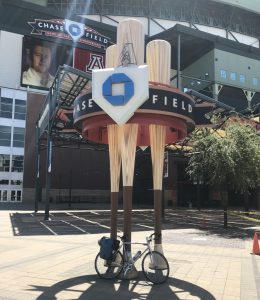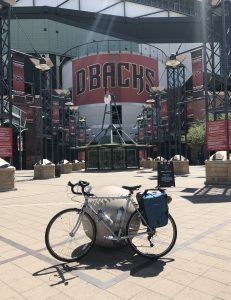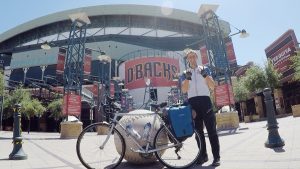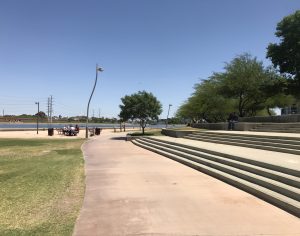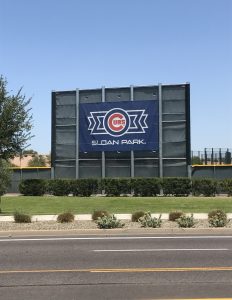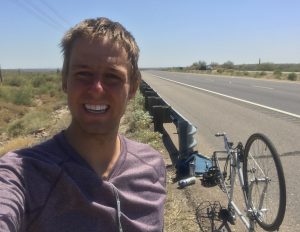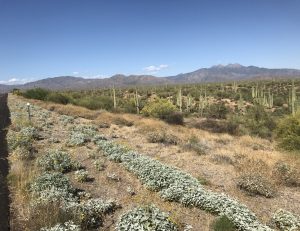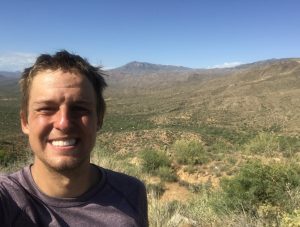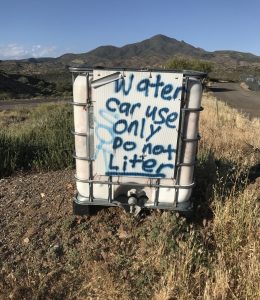 After knocking out some serious mileage, I finally had a couple well-deserved off days in Phoenix. I was staying with Tony (the same guy I stayed with in El Centro) and his girlfriend, Gabby. I also had some visitors flying in to meet up: my girlfriend, Anne, and my sister, Heather. Like I've said before, meeting new people is by far the best part of this trip. But that doesn't mean that seeing some familiar faces isn't extremely refreshing. First things first, I was really craving some good ole' Chicago food, so I dragged Anne to Lou Melnatis Pizza. If I had a dime for every time she said "I'm glad I flew all the way to Phoenix to eat Chicago pizza" from her, I could single-handily fund both scholarships. But we both agreed it was delicious. The first full day, we grabbed some much-needed In-n-out Burger (we're big food people in case I don't make that clear in these posts) and then Anne and I spent the day just relaxing at a pool and catching up. Anne (as well as my family) has been my foundation for this trip. Whenever I'm frustrated or upset or down, I immediately text/call her, even if it's just to rant. And let me tell you: she's had to put up with some pretty long rants, but she always is there to talk to when I finish a ride. I can't tell you how refreshing that is. However, I'm pretty sure she could barely recognize me with how much weight I've lost, which I am starting to feel is a bad thing. New goal: eat more. Anyways, we also managed to meet up with Rex for some dinner (Yea, like "Biking for Baseball" Rex!), as he and his girlfriend, Zimmy, were in town for a wedding. So many names, I know. It was even a bit overwhelming for me.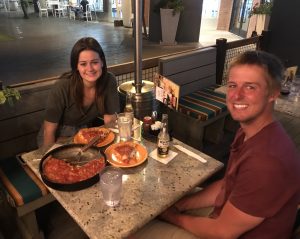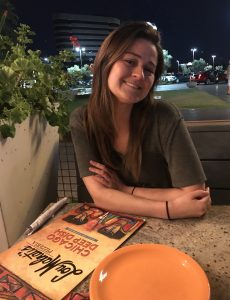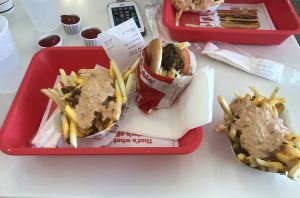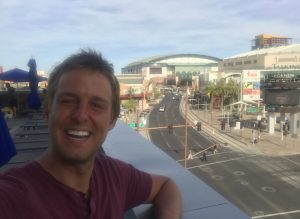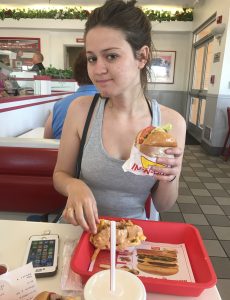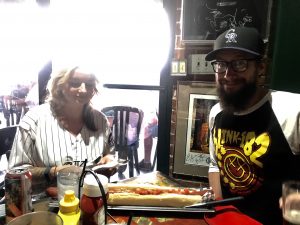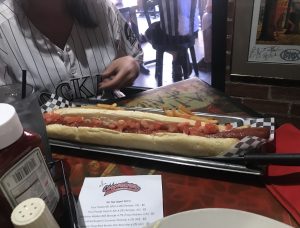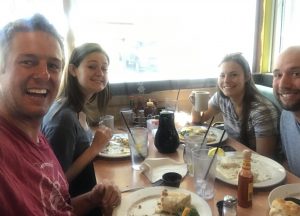 The next day, I had planned for Heather, Anne, and I to all hike Camelback mountain. Camelback is a solid 45-60 min hike and is just enough of a workout to make you feel like you accomplished something but not enough to ware you down too much. Well, my sister and Anne were having none of it and insisted on staying poolside during the day. I wasn't even going to remotely complain. Camelback seemed like a good, quick trip to get a good view of Phoenix and see something on the trip for both of them. But if they wanted to sit by the pool all day, I was completely game! So that's what we did. We also caught the Diamondbacks game that night. When I worked in Phoenix last year, I worked with a sub-contractor (PCI) who I became really close with. A couple of guys from that company took care of the tickets for us, which were awesome seats (huge thanks AJ and Ryan!). The three of us attended the game with Tony and Gabby, as well as my former boss, Josh, and his wife, Christina. The Diamondbacks lost. Which brings my record to….*disappointing drumroll*….2-5. It's pretty pathetic. I don't know what is with my luck, but I'm starting to feel bad for these home fans having me at their games. But on the bright side, I might have to give Chase Field the nod for the best ballpark food solely for their "Buffalo Chicken Fries". Waffle fries with buffalo chicken, blue cheese crumbles, cheese, and green onions. It took all of my self-will and self-respect to not get a second order after finishing my own and polishing off Anne's. A gold star for the Dbacks. Lastly, shout-out to Don, a B4B supporter who managed to find our seats and we were able to talk biking for a while!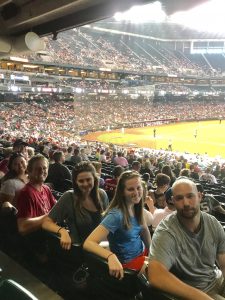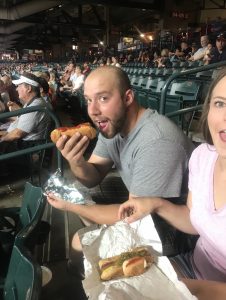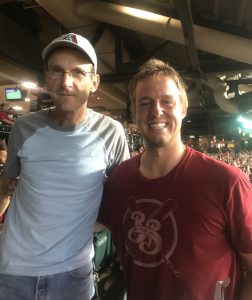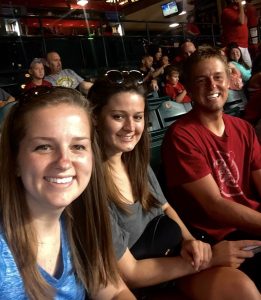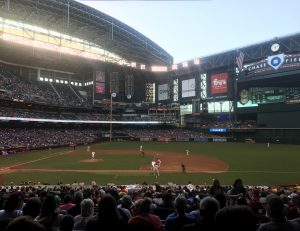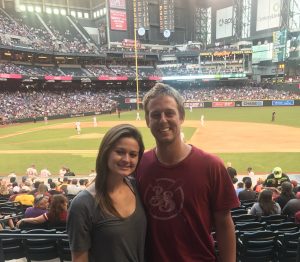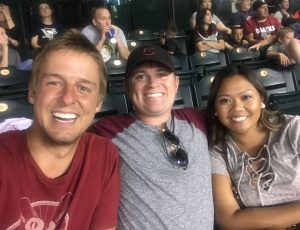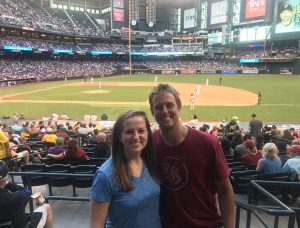 The next morning, I said goodbye to Anne, Heather, and all of my other friends in Phoenix and snagged an uber back to where I finished biking in Sunflower. This next day would continue the extremely steep climb that I started the previous ride. It was tough, but the whole time, my only thought was how glad I broke up the climb between two days. I don't know if it would have been possible otherwise. Eventually, I climbed my way through Payson and to the top of the Mongollon rim, roughly 7,500′ above sea level. For the record, Phoenix sits at roughly 1,000′ which means I netted about 6,500′ in just two rides. Insane. And what's even funnier is Denver is only at 5,200′. Which means it's all downhill from here…right? RIGHT?! All jokes aside, the best part is I am now out of the desert; I see green and, like I said in the beginning, the temperatures are comfortable during the day and actually kind of cool at night. I've still got a long, long way to Denver. Lots of miles, lots of climbing. But like I've done this entire trip, I'll keep pedaling!