LA/San Diego: Come on, David!
I just turned 25. My golden years are over. There's nothing to look forward to from here on out. It's all downhill from here (lol…I wish it was. That's a gravity joke). All jokes aside, if I wasn't busy doing all of this biking, I actually probably would have some negative feelings about turning 25. It does feel really old. Now, it's obviously not actually "old", but it certainly feels like it. Especially to somebody like me who still gets giddy like a 5-year-old when riding Pirates of the Caribbean at Disneyland. But it's hard to even feel like I'm getting older when there is so much to look forward to on this trip. And along those same lines: so much has happened since the last time you heard from me.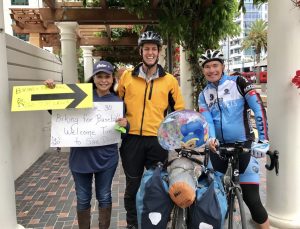 In Los Angeles, I was staying with my friend Derek in Hollywood. Just a couple of blocks from all of the cool, touristy Hollywood stuff. People who have never been to LA are probably thinking "Wow! That's so cool! Hollywood is probably awesome!". Wrong. It's kind of dumpy. There are a lot of homeless people, a lot of tourists (obviously), and the area just feels dirty. It's not very impressive. Which is exactly what I used as my excuse to myself for not leaving Derek's apartment on my first off-day in LA. "Why go outside, Tim? There's nothing worth-while to see anyways". Obviously, that is not true, but I used it as my excuse to just decompress and recharge after the ride from San Francisco. The next day, I made sure to be productive and hike up through Griffith park to the Hollywood sign. When I first started hiking, I kind of half joking/half seriously said to myself "it's your off day, why the hell are you doing so much physical activity…". To be fair, lazy me had a good argument there. But I'm very glad I did it. Griffith Park is beautiful, and you are rewarded with stellar views of the LA skyline to the south and the San Fernando Valley to the north. Also, you realize just how massive those Hollywood letters really are when you're standing behind them. They're huge. And the hike wasn't nearly as crowded as I was expecting. Maybe that was because Griffith Park is so massive and people were so spread out, but whatever the reason, I was definitely pleasantly surprised by this popular gem.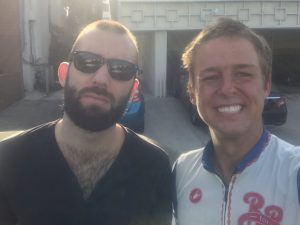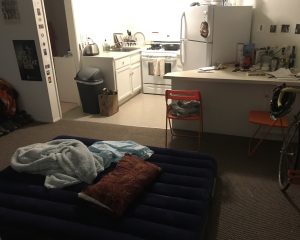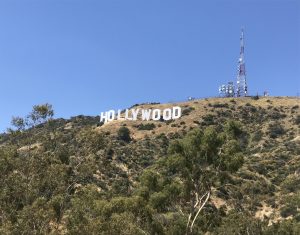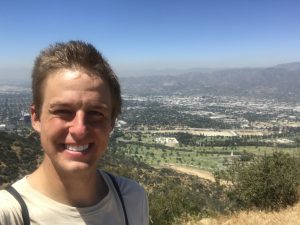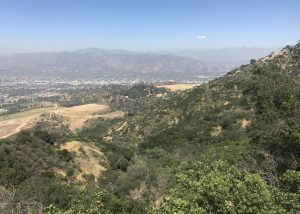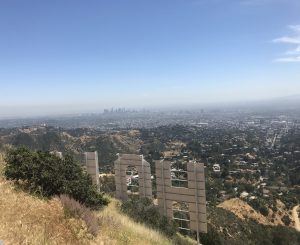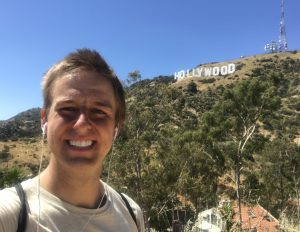 That same night, I was catching the Dodgers/Giants game with some people I met on Reddit. For those that don't know, Reddit is like this huge public discussion forum where you can talk about anything and everything with like-minded people. So when I posted about the ride on the Dodgers sub-Reddit, there was a handful of people who reached out saying they would love to go to the game. I ended up going with a guy named Phil and his two buddies, Eric and Greg. We all grabbed some beers at a trendy bar (because trendy is obviously my middle name) near the stadium and headed over. I have been to Dodgers Stadium before, but completely forgot how absolutely MASSIVE it is. It's on another level. We sat right behind home plate in the upper deck, which was perfect because we had this panoramic view of the stadium. The guys also got me a first-time Dodger game certificate, eventhough they knew it wasn't my first time, which is hilarious. It's signed by Magic Johnson, so you know it's legit. The Dodgers managed to beat the Giants, which brought my home record to an underwhelming 2-2. I had visions before this trip started of going 30-0 on this ride. Yea, that didn't last too long.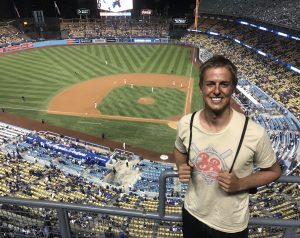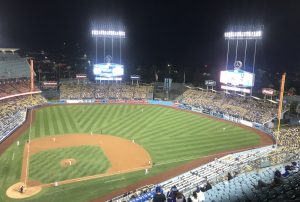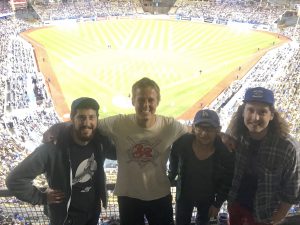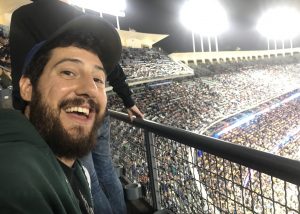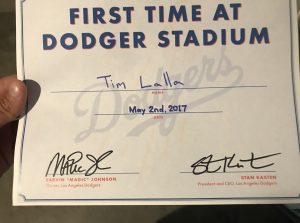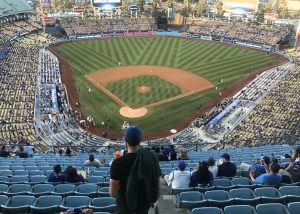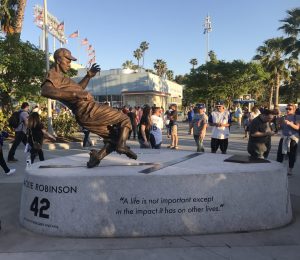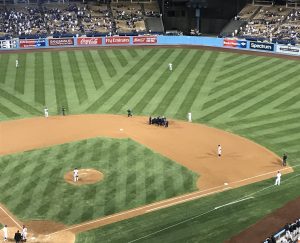 The next day, I had to make the "short" ride from LA to Costa Mesa, where I would be staying with my great aunt and great uncle. The ride was only 60 miles, but it took me forever. Trying to fight through downtown LA at 8:00am during the heart of rush hour might not have been my best move. I also had one guy who gave me a single-finger high five when he couldn't get around me in a street with no bike lane (aka all of the streets in LA), so that was really nice! But my favorite was my pit stop at Disneyland. I thought this was going to be a quick, 5-minute stop to take my picture in front of the park and continue on my way. Oh, how wrong I was again. Disneyland and California Adventure share a common area in between them that serves as an entrance plaza and a perfect photo-op spot with my bike. So that's where I wanted the picture. Well, I couldn't find how to get to the damn spot. I eventually asked a security guard near one of the resorts, and he mentioned to go through Downtown Disney, but that I would have to walk my bike. Perfect, absolutely no problem. I get to Downtown Disney and find they have security checks before you can even get into Downtown (remember: this isn't even the parks yet). Once again, no big deal, although they did confiscate my pepper spray, which I wasn't too thrilled about but understood their angle. So I'm walking my bike through Downtown and this security guard comes up behind and says to me "Sir, you can't be in here with the bike". I was caught off guard. I just walked through 15+ security people at the security check who had no issue with me walking my bike through here, and this guy was claiming they're not allowed. His name was David. As you'll see, I do not like David. I'm explaining to David that I'm just going to take a picture, coming back to the parks tomorrow, the ride and cause, and pleading/arguing with him for a solid 15 minutes. After I told him about the cause, he tried playing the "well then I really can't let you in. This is Disney property and you would need special permission to use that on your blog". Now I realized that David really just had a huge power kick. While this was unfolding, another security guard came up and said "Sir, you are completely fine. Do not mind him. I don't know why he's giving you a hard time". Keep in mind, David is still right there! I almost burst out laughing. What an awesome guy. But that security guard ended up walking away, while David "called his manager". I'll put good money he didn't actually call anyone. Eventually, David gets off the phone and says he needs to escort me out and that if I want to come back, I need to lock my bike up outside. David was not the brightest crayon in the box, as I tried explaining my literal life is in that bike and I can't just "lock it up". At this point, I'm a combination of frustrated and astounded. He leads me to the exit and I am just glaring at him. Well, I quickly realized there is another security check on the east side. I gave David the most sarcastic good-bye wave and smile of my life and biked over to the east side. The workers there were so friendly and nice. One offered to just escort me for my pictures, during which we chatted about the ride and what not. It was wonderful, and it made me feel much better that "The Happiest Place on Earth" didn't have a bunch of Davids working there. I also swung by stadium #5 during the ride: Angel Stadium!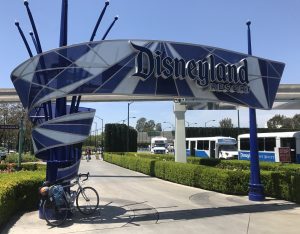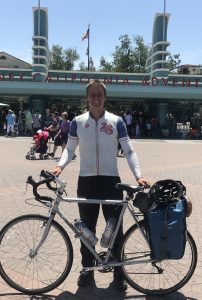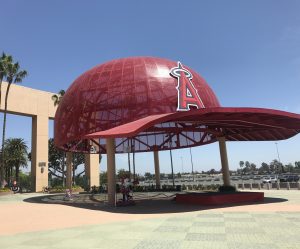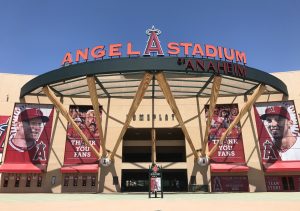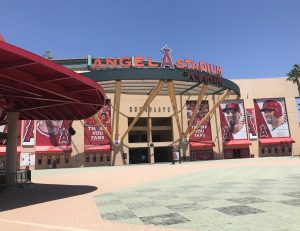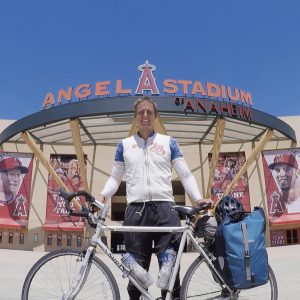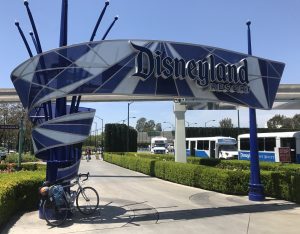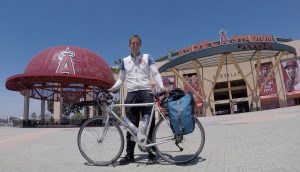 Earlier during this week, I was trying to figure out what I was going to do on one of my off days in Anaheim/Costa Mesa. I can't remember who, but somebody asked me if I was going to go to Disneyland. I posted on the Disneyland sub-Reddit (the internet is an incredible place) seeing if anybody wanted to go Disneyland with me, as going solo didn't seem as fun as riding the rides with others. Anyways, a guy reached out to me and said he works as Disneyland and can get me in. Well that is just perfect. So I meet John at the parks, as well as his mom and her friend, Shelby, who were also going to the parks that day. John signed the three of us in, and we all dashed for Space Mountain. This was on Star Wars Day (May the 4th), so it was actually "Hyperspace Mountain" and had a sweet Star Wars Theme. Afterward, John actually had to dip early to go to class, so I just hung out with his mom and Shelby. We were cranking out rides. Big Thunder, Pirates, Haunted Mansion. We were cruising. Around noon, another redditor who was interested in meeting up texted me. His name was Luis, so I met up with him and we parted ways with the two ladies. Luis was an annual pass holder, so he knew his way around the parks. We hopped over to California Adventure and rode California Screaming and the raft ride. Towards the end of the day, we caught the "World of Color" show over the lake in California Adventure. It is an incredible show with hundreds of fountains shooting water 300′ into the air while lights project images and videos onto the water. It was so cool. Overall, Disney really doesn't disappoint and it was the first time that I was able to truly just "forget" about the bike ride and lose myself in the day. It was perfect.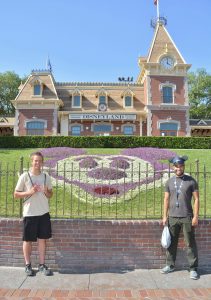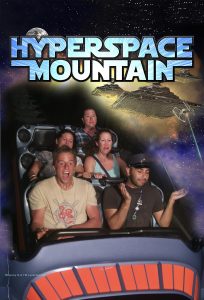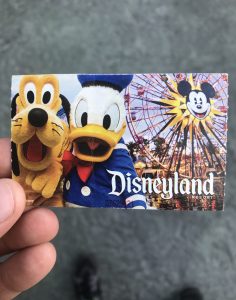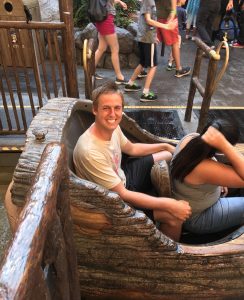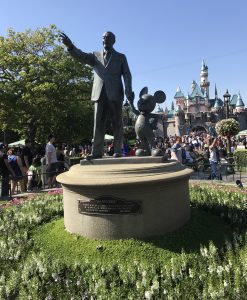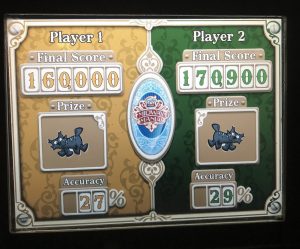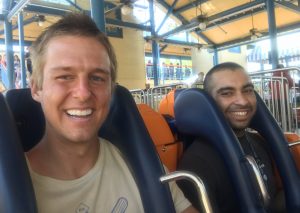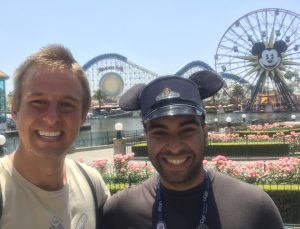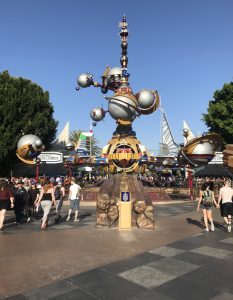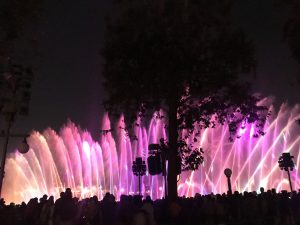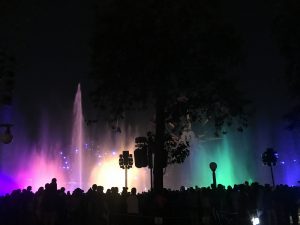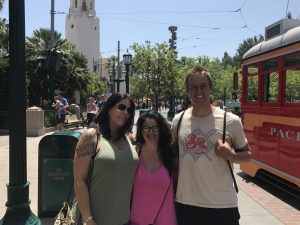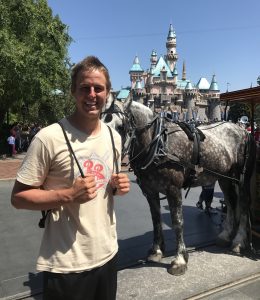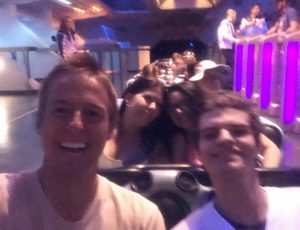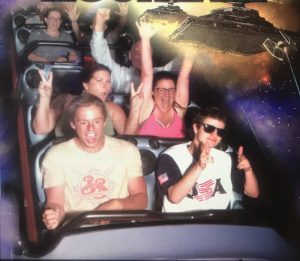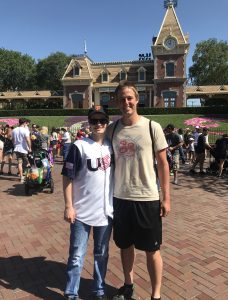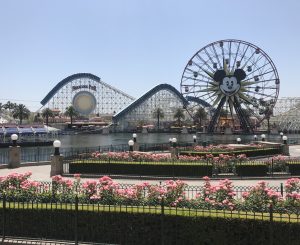 As I mentioned, I was staying with my great uncle, Doug, and great aunt, Alma, in Costa Mesa. I don't get to see them very much since we live so far apart, so I forgot how they are just the nicest people. They have three dogs, and each day, they babysit their grand daughter, Hannah, as well as their son's (Bryan) dog, so there is never a dull moment in their house. The day after Disneyland, Doug, Bryan, and I went to catch the Angels game. We were also meeting up with a guy named Rick and his grandson, Jackson, who were interested in catching the game with me. Jackson was the biggest Mike Trout fan you'll ever meet in your life, and it was awesome to watch his eyes light up whenever Trout came to the plate or made a play in the field. We had awesome club-level seats, thanks to Mike with the Angels. Angel Stadium is pretty cool in that is extremely old (4th oldest), but doesn't really feel that old. The Angels were down 6-2 going into the bottom of the 9th, but managed to tie it and force extra innings. The place was rockin'. But then they quickly gave up the go-ahead and eventual winning run in the top of the 10th, bringing my home record to an extremely under-whelming 2-3. I definitely would not call myself a good luck charm. The next morning, I said goodbye to Doug and Alma, and I can't thank them enough (as well as everybody else) for everything they did for me during my short time there!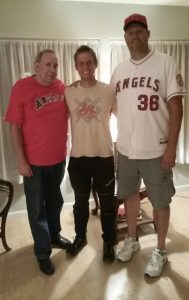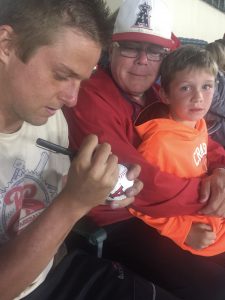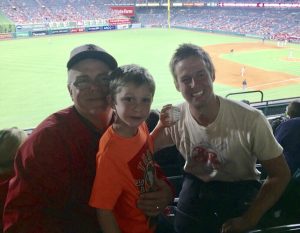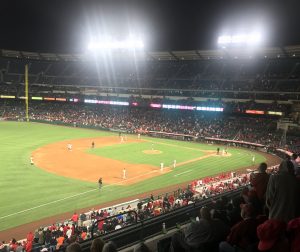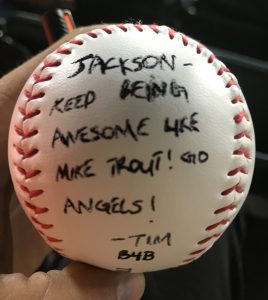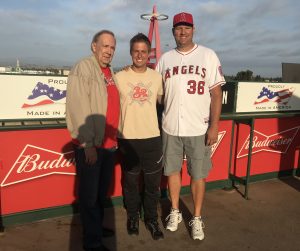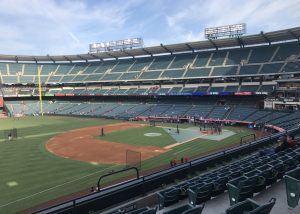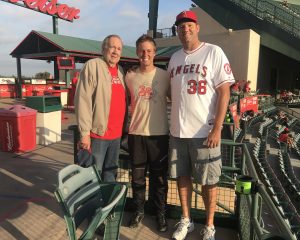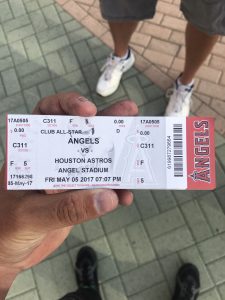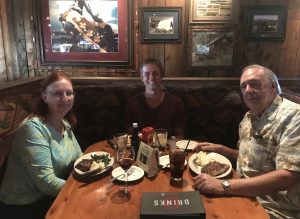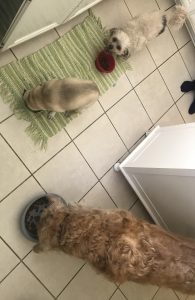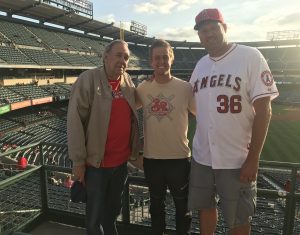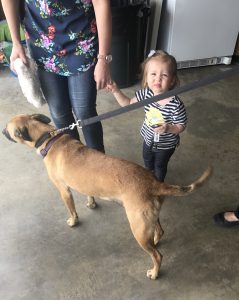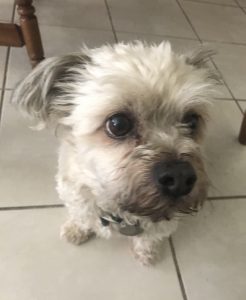 The next morning, I waved goodbye to Doug and Alma as I left for San Diego. It would be just shy of a 100-mile day, and I was going to be battling winds from the south as well as potential rain, so I left early. Also, it never rains in Southern California this time of year. I guess it's only fitting that the Pacific Coast starts and ends with showers. The ride was awesome in that the entire ride has separate bike lanes or abandoned roads that only cyclists ride on. It's a great feeling having an entire abandoned road to yourself for 20 miles. About halfway down, I reached Camp Pendleton, a massive active military base that really serves as the divider between the LA and San Diego metropolitan areas. Cyclists are allowed to ride through the base, which otherwise we would have to ride on I-5. At the gate, a marine with an automatic shotgun checked my ID and explained the route through the base. I was 99% sure I knew the answer, but I asked him anyways: "I assume we're not allowed to take pictures, correct". He responded with "Absolutely no pictures…*long pause while I'm riding away*…but thank you verifying before doing so". I shouted back "I don't screw around with marines and automatic shotguns!", from which he gave the faintest hint of a laugh. That was satisfying for me. Halfway through the base, I met up with Ed, who I was biking into San Diego and staying with during my time there. Ed is a Padres season ticket-holder, so we talked a ton of baseball, and despite the headwind and sporadic rain, it was a great ride. To make things even better, when we arrived at their beautiful apartment building downtown, his wife Diane and friends, Jim and Kathy, had this mini welcoming party when we pulled up. They made signs and were jumping up and down and it was so cool. A couple of the signs were actually signs from the Tour de France, as Ed gives bike tours in France during the race. We even had time to run to their friend's rooftop place, which looks into Petco Park, and catch a bonus Padres game. This view was incredible, and I ate my weight in tacos while watching the game. Keeping with the home-team-losing theme, the Padres got slaughtered 10-2, bringing my record to a now-laughable, 2-4.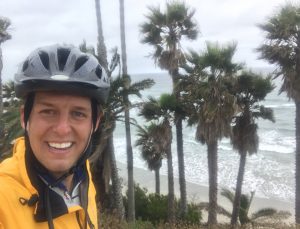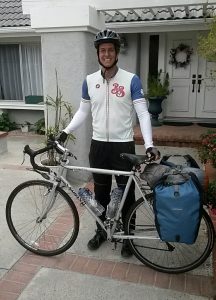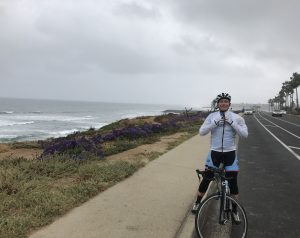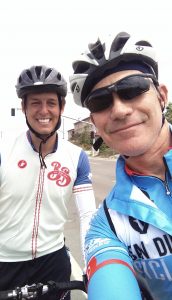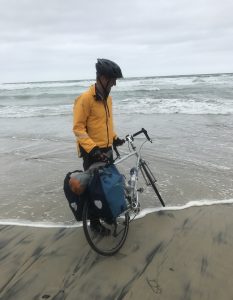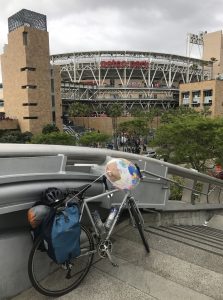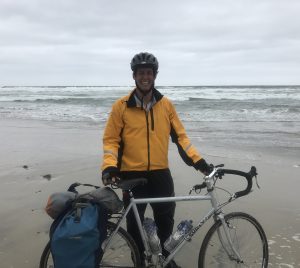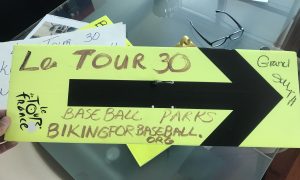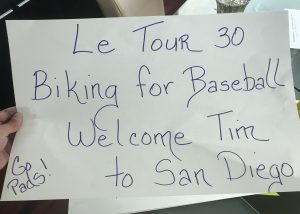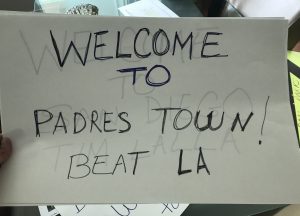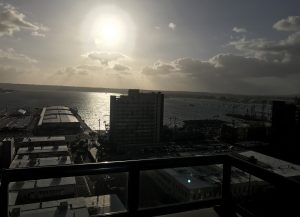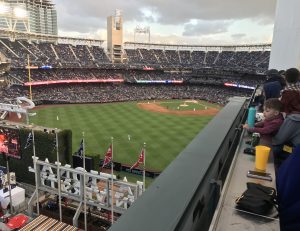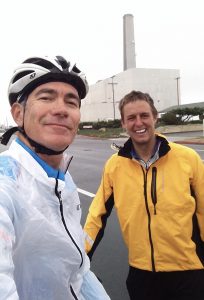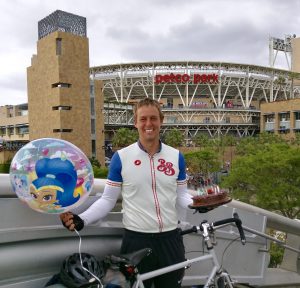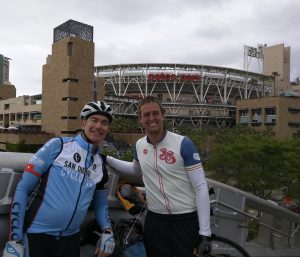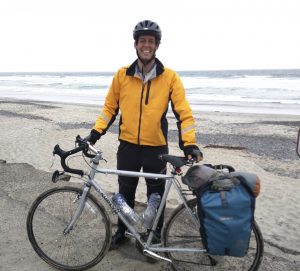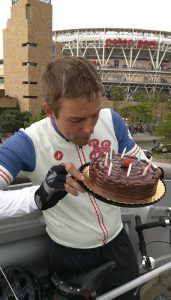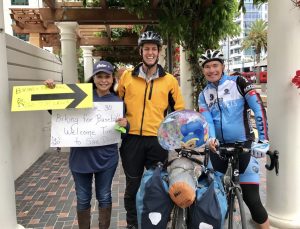 So that brings me to today. We're going to catch the Padres game this afternoon, as well as check out San Diego. It's hard to believe that the Pacific Coast is now completely done. This is the first time I've felt extremely proud of what has already been accomplished: biking the entire western coast of The United States. It's pretty cool to be able to say that. But there's so much more left to do. So much more biking. So much more baseball. So many more people to meet. So even though I'm another year older, I like to think I'm still on the way up (and with the Rocky Mountains coming up next, that's truer than ever).
Sorry for another corny gravity joke.