Central California: Wine on Wheels
The last 5 days have taught me really only one thing: why does everyone not live in central and Southern California. The weather is incredible. The scenery is stunning. And I'm convinced they have more wineries than actual people. And they have a lot of people. So I'm sitting in Los Angeles writing this in argueably the best mood of the trip because the ride down from San Francisco was nothing short of incredible in all regards.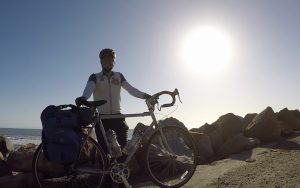 My last post ended with me catching the Giants game with Brooks and heading back down to San Jose to stay with my buddy, Ben. Ben lives in a van. He will tell you it's for financial reasons and that rent is just comically expensive in the Bay Area (which it is), but I'm convinced he is just out of his mind. In his defense the bed was quite comfy, and my only gripe was about having to use the bathroom in the middle of the night. His solution? "You just don't. Who uses the bathroom in the middle of the night?" Like I said: a bit coo-coo. I got up the next morning and left for Los Angeles. Aside from some more random road/trail flooding, the riding was great. Normally, this portion of the ride takes you back to the coast where you ride through the spectacular Big Sur area. But a massive bridge failure has closed all traffic on highway 1 for some time now (don't worry; I knew about this one and planned for it). However, I still wasn't sure about the best route through this area. On one hand, I could take highway 25 which travels through a much more remote part of California that not many people visit. Which obviously means that food and water are significantly harder to come by. Or I could hug the 101 and its side roads, which would mean more traffic and more constant turning. I ended up choosing the more remote option and was extremely pleased. Stocking up on food (Doritos, Oreos, and chocolate bars) wasn't difficult and the highway was more or less empty from traffic. I even got to camp at Pinnacles National Park, which was beautiful.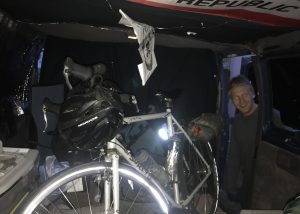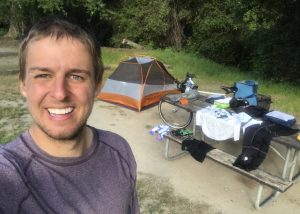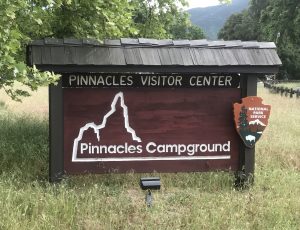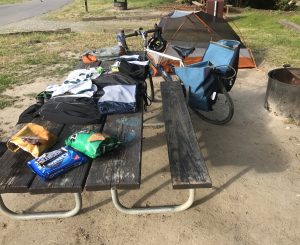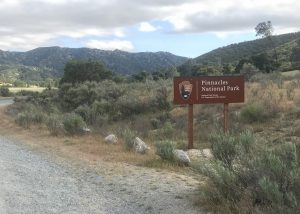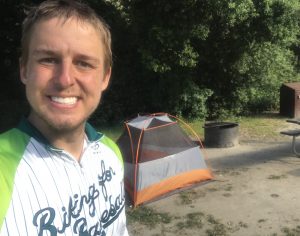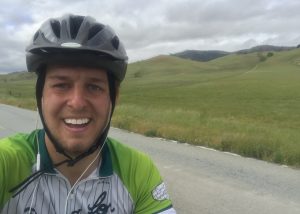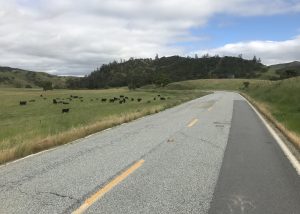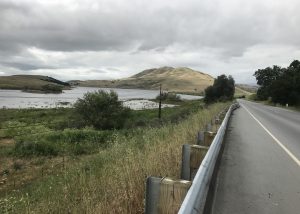 The next couple of days were more of the same. After some time on highway 25, I cut back to the main highway 101 stretch. My body can only go so long without having Taco Bell for a meal. And on this trip, that limiting time threshold has been about 2 days. I had a wonderful tailwind one day, which allowed me to crank out 104 miles at a 15mph pace, which I would be content with even if I wasn't carrying 50 pounds of gear. Also, at the end of that same day, I noticed another bike tourist ahead of me. You always say hi to other bikers, so I pulled up along side of him. The guy, Al, was extremely friendly and we started talking about our trips. Al is from India and quit his job, flew out to the Bay Area, and bought a bike (Surly Long Haul Trucker, same as me!) on a whim. He knows almost nothing about bikes. Like I mean nothing. Gearing up hills is a stuggle. Doesn't know how to change a flat, and luckily, hasn't had to yet. And is carrying about 90lbs of gear. It's crazy. He's also averaging way less mileage than me a day. Anywhere from 30-40. Which I honestly envy him for. It allows him more time to relax and stay involved with a business he is helping to get started. But the guy has just a fantastic atittude. Always smiling. Always in high spirits. We were both headed the same direction, so eventhough I caught up at the very tailwind of a day's ride, we met up the next day and biked together. Eventhough I'm more of a "put my head down and grind" kind of biker, it's always wonderful having other people to talk to. Hopefully we can meet up here again in LA when he arrives!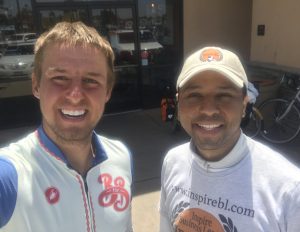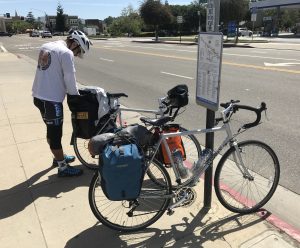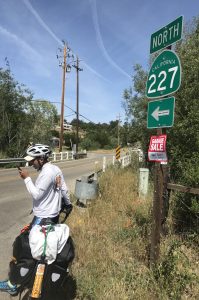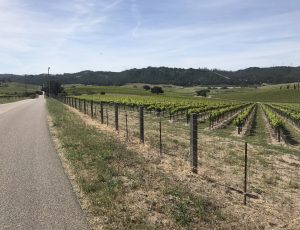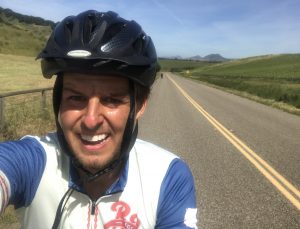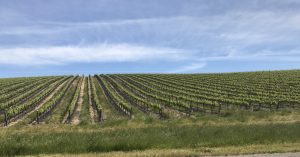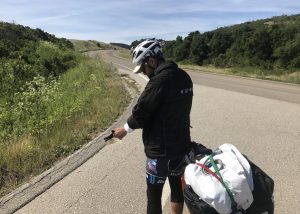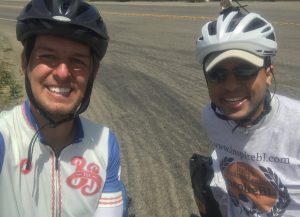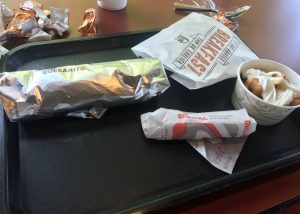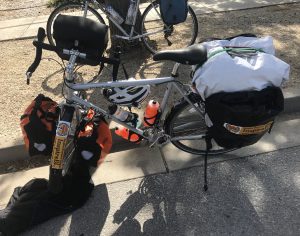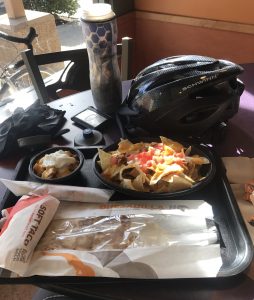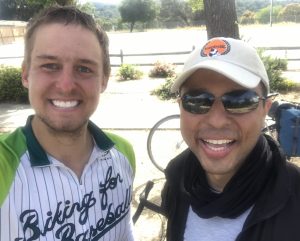 When I reached Lompoc, CA, I stayed with the sister (Wanda) of a woman that we stayed with in Yelm, WA (Tammy). First off, I don't know what happened to this entire family as a whole, but they are just the nicest people. I pulled up to their house and Wanda put out a "Welcome Tim!" sign so I wouldn't have any trouble finding the place. Their place was stunning, too. It sat on a hill just outside of the town of Lompoc (pronounced "Lin-poke"). They have this backyard that overlooks the valley and justttt over the ridge is an air force base, so you can watch planes take off and land in the background. Wanda and her husband, John, also had some other family members over (Glen & Patty). While John was grilling up some meat for dinner, I absolutely stuffed my face with cheese, chips/guac, and crab dip. My mouth is literally watering as I type that last part. It was one of those times I was extremely worried about spoiling my appetite on the hors d'oeuvres and having no room left for the actual meal. Then I remembered that my appetite is endless. And I continued stuffing my face. Meanwhile, I hung out with the four of them just shooting the shit. They were so interesting to talk to, considering Wanda, John, and Glenn all had extensive military backgrounds and had lived in more places than I could count. But damn, were they funny too. Wanda claimed her entirely family was notorious for burning everything. So naturally, she was worried about burning the garlic bread we were having with dinner. Wanda literally had Patty sit at the oven and watch the bread cook. All to make sure she didn't burn it. And she didn't! But the best part is, the next morning while cooking breakfast, Wanda proceeded to absolutely burn the bacon to a blacken crisp. Oh the irony. Between Tammy and Wanda, I've had two absolutely wonderful experiences with that family, so big thanks to them!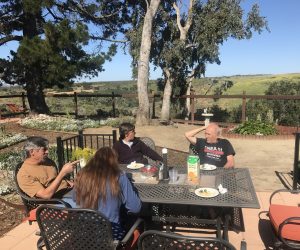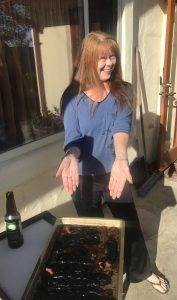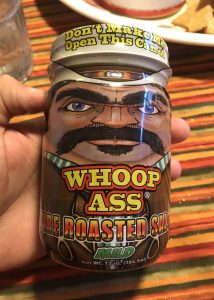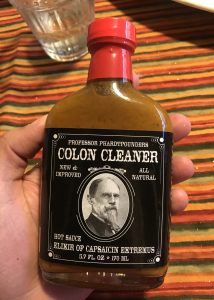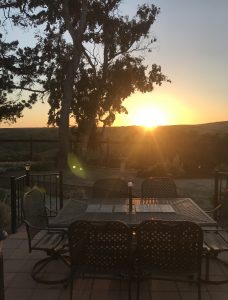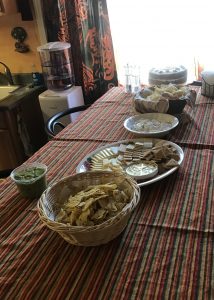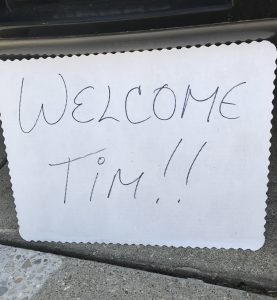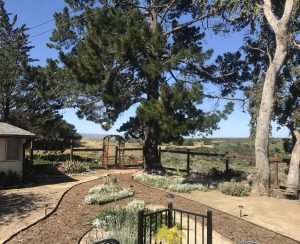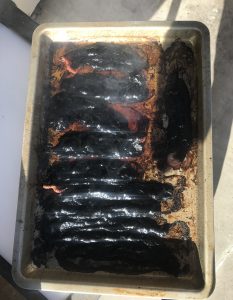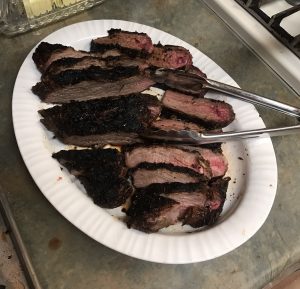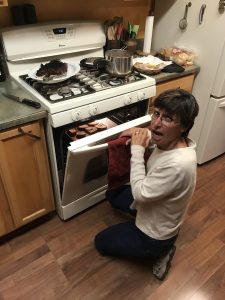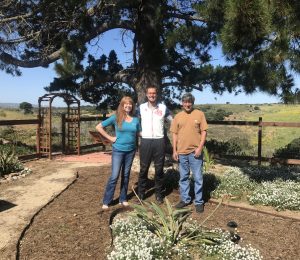 After leaving Lompoc, I took the advice of Wanda (and Brooks also mentioned this same tidbit of advice) to actually skip staying on highway 1 and go through Solvang. The best part of this side trek? Wine country. True wine country. So I'm riding along and I'm seeing these signs for wine tasting. And I'm having this internal battle of "No, no, you already got a late start this morning…you need to keep chugging". But I finally just said screw it and pulled into a winery for a tasting. First off, man, did I look out of place. There were all of those mid-to-late twenties people there with their fancy outfits and dresses and boat shoes. And then Timmy rolls in with salt stains, helmet hair, and biking clothes that haven't been washed in 10 days. I'm sure the other tasters appreciated that (I'm actually joking; I don't think they minded at all). But regardless, the workers loved that I rolled in. And I loved it from the minute I walked in. One lady walked me through the different types of wine, how to properly taste them, how to smell the aromas, and basically how to convince people that you actually have a clue what the hell you're doing. Another lady was so intrigued by the ride that she just "had" to show me her wine salts and chocolate. So I'm sticking little cherry tomatoes on toothpicks and dipping them in salts while throwing back some dark wine chocolate with some red wine. It was about this moment that I asked myself "Why have I not done this before…?" I was by myself and having a blast, imagine if I actually was with people?! I'm glad I got this second wind of happiness on the day, because I would need it to cross the literal mountain range that Wanda and Brooks' route took me on (*angry tone*). But I was extremely glad I stopped!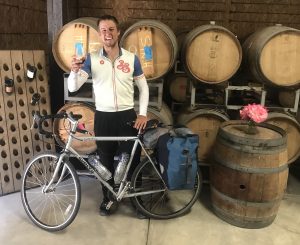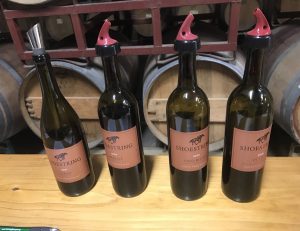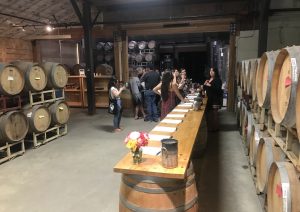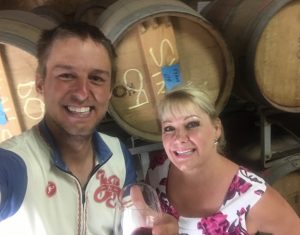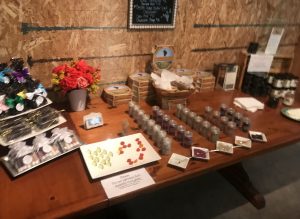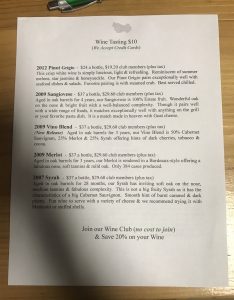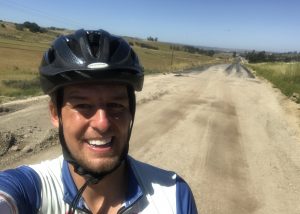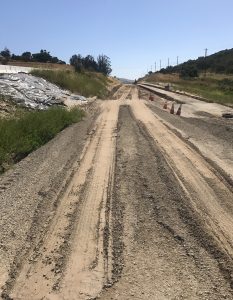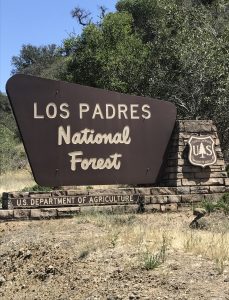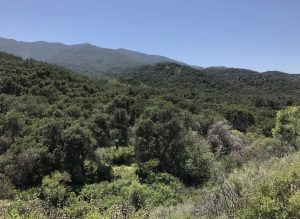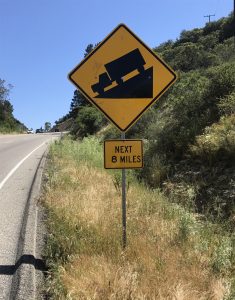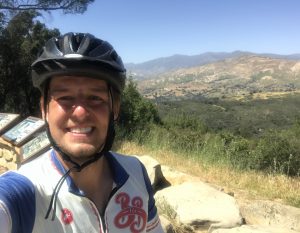 The ride into the Los Angeles area was as wonderful as the previous days' rides. Once I hit Santa Barbara, a lot more bike paths and wide shoulders became available, which was awesome. I also started see way more cyclists. Like an insane amount. Which I guess is no surprise when you consider that these people live in a beautiful coastal area with perpetually beautiful weather. I camped one night in a state park right on the water (and when I say "right" on the water, I mean there was a chain link fence and freight train line separating me from the beach). I was literally the only person in the campground. The only one. Which was extremely odd, because this campground was nestled into an area completely surrounded by a densely populated town. So I'm not sure what that was about. But I made sure to set up my tent that nobody would be able to come near with me without waking me up. I had heard enough stories about stuff getting stolen in the LA area that I wasn't about to take a chance. I met various people while riding, like a couple of guys who let me draft on them for 20 miles through Malibu, or a guy who helped me navigate through a contraction zone. Like I said, meeting other cyclists is always a morale boost.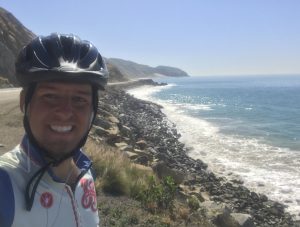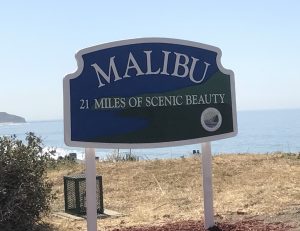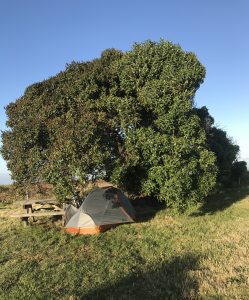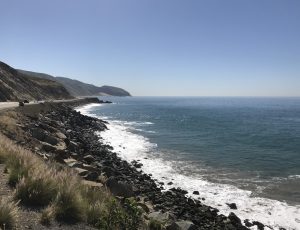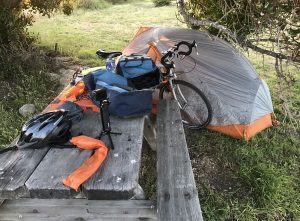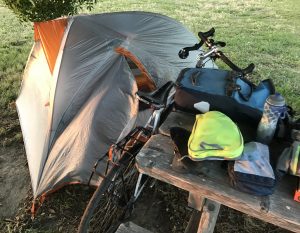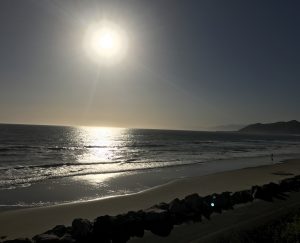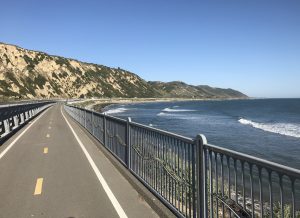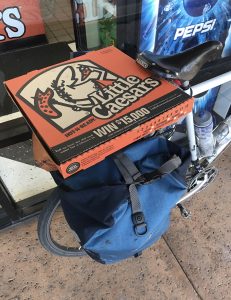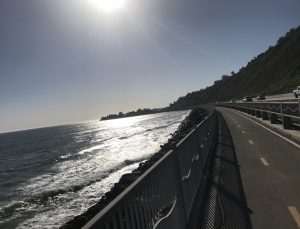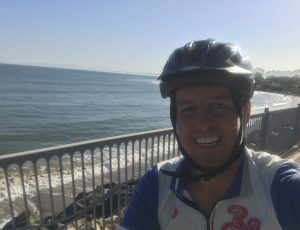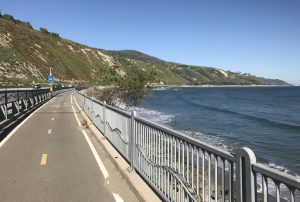 I really enjoyed biking into the greater Los Angeles metropolitan. I came in via the coast and Santa Monica, and took the bike path straight down to Venice boardwalk. It was beautiful. Everybody was out and about, the sun was shining, and I finally felt like I had made it to LA. I snapped some pictures on the pier and began biking the remaining 15 miles to Dodger stadium. That was it. No sweat! 15 miles would take me an hour at the pace I was going for the day. But then I remembered how annoying city riding can be. Ride 300′. Red light. Ride another 300′. Red light. Ride 300′ more. Tourist sitting in the only bike lane trying to parallel park their 15,000lb truck in a fire lane. So needlesstosay, it took me a while to make it through downtown LA. Oh, and I just have a bag knack when timing these rides. I decided to ride by the Staples Center justttt as the Clippers Game 7 playoff game was ending. That didn't go too well. But it was definitely cool to see! I eventually made it to stadium #4, Dodgers Stadium, which is perched atop of a hill overlooking the city. It is a really cool location for a stadium, even if it's not very bike friendly. I snapped my pictures and made my way over to Hollywood. I have a friend, Derek, who I'm currently staying with that lives in Hollywood. As he initially told me, and as I'm quickly finding out, Hollywood is kind of a dump. But I'll spare you the details on that for another blog post.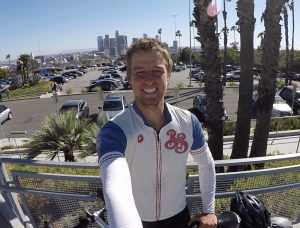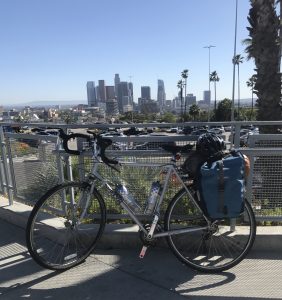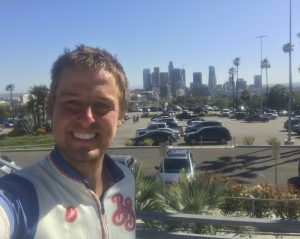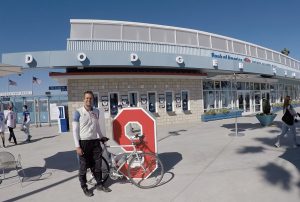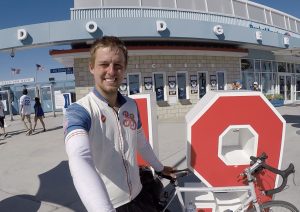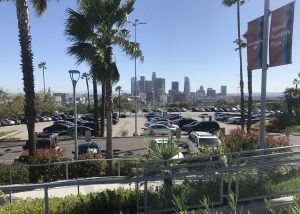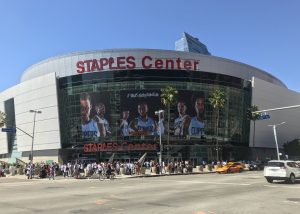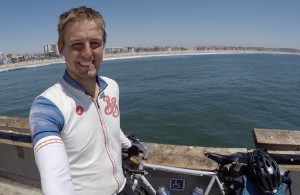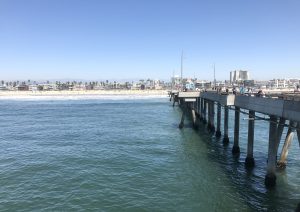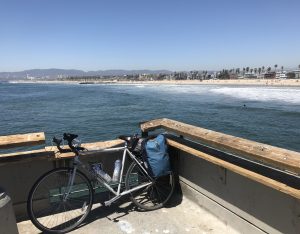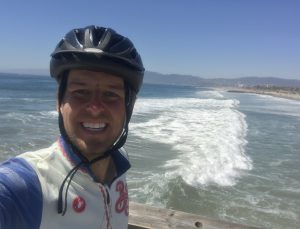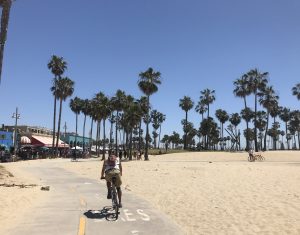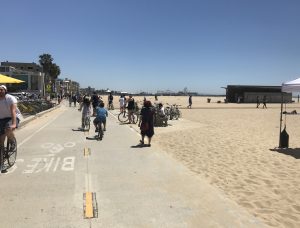 I have 4-5 days off here. During that time, I still need to bike over to Anaheim for the Angels game and to meet up with some family out there. Some extremely nice Redditor also gave me a Disneyland pass, so I'm going to Disneyland on Thursday! I honestly feel like a 4-year-old with the amount of excitement I have for Disneyland. I'm going to ride Splash Mountain so many times. But as for now, here's to another leg of the trip in the books!