San Francisco: Landslide Slide-by
First leg is complete and how sweet it is! The Pacific Northwest was a wild ride (it's much easier to use that description now that stretch is over) I'm obviously glad it's over with, but it did mentally and physically prepare me for what the rest of the trip is going to try and hit me with. But before that happens, it's time to enjoy some time in San Francisco!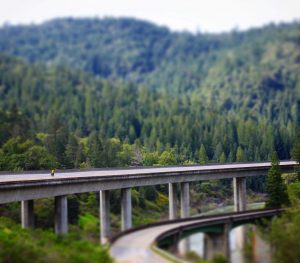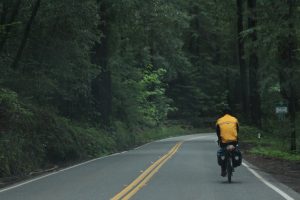 My last post ended with a landslide wiping out a 5-mile stretch of the 101 and preventing me from biking past. We took a 10-hour driving detour into Leggett (fun fact: Matt Stoltz sent me a Snapchat as I am writing this blog showing the 101 re-opening today. Go figure.) Anyways, Highway 1 was initially intended to be our next portion of biking, but a second landslide also wiped out a portion of that road, so we would have to stick to the 101. This would have sucked, since the 1 is the coastal route and absolutely beautiful whereas the 101 stays inland. When we got to our motel at midnight, the manager was just on the verge of falling asleep. However, he tipped us off that the Highway 1 landslide happened a while ago, and that he thinks he sent two cyclists up there recently who were able to walk their bikes around the effected area ("thinks"). We thought we might as well try, since the 101/1 junction was in Leggett where we were staying, so attempting to bypass this 2nd landslide would only add a couple of miles even if we were unsuccessful. We walked right through the road closed signs (which the construction workers had no issue with us going through), and walked our bikes through the landslide areas. It wasn't difficult at all, and as you'll see in a bit, I am extremely glad we did.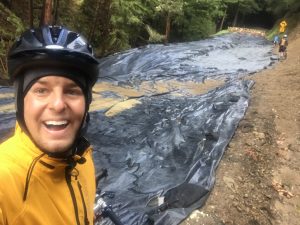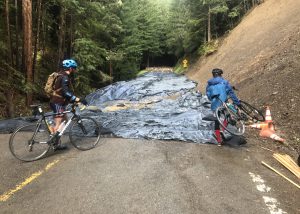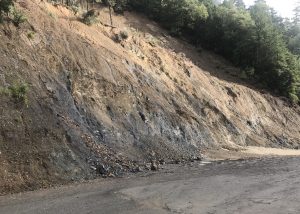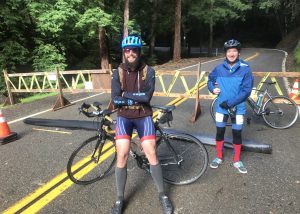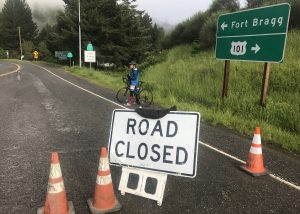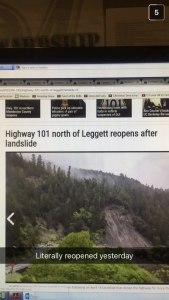 We had a tough climb right after bypassing those landslides, but our next two days of riding would be breathtaking. Seeing the coast again was extremely satisfying. More so than even the first time. I think it was because there was no longer a chance of a landslide holding us up ("Another landslide on highway 1? Good. I'll swim my bike around it.") The weather held up wonderfully, and aside from some tube blow-outs, the riding was absolutely perfect. I pedaled 200 miles and climbed 13,000′ over two days to reach Petaluma, CA. My mom's cousin, Jennifer, offered to house us in Petaluma. This was wonderful, since 200 miles in two days definitely takes something out of you. And they got us pizza. PIZZA. There is nothing more satisfying than 8 Dominoe's pizzas and a warm shower after a day of riding (well, maybe some Taco Bell, but I digress). They also had some awesome dogs and kids to play with, so it was a very relaxing night. Big thanks to them!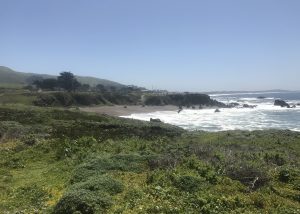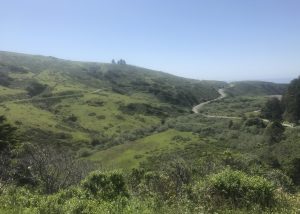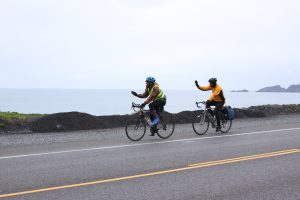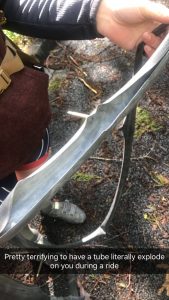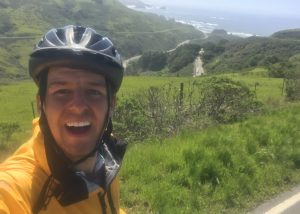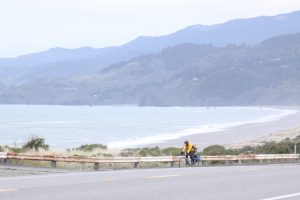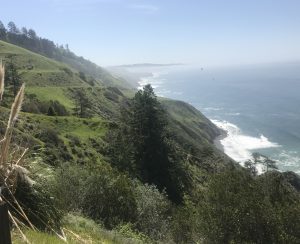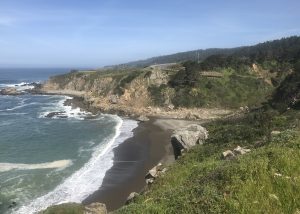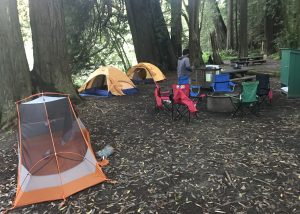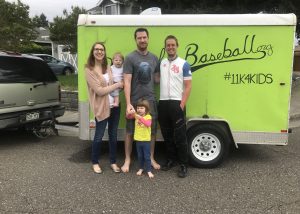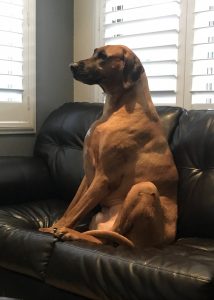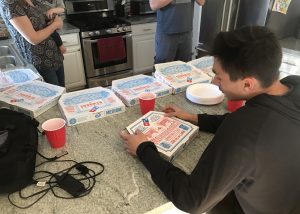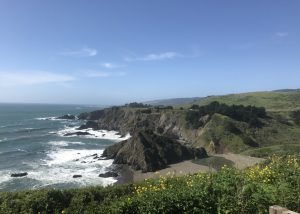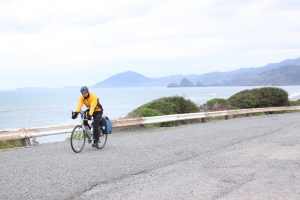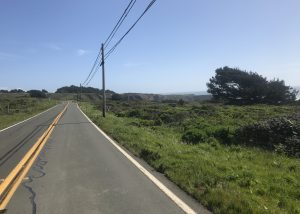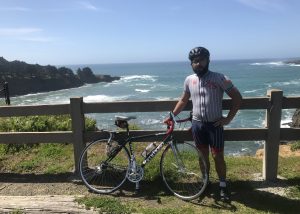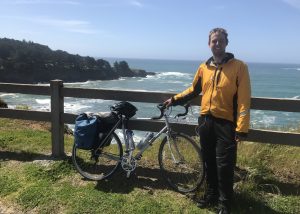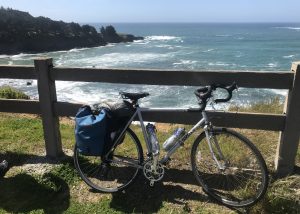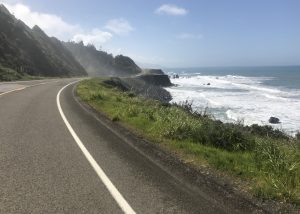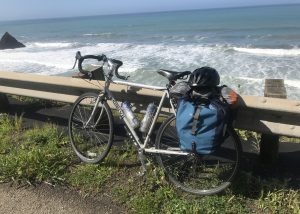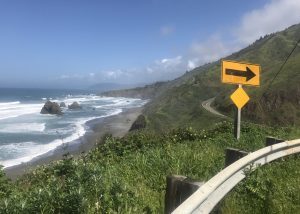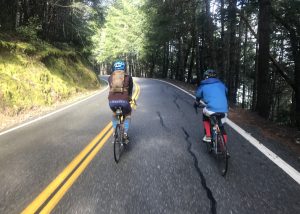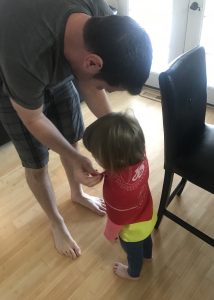 The following morning, we rode the remaining 35 miles into San Francisco. This was probably the portion of the ride I was looking forward to the most. I have never been to SF before, and the Golden Gate Bridge was high on my must-see list. Also, B4B supporter, Brooks, offered to ride with us for the first portion into the city, which worked out perfectly since we were riding through his hometown north of the Bay. He also did the navigating for me so I could just pedal and enjoy the ride. We had a small climb just north of the Bay that offered us the first view of the city, and I actually got chills. And when we came around the bend and were up close with the bridge, I couldn't help but smile. It was so damn cool. The bike ride over the bridge was so satisfying. There was just no better reward for the first two weeks' worth of work than biking into SF over that bridge. I made a quick stop at AT&T park, biked through the March for Science, which was comvoniently going on that day, and with that ride, leg 1 was officially in the books!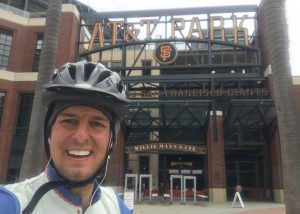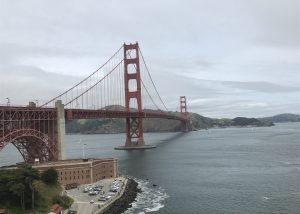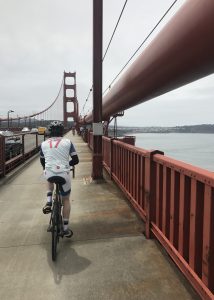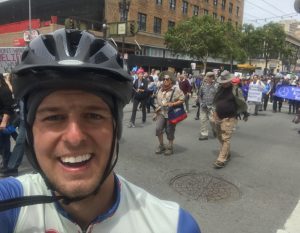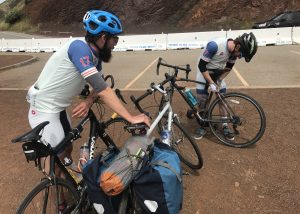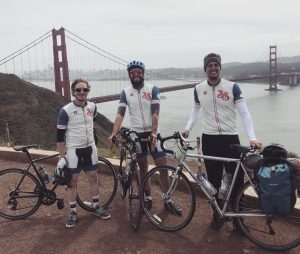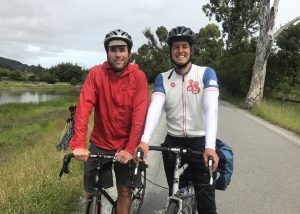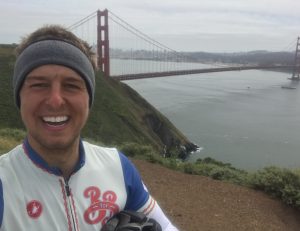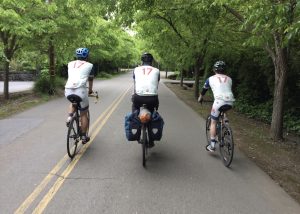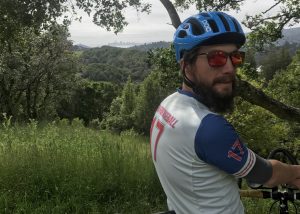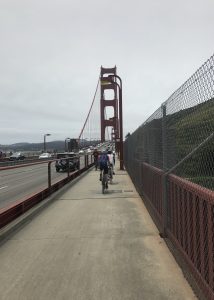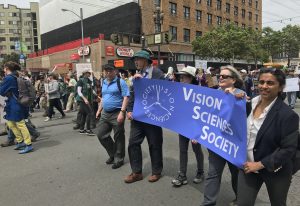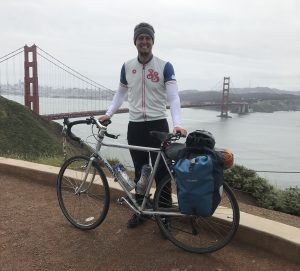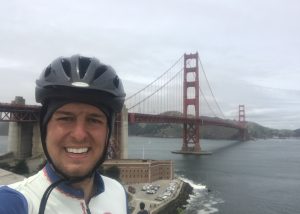 My time in San Francisco was kind of hectic/backwards due to the timing of the Giants/A's games. First off, after hopping off the bikes in SF, we immediately met up with some of Cory's friends who lived in the city. We had some rewarding beers and stuffed our faces with burritos. The following day I caught my first game with the guys. We drove over the Bay Bridge to Oakland for the A's game. My home-team winning streak stopped at 1 (2 if you count Winlock High School's win, which I do). Because the A's got slaughtered, 11-1. I did meet up with one of my friends from home, Ben, at the game. Ben works for ABInBev, and managed to snag his company "Diamond Suite" tickets. These tickets are on another level, perched directly behind home plate. I mean, you could actually reach through the protective netting and touch the on-deck guys. And on top of that? Free food. Now free food at any moment is dangerous. But with all of this biking, I was determined to eat the A's out of business. Ben's comment to me before we started the feast was "I want to come back and be known as the guy with a friend who ate an absolutely gross amount of food". Mission accomplished. I threw back a hot dog, nachos, pretzel with cheese, buffalo wings, angus beef sliders, another pretzel with cheese, lobster rolls, sausage, popcorn, some Dibs ice cream bites, and four packages of Halloween-sized Skittle packets (yea, that last one was a bit odd). It was heaven on Earth, and certainly made up for the A's disappointing performance. The end of the game also meant the end of the support team. The guys immediately left to head back home to Denver. It'll be weird not having people with me all of the time, but just like the beginning of the trip, I'll adjust!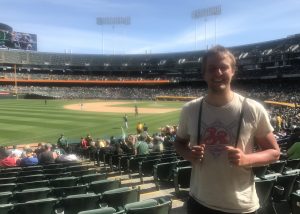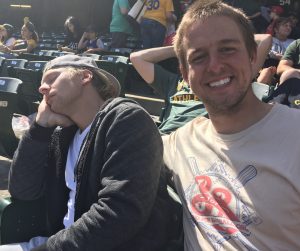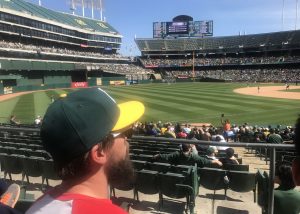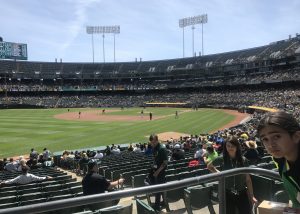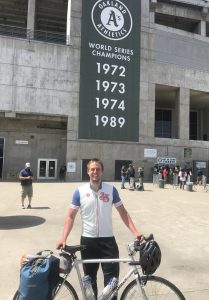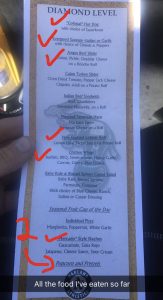 The following day, I actually had some biking to do. I still hadn't technically biked to the Coliseum, eventhough I had now seen a game there. So I decided to bike to the stadium. The Coliseum is only about 11 miles (as the crow flies) from downtown SF. But the problem is the stadium is across the Bay. There is the Bay Bridge that connects Oakland to SF, but California was too cheap to make that bridge pedestrian/bike-friendly. Which meant I had to bike alllll the way around the Bay. And let me tell you: it's a very, very big bay. The 100-mile ride took me all day, but it did give me a head start on my miles south to Los Angeles, so no complaints here! I also met up and stayed with my longtime childhood friend, Denny, and his girlfriend Lottie, who let me crash at their place in SF. Another big thanks to them (and if you know anybody else who might be willing to house me along my route, please let me know. Nothing is more uplifting than a warm shower and a roof over my head!)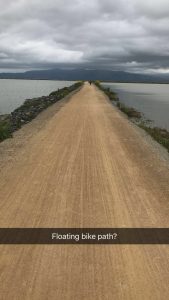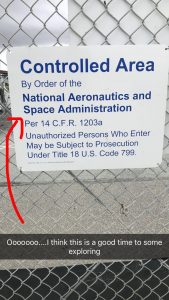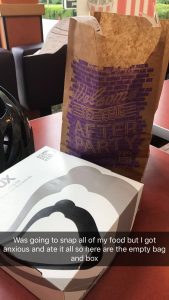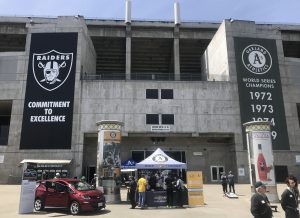 My last night in San Francisco, I went to the Giants game with Brooks, his wife, Natalie, and his buddy Paul. I rode my bike with all of my gear to the game, and had it "valeted" at the park's free bike storage service (which is absolutely awesome). We lived big during this game. We first started off with the Gotham club in right field for some beers and to watch batting practice. They actually let you stand on the warning track and watch BP. I managed to quickly snag a ball by just asking one of the shaggers. Later on, Adrian Gonzales of the Dodgers smoked a line drive that would have one-hopped the wall if it was a normal game. But not with Timmy out in right field. I stuck my right hand out and snagged that puppy, all while spilling only a couple drops of beer. I was extemely proud of myself, and received a round of high fives from the people around me. Two balls is a solid day's work. I also met Giants legend, Will Clark (I'd be lying if I said I knew he was prior to Brooks explaining his role on the Giants back in the 80's). Afterwards, we made our way to our seats right behind the Dodgers on-deck circle. These seats honestly couldn't be much better. You could almost touch the guys in the on-deck circle. We had the typical hot dog and AT&T Park-famous garlic fries, which I can still taste on my breath. Biking for Baseball made another appearance on the scoreboard, which always brings a smile to my face. There is just something so cool about seeing your name and cause up in the Jumbotron. During the 6th inning, Brooks took me up to the club level and Oracle Suite level, where he usually takes clients and other people for work. Much like the A's game seats, I had no idea these places even existed. We went bowling. Bowling. How and/or why can you go bowling at a baseball game?! Oh, and if you're wondering, I threw two gutter balls on my first two attempts. The high-rollers were not very impressed with me. He also showed me some cool little hidden gems, such as Willie May's private suite and the World Series trophies from the past 8 years. As for the game, Kershaw was throwing, which usually means a long night for opposing hitters. And if he wasn't busy crashing dirt bikes, we could have seen Bumgarner throw for the Giants. Now that would make for one hell of a pitcher's duel. The Dodgers ended up taking a 2-1 barn-burner, putting my home-team record at a disappointing 1-2. But trust me when I say that I was completely content with how awesome our night at AT&T Park turned out!