Northern Cali: The Highs and Lows
This first leg of the trip has been one of the most insane roller coasters of emotions. And while it might not be possible according to the laws of physics, they're have been way, way more lows than highs. The Pacific Northwest has been a huge punch to the gut, and today was rock bottom for this leg.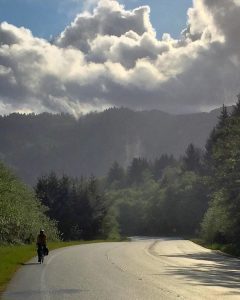 We had just reached Brookings, OR last time you heard from me. Things were good. Tough, but looking up. We were 10 miles from the border and I have obviously never been so excited to get out of a state. As it's last swing at us, I found a slow leak in my back tire before we were going to set off for the morning. Oregon, you will not be missed. No big deal, though. It was more comical than anything ("did this really just happen 10 miles before we got out of this state?") We cross over the state line, rain free on the morning, and things were great. Then we hit Crescent City and the rains come back. Damn you, weather genie! These were supposed to end at the state line! We had a tough climb right as the rains came, but it was through the first portion of Redwood State Parks, so it was really cool. The downhills, however, were brutal. We just got absolutely soaked. It was coming down hard, so we flew down the mountain and into a tourist area for lunch.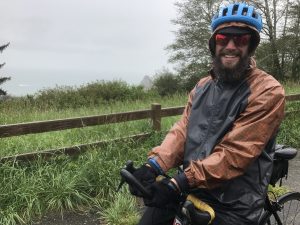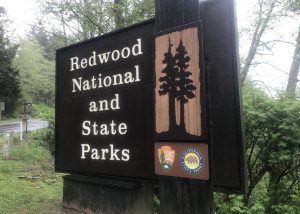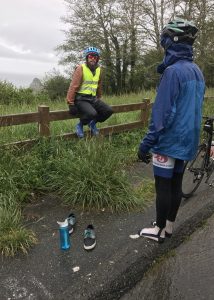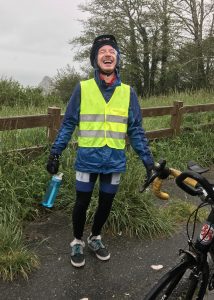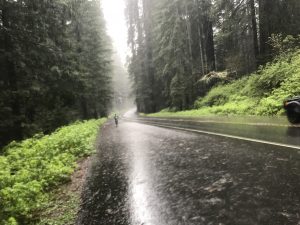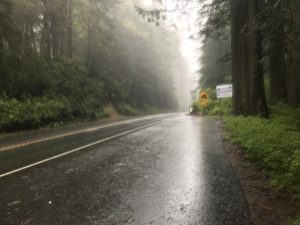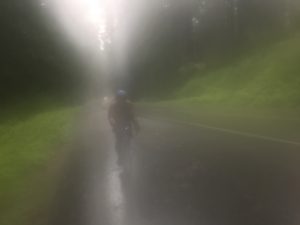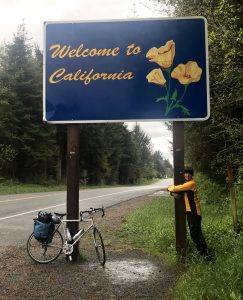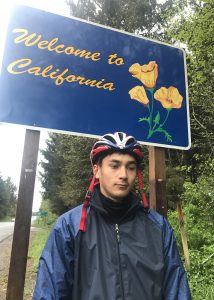 Now I promise I won't go into this much detail for the entire trip, but as you'll find out later in this odyssey of a story, I have some time to kill. After lunch, it was still raining and showed no times of stopping. I've been in a terrible habit of following the weather religiously, and it was showing "100%" for the rest of the day/night. And I still had 26 miles to pound out. I was really not looking forward to it, but Cory stepped up and volunteered to ride with me. I think it was more of a guilt trip on my end, as I definitely tried to play the droopy, puppy-dog look. Either way, Cory and I set out in the rain. The nice thing was we were going to actually get off of the 101, which we had been on for the last 400 miles, and take a scenic bypass route through the Redwoods. This was even more clutch because the 101 climbs over 1500′ through the mountains, which we completely avoid with the bypass route. But wait: it's closed. The bypass route was closed. I was fuming, because I noticed in the topography map on googlemaps what the 101 does, and I knew Cory and I were about to have one miserable time. And so we climbed. And climbed. And climbed. For an hour and a half, we pedaled super fast, and with our low gearing, crawled up that mountain. After all of that work, we finally hit the top, and all is well. We're about to fly down this mountain, hit our end stop in Orick, CA, and life will be back on track. Until Cory says, "Shit, I have a flat". Talk about a heck of a time to get a flat. Right before a 3-mile long, 7%-grade downhill bomb. Oh, and he didn't have a spare tube, and my larger-wheel tubes won't work on his road bike tires. But wait! I have a patch kit! Now unfortunately, I merely packed this kit as an all-else-fails backup and had never actually used a patch kit before. So it's downpouring, and Cory and I are trying to smear rubber cement on a hole in his tube on the side of the 101. It was a sad, sad sight. After 45 minutes of the cement not hardening and the patch not sticking due to wetness, we realize we were screwed. We would have to call the guys to pick Cory up. But neither of us had cell phone service. I would every-so-often pick up one bar, but the water and coldness prevented me from being able to type in my passcode on my phone to make a call. Eventually, we decided that I would bomb down the hill and get to the next town where the rest of the guys were at and have them come pick Cory up. I left Cory looking defeated and scared as I flew down that hill. I eventually reach the next town and send the guys to go get Cory. Cory had managed to hitch-hike and was already on his way down. Talk about a hell of a day.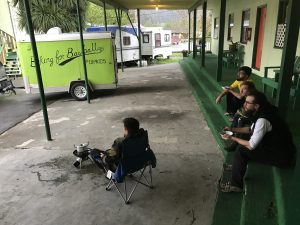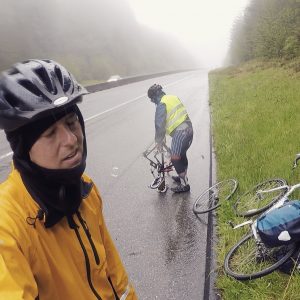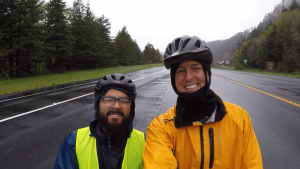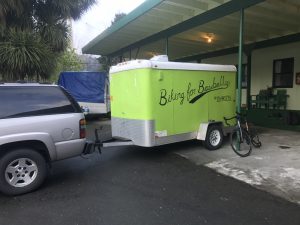 The next day was one of the best days of the trip so far. The weather was beautiful. Riding was great. Some good climbs to start the day but nothing our now-conditioned legs couldn't handle. And the cherry on the cake? We were riding through Humboldt State Park, home of the Avenue of the Giants. I had been looking forward to this stretch of the trip for literally two years. The Avenue of the Giants is a 30+ mile road that parallels the 101 and rolls through the Redwoods of Northern California. It is known as being one of the most beautiful bike routes in the country, and for good reason. I have never had such an awe-inspiring experience. You are just enclosed by 300′ trees that are 1,000 years old. There's next to no cars on the Avenue of Giants, since it parallels the 101, so we were riding in the dead center of the road with our necks perched to the sky. I was truly mind blown, as I had never biked through anything like this before. We crawled through this portion of the ride, literally going 5mph to make sure not to miss a part of the scenery. There would be portions of the ride that had downed Redwood trees. This is where you could really see just how massive these things were. The trunks were over 8′ in diameter, and those were just the ones that I could stand next to. It was incredible, and anybody who has the opportunity to bike the Avenue of the Giants; do it. It is an out-of-body experience and you take in so much more when you're on a bike. It blew away all expectations. We even camped in the Redwoods. It was an incredible experience being able to look up at these massive tees while sleeping. (weather was looking good for the night, so I rolled the dice and left the rain fly off my tent). I was on cloud nine.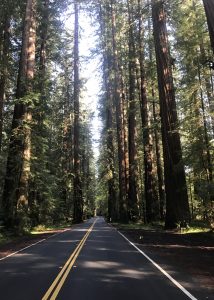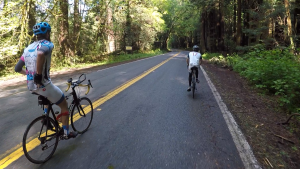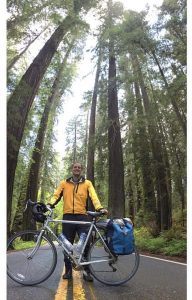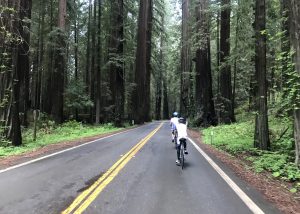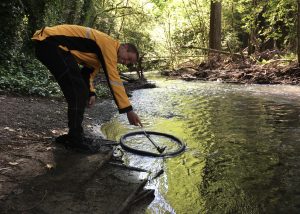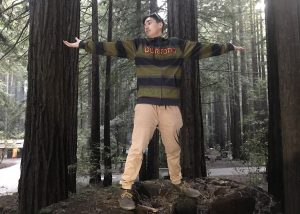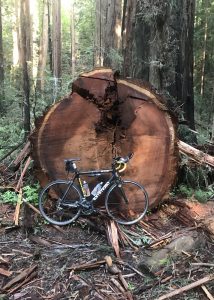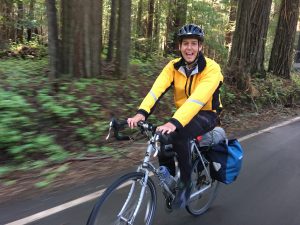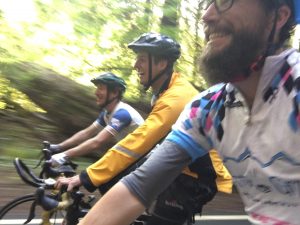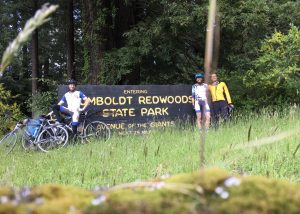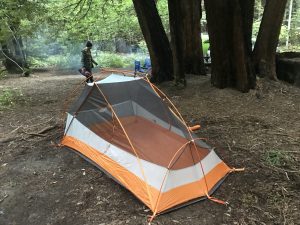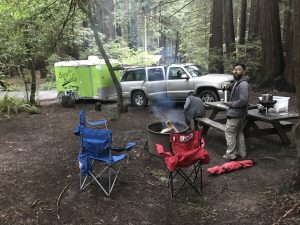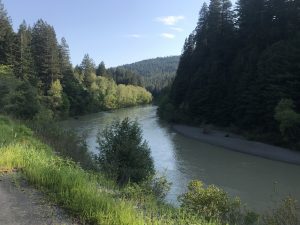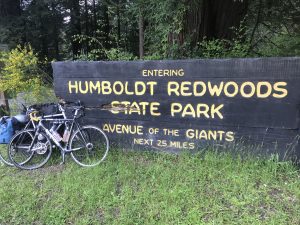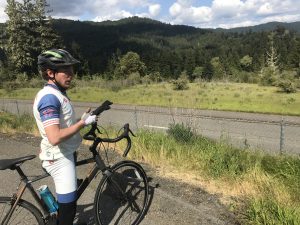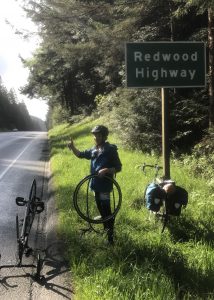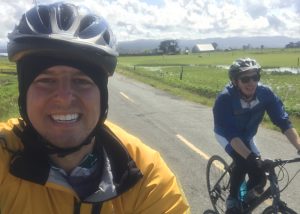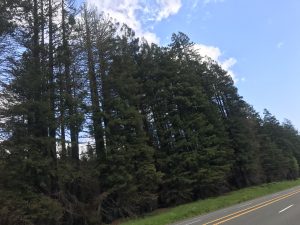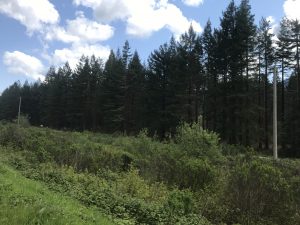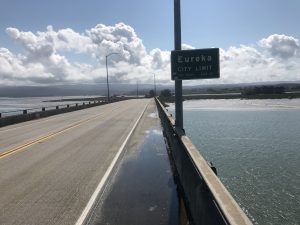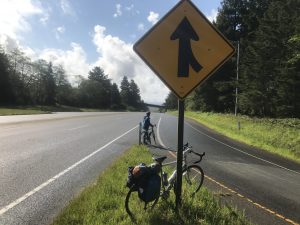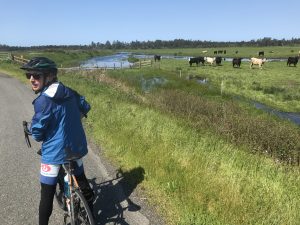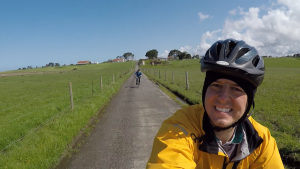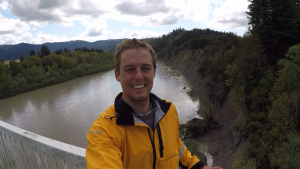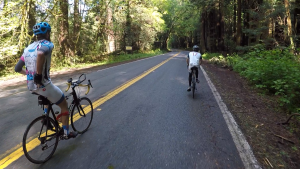 And the following morning, I came crashing down in the grandest of fashions. I woke up and got on the road early, due to rains being scheduled later in the day. I finished biking the Avenue of the Giants and was climbing south on the 101 once again. Things were going great, I was feeling great, and that's when things went south. I'm biking and I noticed a "road closed" sign at one of the exits pushing cars off the freeway. I see Rex at the top of the overpass, who proceeds to yell down to me "I'm sorry, but I'm about to ruin your day…". Apparently, a landslide took out and wiped out 5 miles of the 101 from Leggett to my current location. As in I was screwed. And the icing on the cake, after I got off the 101, I find out my Garmin bike computer wasn't recording any of my ride. Just some jabs while I'm down. Anyways, we saw that there was a 35-mile dirt road that curved eastward around the 101 to the next town south of Leggett. I would catch it 15 miles back in Garberville (see my terrible Snapchat sketch-up below). The guys drove me back down the stretch of the 101 I just biked and I got off at the Garberville exit. This alternate route went straight up the mountain side. And I mean straight up. Like my bike has some extremely low gearing to allow me to pedal up these long, long stretches of climbs, but not even it could handle these 15% grades. So I walked. And pushed. I pushed my bike for 1.25 hours up 3.17 miles of outrageously steep mountain road, swearing the entire time and questioning why everything seemed to be working against me. I got to the top and a couple of people coming down the hill gave me a heads up that the alternate route was also in really, really bad shape. Like a delivery truck had fallen off the road when the road bed gave out the day before. The guys caught up to me after getting food and after one final local gave us a warning, we decided we needed to take the state-recommended detour around the landslide. The 9-hour driving detour is currently taking us all the way east to I5, after which we'll head south and eventually back west into the mountains and to Leggett. Hence all of my time to give everybody this update post. Once we're in Leggett, I'll be basically back where I ended, aside from a 4-5 mile stretch where the landslide wiped out the road. But I guess that's out of my control.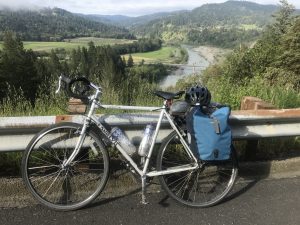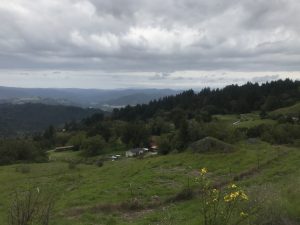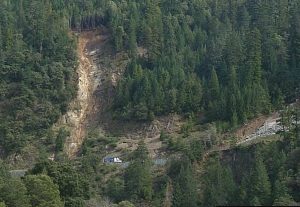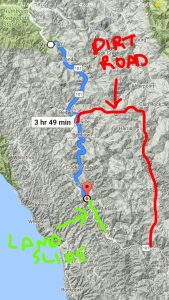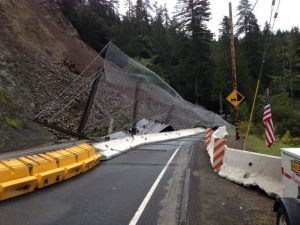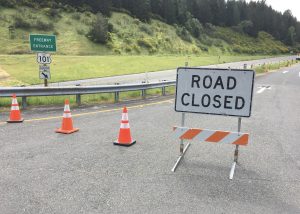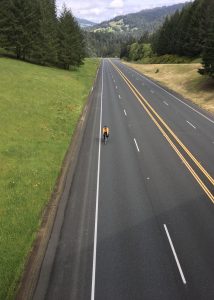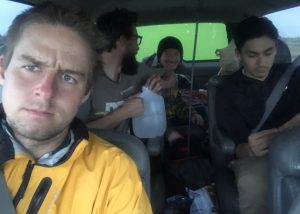 I can't tell you how demoralizing it has been. It's not even about the schedule; we're actually significantly ahead of schedule and slated to get into SF a day early. It's just frustrating to be working so hard and to not be able to catch a break with weather or roads or whatever the uncontrollable factor might be. But I'll keep chugging. And on the bright side? No rain in the forecast for tomorrow or Friday. Nowhere to go but up, right?