The Pacific NW has Hills. Who knew?
Andddd we're off! It's only been 4 days since you guys last heard from me when I was sitting on the train to Seattle, but so much has happened. In fact, we're not even in Washington state anymore. I'm writing this while sitting in a (very much needed) motel room on the banks of the Colombia River and the Pacific Ocean in Astoria, OR. So lets recap just how we got here.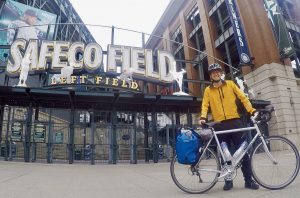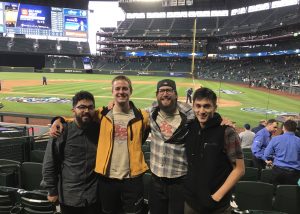 I had very mixed-emotions on the train ride getting to Seattle. On one hand, the portion of the ride from Chicago to western North Dakota was just brutally boring. I don't know what I was expecting considering I lived in that lonely, lonely state for 6 months, but this was extra boring. The train had a lounge car with full-height windows, so it was really cool to be able to see the entire length of the corn stalks and completetly flat lands that consumed the first 29 hours of the trip. Once we hit Montana though, we started going through Glacier National Park. Holy cats, it was absolutely beautiful. And justtttt after we started see all of these beautiful, breath-taking sites…the sun goes down. So that was a bit depressing. But as a whole, I'm glad that I took the train this one time (if nothing else, for the simplicity of transporting my bike 2,500 miles).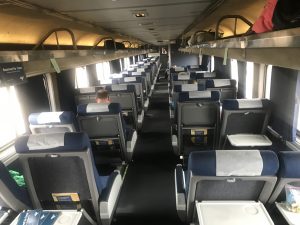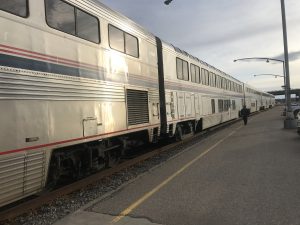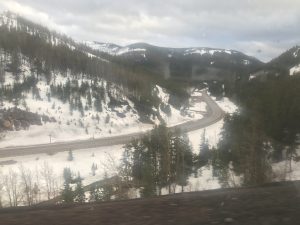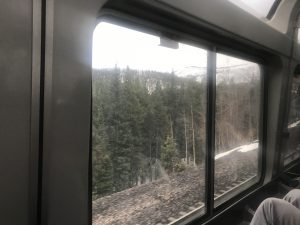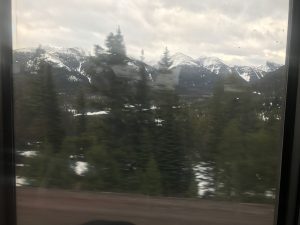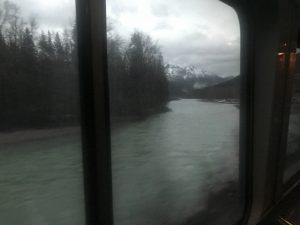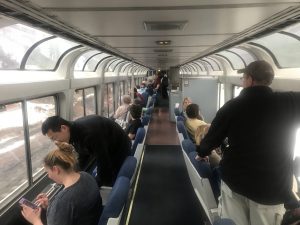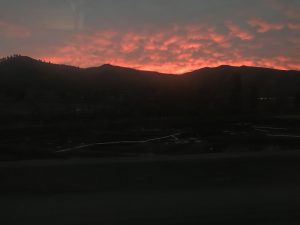 Once I got into Seattle, I stepped off the train and was at Safeco Field. I'm kind of serious; Safeco Field is literally one block from the train station. My first thought: "I don't know what everyone is talking about…this is easy". I was then pulled quickly down to Earth when I had to bike the 2.4 miles to my friends' place. Biking up 15% grade city blocks, and then walking your bike up 15% grade city blocks really puts your ego into check. I met up with my friends Colleen and Justin, got some beers with them and their friends, and just mentally prepared for the start of the trip.
On Sunday, the day before Opening Day, I actually got a head start on my biking and biked 67 miles to Yelm, WA. Aside from one good climb and some poor usage of googlemaps on my part, it went fantastic. Which was a huge confidence boost considering that was my first true ride with a fully-loaded touring bike. So take THAT all those blogs that tell you to train for weeks with your bike loaded (jk…it's definitely a really, really good idea). But more importantly, I was treated with a hero's welcome when I got to our Air Bnb's ranch. Kevin and Tammy were absolutely wonderful. They live in this beautiful ranch that overlooks Mount Rainier. Kevin is an avid biker and also has a Surly Long Haul Tucker bike (and the same rain jacket). Tammy was an absolute saint and made us both dinner and breakfast for our stay. The rest of the team also arrived that evening, consisting of Rex, Zimmy, Cory, and B4B newcomer, Eric (Cory's younger, significantly-more-hip, brother). The cherry on the cake of our stay there? Kevin and Tammy rode out with us on Tuesday morning after opening day. It was picture-perfect.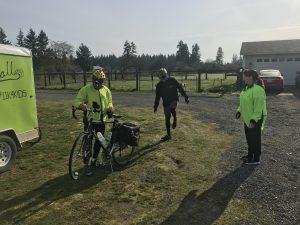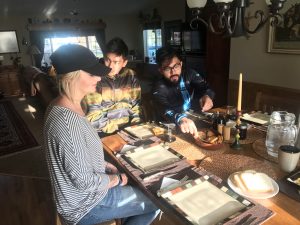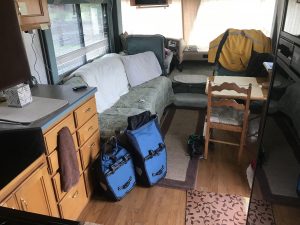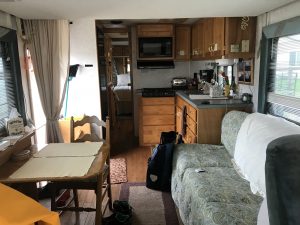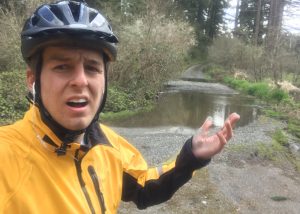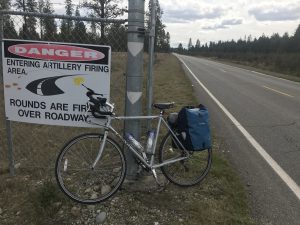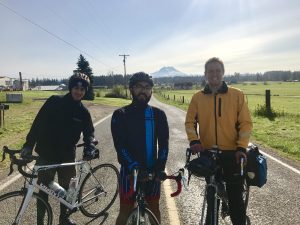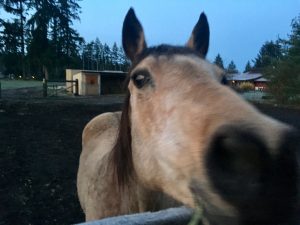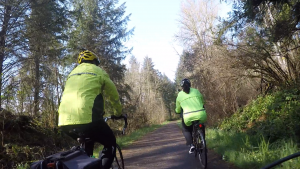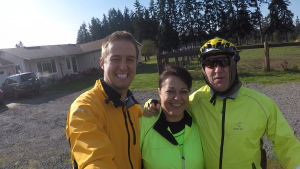 Having the rest of the team here is a huge help (but don't think for a minute that I am loading a single ounce of gear into the support vehicle…this whole trip will be done fully-loaded). A big, big advantage though is we were able to drive back into Seattle for opening day on Monday. We met up with my buddy and co-worker, Dalton, who lives across from the stadium in an absolutely killer apartment. His roof overlooks both Safeco and Century Link Field (you can literally watch a Seahawks game from his roof). As for Safeco, the stadium is pretty sweet. When the roof is off, the stadium is beautiful. It definitely doesn't have the same charm when the roof is on, which it was closed early in the game. We had unreal tickets on the third-base line, 20 rows up courtesy of a B4B supporter, Brooks, so thank you very much to him! I also met up with Jon, who hosted Matt back in 2015. Jon is an incredibly nice guy who hooked us up with a scoreboard message welcoming us to Seattle. It's honestly a shame that the schedule is so cut-throat in terms of day-to-day mileage, because I would have loved to spend some time in Seattle and hung out with him more. And the best news of the day? The B4B started the season out with a W! For those that are keeping track, we are now 1-0.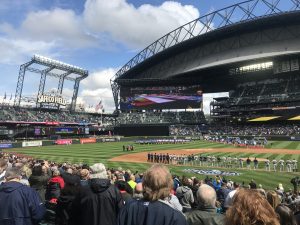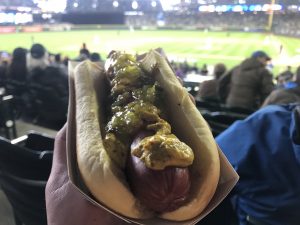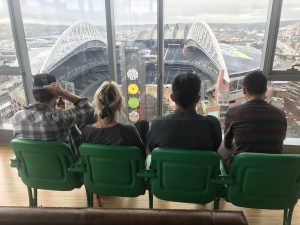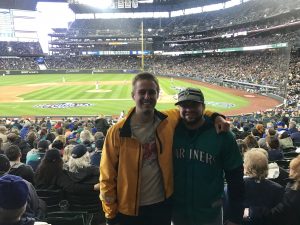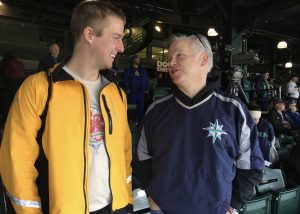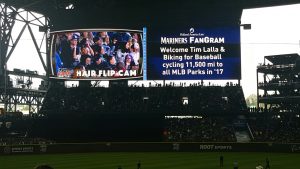 After the game, we drove back to Yelm and got ready to bike the next day. The ride from Yelm to Winlock, WA was a piece of cake. A mere 50, relatively-flat miles. We were headed to Winlock because the high school's baseball coach, Scott, reached out to me and said he would love for us to stop by. We initially weren't planning on going through this part of Washington, but oh man, am I glad we did. I didn't think anything would top Kevin and Tammy's hospitality, but Winlock pulled out ALL of the stops. First off, it worked out perfectly in that the Winlock Cardinals baseball team was playing a home game (which wasn't initially a home game, but by some stroke of luck, was changed). We were going to get to see back-to-back baseball games. On top of that, they had me throw out the first pitch! I was overwhelmed with happiness. Which lasted right until I bounced that first pitch over the plate. I bounced it. It crossed the plate before I bounced it, but nonetheless, I bounced it. I told Scott when we were walking to the field, the #1 rule is to not bounce it. Throw it over the backstop. Miss the catcher's glove by 40 feet. But damn it, do NOT bounce it. And here we are. Regardless, they still gave me an honorary Cardinal ballcap, which might be the coolest momento from this trip. And the fun doesn't stop there. We proceeded to get an awesome Mexican dinner with the coaches, which the restursnt graciously gave us a massive discount. Afterwards, one of the assistant coaches proceeded to take us to the crowning jewel of Winlock, WA: The World's Largest Egg. That's right folks, Winlock is home to the biggest egg you will ever see. It is just overwhelming. Lines of people pushing and shoving to see it. People ripping selfies. No im just kidding about all of that, it's literally a plastic egg on a sign. But it was awesome. And Jordan was hilarious describing it: "It's the least we could do for you…literally". To put the icing on an absolutely incredible cake, we were taking to our sleeping accommodations: their batting cages. Dead serious. The most B4B thing I've ever seen. We slept in their batting cages. Right after taking some batting practice of course. Oh, and the Cardinals won the game (as well as the winning pitcher signed my game ball). B4B with a quick two victories.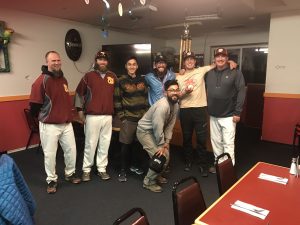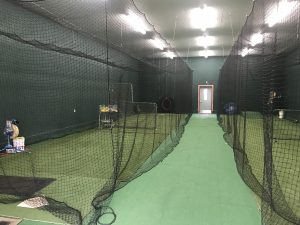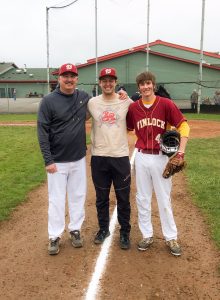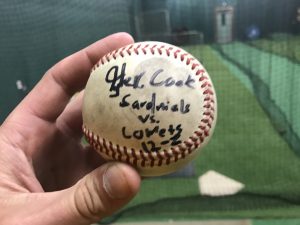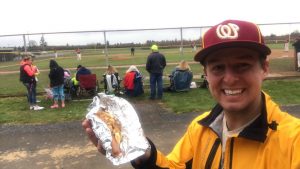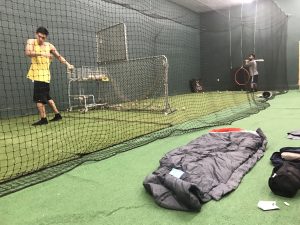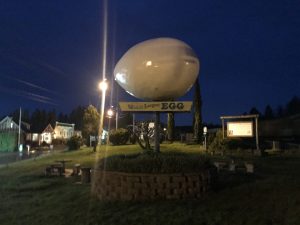 On Wednesday, we said good-bye to our new freinds in Winlock and set off for Astoria, OR.  Rex and I got our first flats of the trip! We were crossing over the Colombia River from WA to OR on an absolutely massive bridge, but it was littered with debris and crap from the logging trucks. So a flat was inevitable. Also, this ride was significantly more hilly than our previous rides. We would climb 500-600′, coast back down to your original elevation, and then do it all over again. It was pretty funny (in hindsight, at least) because there was one last hill into Astoria. I get to the top, start cruising into what I thought was Astoria, and then I see another damn hill! I was screaming some "choice" words to myself at that point, so it must have been pretty hilarious for the drivers passing by to see this cyclists just screaming at himself. Oh and it was raining and/or down pouring for 85% of the time. But we made it to Astoria! We splurged and got a motel room after a tough day of riding, which has a killer view of the ocean and the 4-mile bridge that connects Astoria to Washington. The only bridge that I'm looking forward too, though, is slightly more famous and located about 750 miles south. Onward to San Francisco!