Welcome to LA!
Today is a game day. Who doesn't love game days? I get to watch baseball. Meet fans, and experience the game I love in a new ballpark. PLUS I get to talk all about youth mentoring and how it makes a critical difference in the lives of youth.
I hopped on my bike early in the morning. In fact, I set my alarm for 4:30AM and was on my bike by 5. Not too shabby. The ride into LA wasn't too bad, and fortunately, I was riding in early on a Sunday morning. Probably the best time to do so. A lot of the ride was along aqueducts and canals. Not the most scenic of routes, but it got me there safely.
I rode into Dodger Stadium at about 8:30 and I was fortunate enough to snap a few pictures outside the stadium. Dodger Stadium is incredibly unique, and is actually built into the side of the hill. It made it extremely tough for me to figure out how to get around the ballpark. I eventually figured it out and was able to snap my pictures with my bike.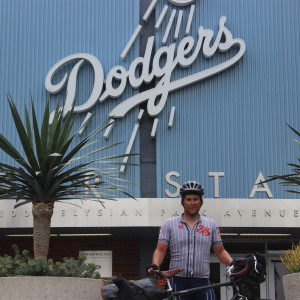 While I was waiting, I asked a passerby to see if there were any other good photo ops around the ballpark. Coincidentally, the passerby I asked, was no other than a PR employee with the Dodgers. Toby set me up with a pregame media pass along with a ticket for the game! How cool is that? I admit it, sometimes I just get plain old lucky on this trip.
Shortly after I finished talking with Toby, I actually got asked to leave the grounds and had to be escorted off of the property. I'm still REALLY confused as to what I did wrong. However, apparently I rode by security without knowing it. On game days they can't have anyone in by the stadium. I guess that makes sense for cars, but for bikes? He also said I needed expressed written consent to take pictures of the stadium. I'm still confused to this moment, but I guess it's good that they have super strict security.
After the security dilemma, I biked over to my friend Emily's house. Emily lives about 4 miles from Dodger Stadium. I knew Emily from time in Madison at the University of Wisconsin. She recently moved to LA to work at NASA. As far as I can tell her place has 107230914 roommates. It's a really cool bicycle community and it's a relaxed setting. It's also really fun.
Emily drove me back to the stadium for the game, and before I knew it I was inside Dodger Stadium with my media pass and ticket in hand. It was a goregous day in Southern California, with plenty of sun for all. I found out my media pass actually got me in the dugout and on the warning track. Since the teams played a night game yesterday, today, they weren't taking batting practice with it being a day game. Thus, not many players were out and about. I did stumble upon Nomar Garciaparra and Orel Herscheiser. I actually overheard them talking with a Dodgers player and discussing different techniques they would use to gain an advantage. Orel spoke of purposely batting without batting gloves so he could claim the pine tar on his hands came from his previous at bat. Nomar spoke of how players would wear fake fingernails so they could better grip a baseball. It was pretty unbelievable, I felt like I was right in the clubhouse with the guys.
I also got to hang out in the dugout for a while. I even got to drink some powerade from the cooler. Throw some sunflower seeds and bubble gum into the mix and I would fit right in with the players. I also spoke more with Toby about the Dodgers, and baseball in general. Toby is a fun loving guy who loves his sports just like myself.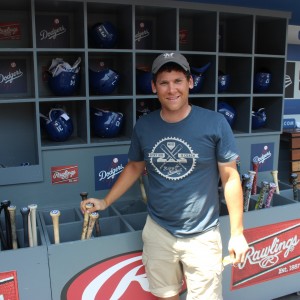 During the game, I sat next to a man and his daughter from Mexico City. They are huge Dodger fans and flew in for the series. He kept up with all my baseball talk, from the Dodgers to Scherzer, he knew a lot about the sport. He was a great fan to share the game with! The game was a scoreless pitching clinic. With both starting pitchers sharing the last name Anderson. Not a single player reached third in the first 9 innings. At the end of the 8th, I switched seats to meet up with a redditor Marv who is a huge Dodgers fan as well. As the game went into extras the Dodger crowd thinned out. We decided to move down behind home after an incredible play to get the final out at home to end the top of the 12th. Moments later, the first batter up, Grandal, hit a walk off home run! Dodgers win. Home teams move to 4-1 on the bicycle tour.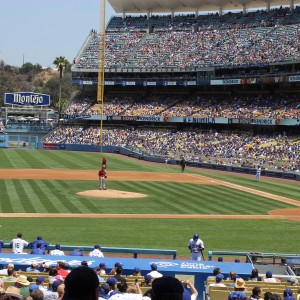 After the game I headed back on the metro, back to Emily's place. Tomorrow I ride to Angel Stadium to see the Angels and Mariners play. I can't wait for another night of baseball.
Matt