The City that Never Sleeps
Well, I officially made it to New York City! The City that never sleeps. I suppose I'll fit right in. This whole trip for me has been a lack of sleep. Getting up early to beat the heat, getting to bed late to crank out a blogpost. But, hey, it's New York City, and I am awfully excited to check things out. I've never been, much like many of the other cities I've visited on this trip, but New York is such a traversing city that is a melting pot of the intergral culture and history that formed America.
I biked into New York on Saturday morning after a night of stealth camping in New Jersey. The ride was one of my favorite yet. From the distance you could spot the towering skyscrapers of New York. From the Freedom Tower to the Empire State Building (to be honest, I don't know the name of any of the other buildings) it was a magnificent sight.
I rode along the New Jersey side of the Hudson before crossing into New York from the George Washington Bridge. A few miles later, I hit stadium number 22 in Yankee Stadium. It was a magnificent sight. It was a gorgeous ballpark with majestic architechture. However, at the same time, it wasn't THE Yankee Stadium. I know they did their best to incorporate the old with the new, but for me, nothing can beat the historicness of the old ballpark. You cannot recreate that. I'll talk about Yankee Stadium a little bit more when I dissect the ballgame I took in there.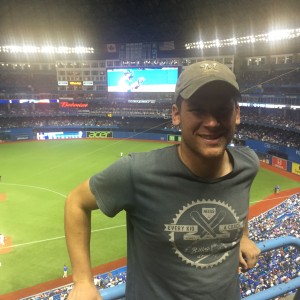 After wandering around Yankee Stadium I departed across New York to Queens to check out ballpark 23. Citi Field, home of the Mets. Citi Field, built in 2009 is a pretty cool ballpark. I cant believe it's already been six years! The neighborhoods surrounding the ballparks differ greatly. The Bronx is plenty of old buildings where Citi Field doesn't have nearly as much around it. Either way, both ballparks are pretty cool!
I crossed back across the city of New York to Manhattan where I stayed with my host Quinn. I've known Quinn for a few years, as I worked with him the past few summers. He's a great guy, and has been a great host! I spent the afternoon exploring the neighborhood around the Upper East Side, which mostly included an afternoon of wandering through Central Park. Despite being constantly in fear of snowballs being thrown at me from the likes of Will Ferrell I was really impressed with the park. Clean. Busy. And relaxing. Everyone used it. Black. White. Latino. Whomever. It was a gathering place to relax, exercise, and enjoy the beautiful weather. Pretty neat.
I got back, ate dinner, and was expecting a relatively relaxing night in the apartment when I got a text from Eric Byrnes. The former Major Leauger, has been following the trip for quite sometime. He had reached out about possibly biking with me into NYC, which unfortunately didn't work out. This time however, he invited me for a night out on the town, in NYC. Boy, was it an experience like no other. I get to the bar, and I get to cut a line of 75 people waiting to get in. Is this real life? Seriously. I tell the bouncer who I am, and he lets me in. Eric was more than enthusiastic to see me. Immediately he started asking questions about the ride. From one thing to another, it was a fun night. One I'll never forget.
Sunday, was an exciting day in it's own right. Gameday! Can you believe it? Yankee Stadium. Yankees versus the Blue Jays. Who have been quite hot as of late after making some numerous blockbuster trades. The day game, with gorgeous colors was a great one to take in. Unfortunately, the Yankees couldn't spark much offense, as former Brewer Marco Estrada stiffled the Yankees to the like of zero runs. The Blue Jays had two solo home runs from Donaldson and Bautista, the latter one was thrown back onto the field only to hit left fielder Brett Gardner in the back of the head. Whoops.
All in all, Yankee Stadium was a fun time. Whether taking the subway to the ballpark, the vendors, the New York Accent from the vendors, whatever it may be. It was most certainly authentic baseball.
After the game, I decided to ride the subway right into Grand Central Station and check out the spectacle that is Times Square. I couldn't resist the crowds of people, the autracity of street performers, and the bright lights. It was really a unique experience to see the world come together. From French to German to Italian, all sorts of languages were being spoken. I think that's what I really love about New York. It's everyone coming together. To enjoy the city, the experience, and the world. It's authentic, unique, and special.
Yesterday was another busy day. I had an interview with MLB Network which required me to head out to New Jersey to their studios. Now, in a lot of the cities I've stayed in I have been able to use public transport to get around. Which is always cool. When you master the public transport it also makes it feel as if you master the city. However, New York is a whole nother beast to tackle. The amount of subway lines, buses, NJ Transit, and Amtrak, it can get so overwhelming that you just want to crawl up on a bench and lay there. However, being a non conforming male, I'm not hesitant to ask for directions or assistance. Which has saved me from getting lost in more than one situation. Either way, I was able to master my navigation with help from Google and strangers to get me out to New Jersey. Hi5!
The interview was incredible and a HUGE thank you to Eric Byrnes as he offered to pick up my hotel tab for the remainder of the trip. Seriously. My nights of camping on the side of the road are done with, all because of Eric and his generousity. Hi5 Eric!
watch it here!
http://m.mlb.com/video/topic/7417714/v355235583?content_id=unavailable&topic_id=7417714
Following the interview, I headed out to downtown NY to check out the sight where the Twin Towers once stood. The memorial is breathtaking and takes you back to that sad day in history. For me, I got chills as I walked up and read the names of those who passed. I remember the tragic day, and the reaction of MLB to suspend games for the week. I remember the way baseball came around to unite the city. Seriously, watch the home run that Mike Piazza hit back in 2001 at the first professional sporting event in NYC since 9/11. If that doesn't give you chills, I don't know what will.
For me, New York is a great city. It's massiveness creates niches of communities, ethnicities, and surroundings. The neighborhoods have different feels, different architecture, and different livelihoods. But they all call themself New Yorkers. From the Bronx to Manhattan to Brooklyn to Queens, it's an impressive city to take in.
The Mets game was a subway ride away, and I was excited for the game in ballpark 23. Citi Field, was actually a great ballpark. Probably one of my favorites. The design was smart, open, and comfortable. The concourses were friendly from the lower levels to the upper deck. It had character, with the giant apple in center field and the planes from La Guardia flying overhead. Plus the Mets are playing great baseball, reecently overtaking the Nationals to hold onto first place in the NL East. During the game they scored three runs in the 7th to get the victory. Not a bad game, and a very fun crowed! Let's go Mets!
Today, I'm enjoying my last day in New York before taking off for Boston tomorrow morning. This city has been unreal. It's crazy expensive, but that doesn't take away from the fun. Thanks for some great memories New York! I may not have gotten much sleep, but that's alright, I'll forgive you.